Chuck Fata stared down the long, wide boulevard outside his home. It had only been a few weeks since he was declared cancer-free and the block felt imposing. Before lymphoma, running it would have been a breeze — a mere blip on a path that could stretch several miles.

"In those days, I was trying to make my comeback," said Fata, 61, of that time, three years ago.

At first, shuffling up and down the boulevard was a victory. Some days, he would trudge it, out of breath. Eventually, he picked up his pace, adding another block. On a good day, Fata could actually jog.

"I would just keep trying to make it a little longer and do a little more," he said. "I had a path that I would go and as long as I could do a little more, I was happy."

Fata recounts the story with a broad, toothy smile — a fixture on his face and a reflection of an attitude he has carried throughout his life. But Fata says the smile should not fool anyone. Behind it is a strong will to fight.

"I have a lifetime of fighting things and getting through cancer is just another one," said Fata, a restaurant owner in Los Angeles. "Being in business is a job with challenges and you deal with them.

"They're not life and death, but you learn that you've got to do what you got to do to get through it — and make the best of it."

Even through the toughest moments on his cancer journey, the smile almost never eluded him.
Back Pain
That journey began early in 2014.

Fata thought the dull pain he had been feeling for weeks was just a back problem, perhaps due to a busy schedule that included keeping tabs on four restaurants and running six miles several times a week. The first doctor Fata saw thought the same.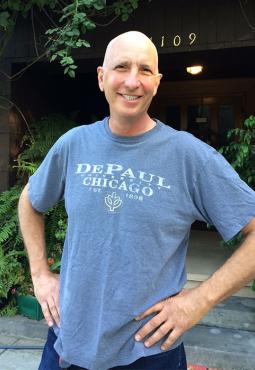 "He assumed I was hurting myself from all the activity," said Fata during an interview last year. "There wasn't anything significant that suggested I had cancer."

But the back pain worsened and three months later an MRI found four tumors, including two that were "a pretty good size" on lymph nodes near his heart.

"It was just a shock," said Fata, who had just finished running a half marathon in Las Vegas. "Cancer was not on my mind."

Fata was diagnosed with DLBCL, a type of non-Hodgkin lymphoma that attacks the immune system's B cells. He received intensive chemotherapy and went into remission for several months.

But in the winter of 2015, a PET scan showed a little spot of the cancer close to his stomach. That May, Fata underwent an autologous bone marrow stem cell transplant (using his own stem cells) and spent 17 days in a local hospital recovering from the transplant.

On one of those days, from that hospital room, he watched a livestream of his eldest daughter, Chloe, receiving a master's degree in education from USC. Later in the day, she visited him, dressed in her cap and gown.

It reminded Fata of all he had to fight for.
Another Tumor
Fata felt fine for a few months until doctors found another stomach tumor. He started bleeding internally. A surgeon wanted to remove his entire stomach but Fata joked that "you can't be a restaurant owner without a stomach."

Half of Fata's stomach, the tail of his pancreas and his spleen were removed in a seven-hour surgery. He started recovering and was scheduled to start radiation to target other cancerous spots in his stomach, but by then the cancer had spread to the lymph nodes in Fata's neck and other areas.

Fata had also lost weight and his hair, and he felt weak.

"Things weren't looking too good at that point," Fata said. "I was running out of options."

That's when Fata's doctors suggested something he had never heard of: CAR T cell therapy.

Chimeric antigen receptor (CAR) T therapy is a type of immunotherapy that harnesses the power of a patient's own immune system by genetically engineering their T cells, a type of white blood cell, to recognize and attack cancer cells.

"I thought of those T cells as little ninjas going in there and fighting this with me," said Fata. "You know that this is the only hope you have, so you do battle."

Because Fata's cancer had resisted chemotherapy and an autologous stem cell transplant, he was eligible for the CD19 CAR T therapy trial at City of Hope. He received the experimental treatment at City of Hope in February 2016 as part of a clinical trial sponsored by Kite Pharma Inc.

City of Hope was one of the first four sites worldwide to enroll patients in this trial.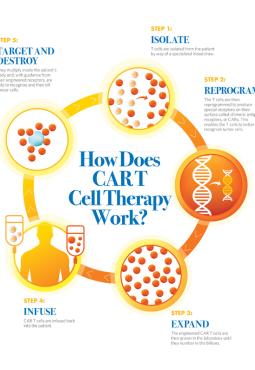 For the treatment, Fata's own T cells were genetically engineered to express a CAR to target the cancer-associated antigen CD19, a protein found on the cell surface of B cells and NHL, and then infused back into his bloodstream.
He read a lot about the therapy before putting his faith in City of Hope, including his hematologist/oncologist and principal investigator of the ZUMA-1 phase 1 trial, Tanya Siddiqi, M.D.

During his treatment, Fata had high fevers and severe confusion that lasted several days. He slept through most of it as medical staff closely monitored him and treated him.

"It was harder on my family than on me because they had to see it," said Fata. "I felt so weak after the CAR T. My body had been through almost two years of treatment. I was so tired and beat up."

Despite all that, Fata never lost his positive attitude. He smiled and chatted up nurses and other medical workers that tended to him at City of Hope. He even ordered pizzas for them from his restaurant, Charlie's Trio, several times.

"He has a great sense of humor," Siddiqi said. "He was very brave and positive despite having relapsed after so many treatments when I first saw him.
'I Got My Miracle'
On the day he was going to find out if the CAR T therapy worked, Fata was emotionally drained.

"My wife Sharon had to wheel me in to see Dr. Siddiqi in a wheelchair," Fata recalled. "So many times when I had those scans, I had built myself back up and I was feeling great. Then they would tell me the cancer was still there. I thought to myself, 'There's no way I'm going to be in remission.'"

But a month after the CAR T treatment, Fata had achieved complete remission, and has been in remission since then.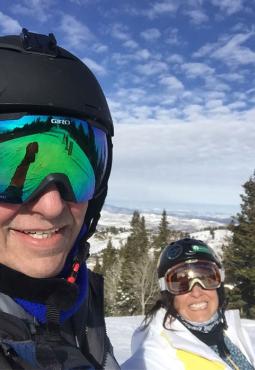 "When Dr. Siddiqi told me, it was like, 'All right, back on the comeback trail one more time,'" Fata said. "I got my miracle."

"He has made the most of achieving remission after CAR T cells," Siddiqi said. "He has rehabilitated himself to the point where he plans to ski in the morning and enjoy the beach in the evening of the same day, California style!

"He is an inspiration to many of us at City of Hope," she added. "He has a great attitude about life and while his scans make him anxious, the relief thereafter has been palpable each time as he has continued to remain in remission from the highly refractory DLBCL."

Elizabeth Budde, M.D., Ph.D., a physician scientist who co-led the ZUMA trial and coordinates other City of Hope CAR T clinical trials and research, added: "Patients like Chuck are what motivates us to work harder, and devote more time designing novel treatment.

"City of Hope is now treating an increasing number of CAR T patients with a variety of cancers ranging from blood cancer to brain tumors, and it is because of the willingness of patients such as Chuck to participate in our clinical trials."

Fata and other patients' participation in the ZUMA trials led to the Food and Drug Administration's approval of the CAR T therapy used in those treatments. Known as axicabtagene cilocleucel (commercial name Yescarta), it was the first CAR T cell therapy approved by the FDA for use in adults with cancer.
Comeback
On a chilly morning in January, Fata takes a run down the wide, tree-lined boulevards near his home in Pasadena, California. His pace is slow and steady — a mirror to how he now leads his life.

He soaks up each day — and life in general — in a slower, steadier way. All of it with that broad smile in tow.

"Not only did I get through cancer, I'm back to being the person I was before cancer," Fata said. "That's something I don't take for granted, you know?"

Fata stops and leans on a bench. He turns his face toward the sun. The light glancing on his face casts a warm glow.

"The simplicity of life is amazing to me now," said Fata. "Life is so joyful. The simple things in life are so wonderful."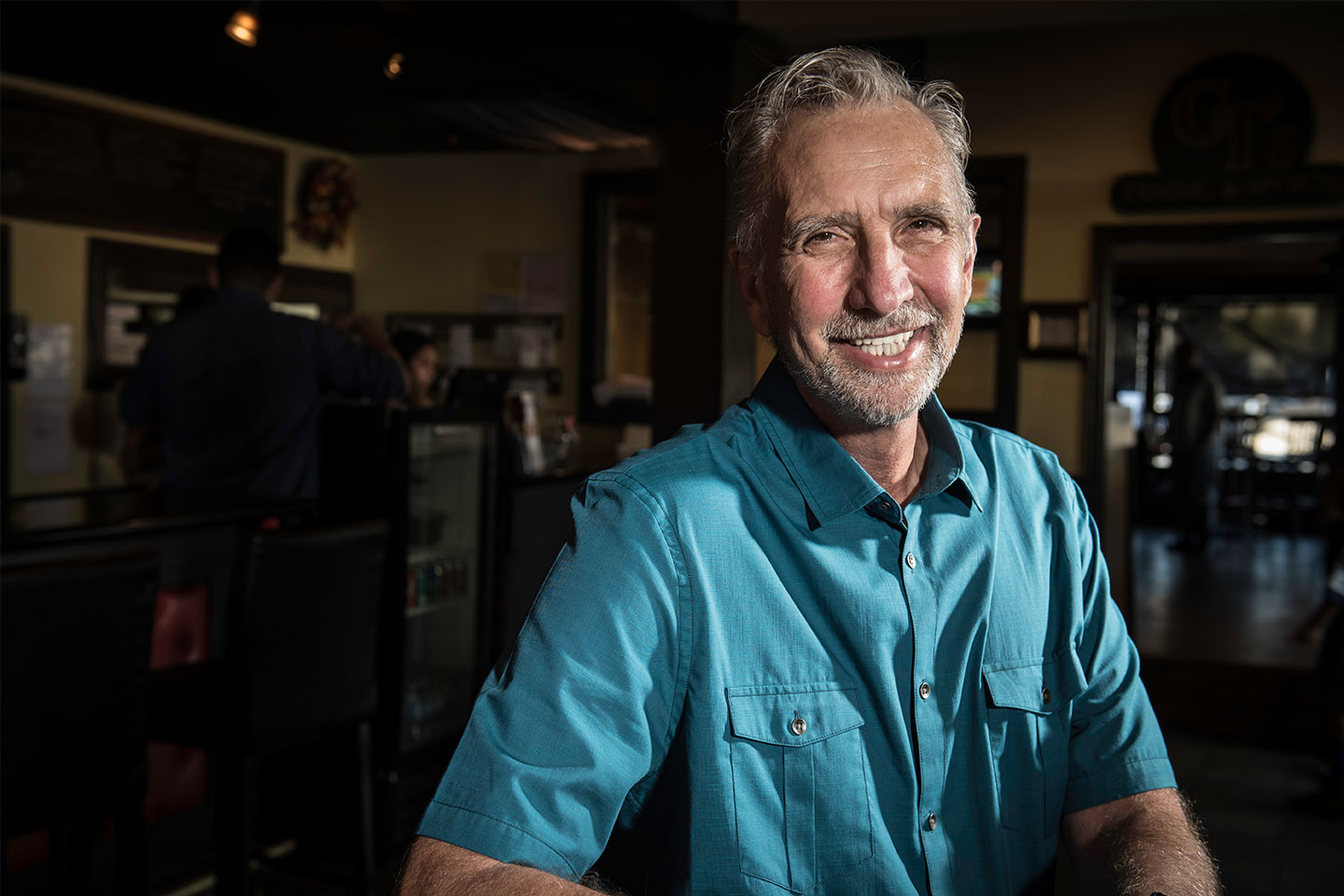 Fata at one of his restaurants