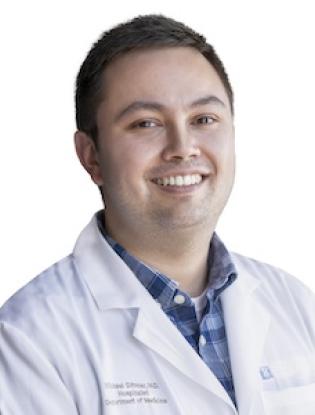 Hospitalist
Appointments
Assistant Clinical Professor, Division Of Hospital Medicine, Department Of Medicine
"I feel blessed every day to have the privilege of applying my love for science, pathophysiology and clinical medicine to help improve the lives of both my patients and their loved ones."
Out of appreciation for working on complex cases, Michael Dittmar, M.D., specializes in internal medicine, considering every organ system from head to toe. He is a natural team leader — preferring to serve as primary physician for his patients, he keeps communication at the crux of his clinical practice.
Dr. Dittmar earned his medical degree at the University of Colorado School of Medicine and pursued a residency in internal medicine at Los Angeles County+University of Southern California Medical Center. He received the Gold Humanism Honor Society Award in 2018 and was selected "Intern of the Year" during his residency in 2020.
Growing up in the community around City of Hope, Dr. Dittmar saw the hospital as a beacon of light for patients facing adversity. His grandparents supported City of Hope's mission through donations, and he is proud to carry on their legacy by joining City of Hope's family of doctors.
Outside of work, Dr. Dittmar enjoys hiking the foothills, cooking for friends and family, playing basketball and exploring the diverse culinary culture of Los Angeles.
Basic Text Field
2019, Doctor of Medicine, University of Colorado Aurora, Aurora, Colorado
2014, Bachelor of Science, University of California Los Angeles, Los Angeles, California
 
Basic Text Field
2022, Residency, Internal Medicine, University of Southern California, Los Angeles, California
Basic Text Field
2022-present, Assistant Clinical Professor, Division of Hospital Medicine, Department of Medicine, City of Hope, Duarte, California
 
2020, Intern of the Year – USC Internal Medicine Residency, Los Angeles, California
2019, Best Presentation, Mentored Scholarly Activity Presentation – CU SOM, Aurora, Colorado

American Medical Association
Gold Humanism Honor Society
Dittmar, M., Smith, N., Warren B., et al. Improved sensitivity and specificity of pediatric hospital-acquired venous thromboembolism case identification by addition of radiographic and pharmacologic elements. Thrombosis Research. 2017 April 17; 154:93-95.
Lawal, A.O., Zhang, M., Dittmar, M., et al. Heme oxygenase-1 protects endothelial cells from the toxicity of air pollutant chemicals. J Toxicol Appl Pharmacol. 2015 May 1; 284(3):281-91.