Michelle El-Hajjaoui, D.O.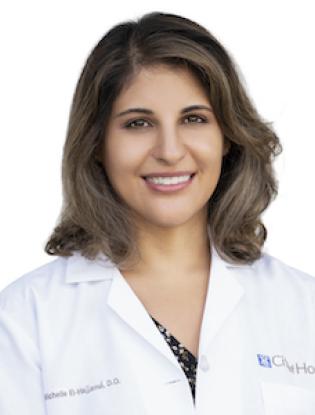 Medical Oncologist
Appointments
Assistant Clinical Professor, Department Of Medical Oncology & Therapeutics Research
Having grown up in Southern California, medical oncologist Michelle El-Hajjaoui, D.O., considers it a privilege to give back to her community by providing leading-edge care for her cancer patients as they move forward through treatment. She values working alongside a multidisciplinary team of experts who share her commitment to providing the best evidence-based, collaborative and compassionate medical care for the community at large.
Dr. El-Hajjaoui treats cancers of the breast, lung, gastrointestinal tract, prostate, ovaries and pancreas, as well as blood diseases, such as multiple myeloma, leukemia and lymphoma. During her postgraduate training at Larkin Hospital in Miami, she served as chief resident and chief fellow, and also worked on several clinical trials offering the latest treatments for solid tumors and hematologic malignancies.
Basic Text Field
2011-2015, Doctor of Osteopathic Medicine, Western University of Health Sciences, Pomona, CA
2008-2011, Bachelor of Arts in Human Biology, Pitzer College, Claremont, CA
Basic Text Field
2019-2022, Hematology/Oncology, Chief Fellow, Larkin Community Hospital, South Miami, FL
Basic Text Field
2016-2019, Internal Medicine, Chief Resident, Larkin Community Hospital, South Miami, FL 
Basic Text Field
2015-2016, Internship, Northwell Peconic Bay Medical Center, Riverhead, NY
Basic Text Field
2022-Present, Assistant Professor, Department of Medical Oncology & Therapeutics Research, City of Hope, Duarte, CA
American Society of Clinical Oncology
American Society of Hematology
American College of Physicians
American Medical Association
Ratings and reviews below are gathered from the Press Ganey Clinician and Group Consumer Assessment of Healthcare Providers and Systems (CG CAHPS) survey. CG CAHPS is a standardized survey that is used to measure a patient's experience in the physician office setting. Ratings are an average of all responses to questions about a provider's care, with 5 stars being the highest.
Ratings
5.0
Show respect for what you say
5.0
Recommend this provider office
5.0
Provider listen carefully to you
4.9
Know important info medical history
4.9
Provider explain in way you understand
4.8
Spend enough time with you
---