Christopher Sistrunk, Ph.D., is on a mission to give back to underserved communities like the one he grew up in in Charlotte, North Carolina.
"I always knew I would come back to the communities of the less fortunate or unrepresented and show them another way," he said.
His old neighborhood was rough — a place where he needed friends to protect him and make sure he stayed out of trouble. That protection was about more than friendship. They saw something in him that he, at the time, did not see in himself.
"It was literally a bunch of love in that neighborhood, where they look out for you," he recalled.  "They always made sure you didn't mess with people who had an opportunity to get out."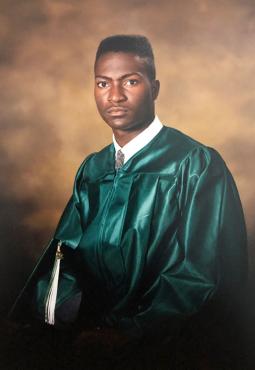 And he always had plans to do just that.  
"My guidance counselor in high school told me to learn a trade, that I wasn't college material," he said.
Rather than demoralizing him, the counselor's attitude made him determined to prove her wrong.
"It didn't bother me, but I can see how it would devastate somebody else," he said. "I was going to go to college anyway. And I was looking towards science because there were rights and wrongs in science."
Not only did he prove her wrong, he excelled. As a molecular and cellular  toxicologist, he studies the initiation and progression of cancer.  
He said he always knew he would land in the science field and settled on cancer research early.
'I wanted to know why—what happened on a molecular level? Why were we getting cancers?"
As a postdoctoral fellow in medical oncology at Duke University, Sistrunk worked on identifying biomarkers for the induction of  triple-negative breast cancer in African-American women.  
He mentored young people, becoming an academic and career adviser to those interested in careers in science, technology, engineering and math (STEM).
Sistrunk spends much of his time in the community making the case for cancer screenings to a population that has fallen victim to a health care system that historically has not served their best interests. Communities still living with the  mistrust fueled by episodes such as the 86-year-old Tuskegee Study.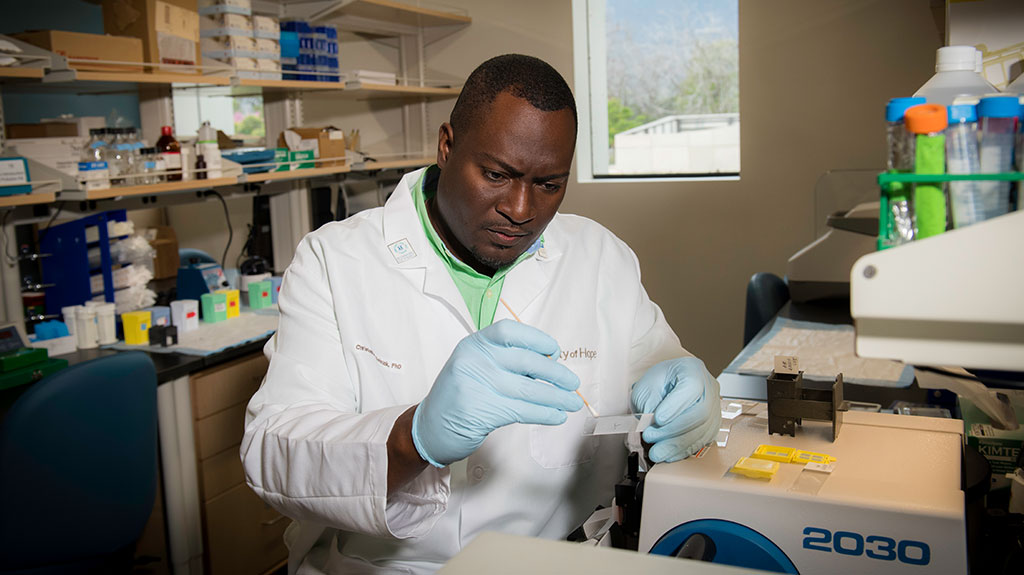 Sistrunk wants to engender more trust while making sure communities he works with get the information and screenings necessary to live healthier lives. He said communication with these communities today is as much about tone as anything else.
"In the African-American community, as black men, we've always heard the message about health care, about getting this checked and getting that checked. But the tone is different," he said. 
"The tone is always like how we need to step up, how we need to do better, we should be doing this or we should be getting screenings, and it's always a tone of treating them like subordinates."
Sistrunk wants to change that.
Rodney Wallace is a retired police lieutenant who has worked with young people in communities of color for the last 34 years. He met Sistrunk a few years ago at a health conference called Man's Cave, and says he is already changing that dynamic.  
He remembers the first time he heard him speak.
"He got up there and started talking to the young people and really just was able to use their language, their lingo, and really just keep them engaged," said Wallace. "He came across very passionate, and he left them with, 'This is who I am, this is what I was able to do, and you guys can, too. I'll be there with you, I'll be there for you if that's what you want to do."
He's deeply committed to making sure young black men see in him other options, other paths forward.

"What I want to show is that you have a better opportunity to get out with something other than sports," he said. "I go places and get high-fives and hugs, like I'm LeBron James or something, because they've never seen a black guy in a lab coat that was real."
Wallace said he doesn't sugarcoat his message, and people in the community are receptive.
"He starts by talking about understanding that there is distrust with the medical industry because of the things that have happened in the past, like the  Tuskegee experiments," said Wallace. "And really just wanted people to understand that yes, those things happened but, as black men, we still have to be aware of our health, we need to do whatever we can to try and take care of ourselves.
"He is one of those folks who can be a liaison between our fears and getting the health checkups and the health awareness that we need."
"I'm coming from a place of love, because I love my community and I'm a part of this community," said Sistrunk. "So the message I gave them, the reason why it resonated is because I came with a different tone."
This educator, cancer researcher, mentor and assistant professor in the  Department of Population Sciences at City of Hope has his work cut out for him.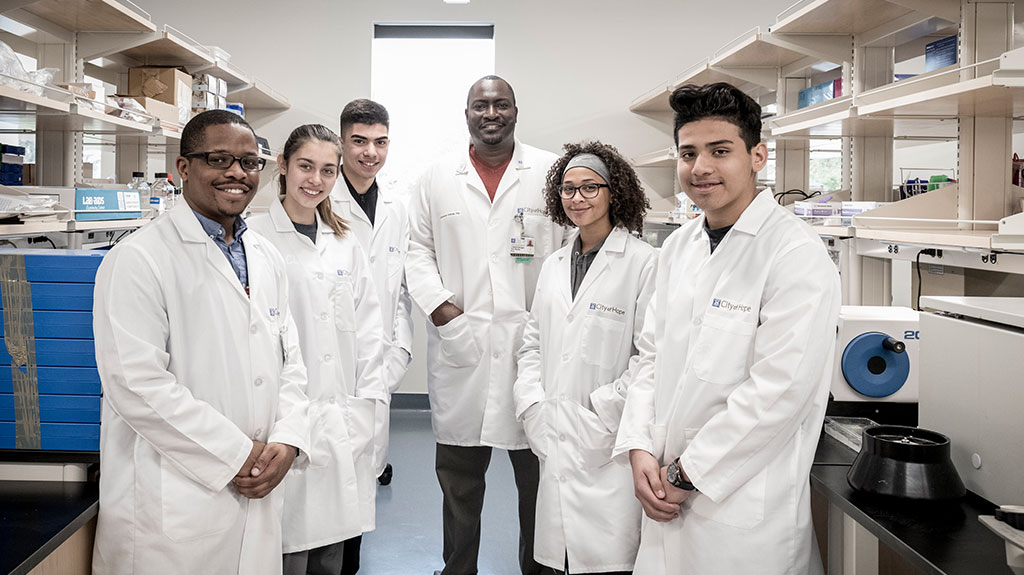 "If you're going to do community-based research, you've got to be a part of the community, and you've got to be seen as somebody that's in the community and not somebody that's visiting the community," he said. "And so that's the footprint that I'm trying to make."
Mayra Serrano is manager of the  Center of Community Alliance for Research & Education (CCARE) at City of Hope and works closely with Sistrunk. CCARE works with communities on health education programs aimed at improving access to care, diagnosis, treatment and outcomes.
Serrano said Sistrunk makes science approachable in the community, which makes him invaluable. 
"He was a great addition to the team and he's very community-minded, and always willing to give his time," said Serrano, adding that in the three short years he's been at City of Hope, he is already making a difference.  
"Most basic scientists don't even bother to go out into the community, so the fact that he's able to do that definitely will bring an impact in the community."
Wallace already sees that impact.
"There are very few who are actually doing the work, and that's the thing— he's doing the work," he said. "He's right there getting his fingers dirty and he's doing the work so that young people can see that.  
"To have a black man get out there and say, 'Hey, these are the things that you can do, this is not a pie-in-the-sky type of thing, it is real.' This is somebody that said, 'I did it, and I can help you if that's what you want to do.' That's why he's important."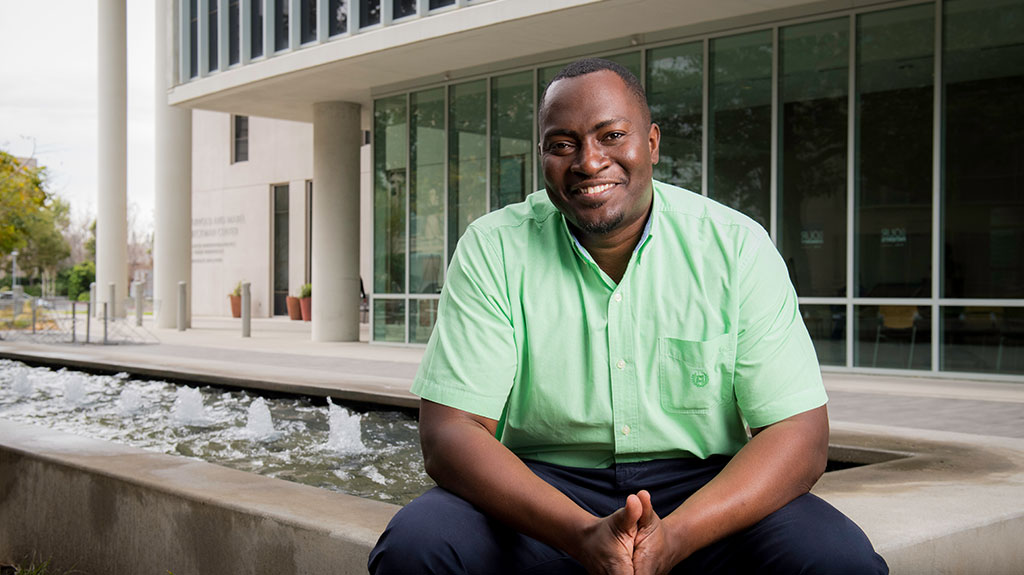 Also important for Sistrunk is to elevate the status of City of Hope in the communities it serves.
"I've been going to each community and trying to let them understand that the brand of City of Hope is not just a place you go when you're hopeless, it's a place where you can go to learn about wellness so you won't ever have to come here."
And to make sure children in these communities understand that the sky really is the limit.
"They can take away your ability to do a lot of things, but they can't take knowledge away from you," said Sistrunk. "That's the one thing I tell the students. Study for knowledge, not grades. Your grades can be taken from you, but they can't take that knowledge away from you."