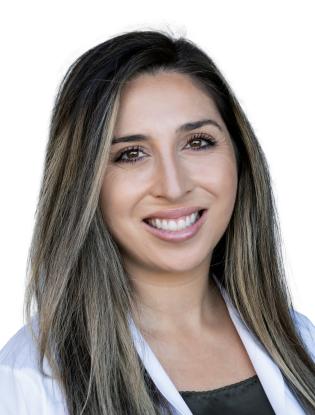 Psychologist
Clinical Expertise
Psychology
Psycho-Oncology
Pain Management
Trauma Management
Appointments
Assistant Clinical Professor, Division Of Psychology, Department Of Supportive Care Medicine

Psychologist Monica Garcia, Ph.D., believes in meeting patients where they are, listening to them and shaping care based on what is most important to them. Her calling derives from her love of connecting with people and desire to provide patients with skills they can use to manage life and its inevitable challenges. She considers herself a "forever student," always furthering her knowledge so she can provide the best care.

Dr. Garcia's specialty is trauma and pain treatment. She enjoys the challenge of working creatively and flexibly to meet the needs of people facing particularly complex medical conditions, including cancer. She strives to help patients live in the moment and find meaning no matter the circumstance.

Born and raised in Southern California, Dr. Garcia sees City of Hope, with its credo "There is no profit in curing the body if, in the process, we destroy the soul," as just the right place for her to provide service to patients. The institution's emphasis on a person's whole health and offering interdisciplinary team care matches her own values.
2021, Doctoral Degree, Clinical Psychology, Kent State University, Kent, Ohio
2022, Psychosomatic Medicine Track, University of California San Diego/VA San Diego Consortium, La Jolla, California

2021, Predoctoral Internship, Behavioral Medicine Track, University of Washington School of Medicine, Seattle, Washington
2022-present, Assistant Clinical Professor, Division of Psychology, Department of Supportive Care Medicine, City of Hope, Duarte, California
American Psychological Association Division 38: Health Psychology

American Psychological Association Section 22: Rehabilitation Psychology

American Psychological Association Section 222: Women in Rehabilitation Psychology

Association for Contextual Behavioral Science

International Society for Traumatic Stress studies
Anderson RE, Garcia M, Delahanty DL. (2021). Test–retest reliabilities of four tactic-first sexual violence history questionnaires. Psychology of Violence, No Pagination Specified-No Pagination Specified. https://doi.org/10.1037/vio0000384

Coifman K, Seah THS, Nylocks K, Wise A, Almahmoud S, Summers C, Aurora P, Garcia M, Delahanty D. (2021). Micro Versus Macro Processes: How specific stress exposure impacts sleep, affect, and risk-related behavior on the path to disease in high-risk adults. Anxiety Stress & Coping. https://doi.org/10.1080/10615806.2021.1888933

Garcia MA, Li X, Allen PA, Delahanty DL, Eppelheimer M S., Houston, J. R., Johnson, D. M., Loth, F., Maleki J, Vorster S, Luciano MG. (2021). Impact of Surgical Status, Loneliness, and Disability on Interleukin 6, C-Reactive Protein, Cortisol, and Estrogen in Females with Symptomatic Type I Chiari Malformation. Cerebellum (London, England). https://doi.org/10.1007/s12311-021-01251-w

Garcia MA, Junglen A, Ceroni T, Johnson D, Ciesla J, Delahanty DL. (2020). The Mediating Impact of PTSD Symptoms on Cortisol Awakening Response in the Context of Intimate Partner Violence. Biological Psychology, 152, 107873. https://doi.org/10.1016/j.biopsycho.2020.107873.

Garcia MA, Allen PA, Li X, Houston JR, Loth F, Labuda R, Delahanty DL. (2019). An examination of pain, disability, and the psychological correlates of Chiari Malformation pre- and post-surgical correction. Disability and Health Journal. https://doi.org/10.1016/j.dhjo.2019.05.004

Allen AP, Delahanty D, Kaut KP, Li X, Garcia MA, Houston JR, et al. (2018). Chiari Registry Project: Assessment of Surgical Outcomes on Self-focused Attention, Pain, and Delayed Recall. Psychological Medicine. 28(10), 1634-1643.

Garcia MA, Delahanty DL. (2017). Oxytocin and Other Pharmacologic Preventive Interventions for Posttraumatic Stress Disorder: Not a One-Size-Fits-All Approach. Biological Psychiatry, 81(12), 977–978.