Spirit of Life® Award Dinner
Our Honoree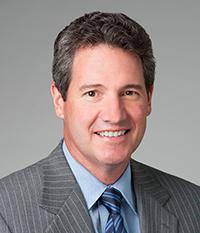 Christopher J. Swift
Chairman and CEO, The Hartford
Christopher J. Swift is Chairman and Chief Executive Officer of The Hartford, a 200 year-old national leader in property and casualty insurance, group benefits and mutual funds. Swift is responsible for the company's strategy and growth, its capital allocation and the Company's performance, culture and leadership.
As CEO, Swift has focused The Hartford's portfolio of businesses, reduced the size and risk of its legacy variable annuity liabilities and transformed the operations of the Company. This resulted in creating industry-leading total shareholder return, increased financial strength and greater strategic and operational flexibility.
Swift joined The Hartford in March 2010 and served as Executive Vice President and Chief Financial Officer through June 2014. In that position, Swift played a central role in the company's financial turnaround and strategic transformation, strengthening the balance sheet and creating greater capital flexibility. During this time, the Company's highly successful strategic Transformation Program reported to Swift.
Swift also led the team that developed the company's go-forward strategy, resulting in a sharply focused company with fast-improving businesses, as well as three strategically important divestitures, which were completed in nine months and at attractive valuations to highly-regarded counterparties. More recently, Swift managed the sale of The Hartford's wholly-owned Japanese annuity subsidiary, which significantly reduced the company's risk profile.
Previously, Swift held senior leadership and finance roles at American International Group (AIG). He began his career in public accounting at KPMG LLP focused on financial services, and was eventually appointed head of the Global Insurance Industry Practice.
Swift earned a bachelor's degree in accounting from Marquette University and is a Certified Public Accountant. Swift has been a long-standing supporter of diversity and inclusion in the insurance industry, including his role as the former executive sponsor of the Professional Women's Network at The Hartford and his current role on the board of Catalyst. He is Chairman of the American Insurance Association where he serves as a Director, sits on the board of the Insurance Information Institute and is a member of the Dean's Advisory Board at the Villanova School of Business. Swift is a member of the Business Council, The Committee Encouraging Corporate Philanthropy, the Council on Foreign Relations, the Financial Services Roundtable and the International Insurance Society.
ABOUT THE HARTFORD
With more than 200 years of expertise, The Hartford (NYSE:HIG) is a leader in property and casualty insurance, group benefits and mutual funds. The company is widely recognized for its service excellence, sustainability practices, trust and integrity. More information on the company and its financial performance is available at www.thehartford.com.