"I had no one to bring me."
"I had no money for gas."
Africa Robison is recounting some of the laments she's heard from fraught lung cancer patients who missed their appointments at City of Hope's Antelope Valley facility. 
As if a lung cancer diagnosis wasn't dire enough, patients in this part of the Southern California desert — Palmdale and Lancaster are the largest cities — can feel utterly overwhelmed because of their uniquely challenging circumstances: low incomes, limited education, language barriers, lack of health literacy, little experience with complicated hospital procedures and no one to talk to when problems arise.
It's a situation where something as simple as a lack of transportation can do great harm. Cancer doesn't wait. If a patient misses an appointment and no one quickly follows up, it may take weeks to reschedule, allowing the cancer to progress.
On top of all of this is the stark fact that the Antelope Valley has the highest lung cancer mortality rate in the region. It is a classically underserved community with little or no lung cancer screening programs available.
All of which makes this an ideal location for a new, two-year pilot program, funded by the National Comprehensive Cancer Network and AstraZeneca, to provide the Antelope Valley with exactly the kind of help and services it so desperately needs.
Much of that assistance will emanate from Robison's desk. She is City of Hope's first — and so far only — specially designated community navigator, the go-to person who'll make sure lung cancer patients in the Antelope Valley get everything they need, when they need it.
Thanks to the grant funding, Robison can hand out gas cards to transportation-challenged families. She can provide laptops to rural patients to help with telehealth visits. The grant will also pay for smoking cessation programs and increased cancer screening.
The Gift of Time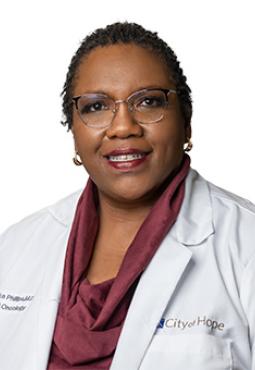 But the biggest resource may be Robison herself. A native of the community, she's worked at City of Hope for nine years in various roles, including as office supervisor of the Antelope Valley facility for the last five years. She has a thorough understanding of the medical system, as well as her community's needs. In her new role, she offers patients the gift of unlimited time, coupled with her uncanny ability to get things done.
"She is amazing!" gushed one advocate, whose father is battling Stage 4 lung cancer that metastasized to the brain. Feeling lost and scared after the diagnosis, the daughter found an ally and advocate in Robison, who brought order to the chaos. The two speak almost daily, something unheard of in prenavigator times. Robison answers questions, offers advice, cuts through insurance red tape, serves as a liaison to doctors and, when needed, expedites care, like when Dad stopped eating and required immediate hydration. Robison made it happen.
"I've never had this experience before," continued the grateful community member. "If we didn't have Africa, I don't know what we would have done. Without her helping us, Dad would be gone."
As complex and daunting as her job seems to be, Robison frames it in simple terms.
"My role," she explained, "is to make sure people know they're not alone. I can reach out without a time clock, sit with them, and really listen and learn what's going on in their lives. It can be very impactful for them."
It's equally impactful for the doctors. Robison takes much of the burden off them, handling the endless complexities and details of scheduling, administration, paperwork, fielding questions, calming nerves and being a conduit of clarity to the physicians who can then focus exclusively on patient care.
"The typical patient sees multiple doctors: radiologists, oncologists, surgeons," explained Tanyanika Phillips, M.D., M.P.H., lung cancer specialist in the Antelope Valley facility. "It can be overwhelming. Africa helps patients figure out 'What do I do next?' She also keeps them informed and updated, so they ask better questions and get better care. Having someone who can do that is very important."
Seeking Immediate Impact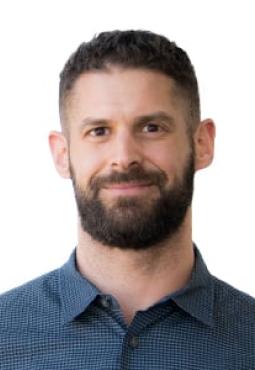 The idea for a community navigator came from Dan J. Raz, M.D., M.A.S., a thoracic surgeon who co-directs City of Hope's Lung Cancer Screening Program. Seeing the sobering numbers in the Antelope Valley, Raz obtained the Quality Improvement grant in hopes of making an immediate impact in the community by eliminating barriers and improving access to screening and care, and also reducing the time between diagnosis and treatment. He also hopes to take early steps to enable the program to grow.
"That's why we'll be collecting data," he explained, "to expand this program to other communities and other service lines [besides lung cancer]. The data will make a big difference." Raz, Phillips and Robison are also collecting information for a formal "manual" that will describe in detail how the navigator position should work in future locations.
For now, the team is working on getting the word out in the Antelope Valley, so that potential patients know what's available to them. Robison and Phillips are partnering with local doctors, nurse practitioners and Antelope Valley hospitals, running educational "lunch and learn" events at nearby colleges, distributing flyers, "even knocking on doors, if necessary," said Robison.
It all sounds terrific to the woman whose father received assistance. She'd love to see more families get the assistance she's received. She's so grateful, she's even ready to give back.
"What you've done for my family makes me want to change professions and do this," she said. "Because when people have help, they have better outcomes.
"I hope you can add this job everywhere."