Renowned diabetes researcher Arthur Riggs will continue to conduct research at the institute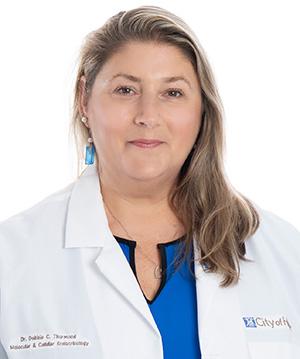 Debbie Thurmond, Ph.D.
DUARTE, Calif.
— Leading diabetes scientist
Debbie C. Thurmond
, Ph.D. has been named the new director of City of Hope's
Arthur Riggs Diabetes & Metabolism Research Institute
, which continues diabetes research at City of Hope that was started more than 70 years ago. Arthur Riggs, Ph.D., who developed the technology in 1978 that resulted in the first synthetic human insulin, impacting millions of lives worldwide, will continue to conduct research within the institute.
"Debbie's depth of experience as a highly successful diabetes scientist and leader, as well as her vision for the DMRI, will lead us to continue to be one of the premier diabetes institutes in the nation," said Riggs, Samuel Rahbar Chair in Diabetes & Drug Discovery and director emeritus of
Beckman Research Institute
of City of Hope. "A rising star in the diabetes field, Debbie will continue to be an excellent mentor to younger, independent scientists who, along with our senior scientists, are working on innovative diabetes research."
"I am absolutely delighted and humbled to be named director of City of Hope's DMRI," said Thurmond, Ruth B. & Robert K. Lanman Chair in Gene Regulation & Drug Discovery Research. "Art has built a phenomenal institute, and I have the great pleasure of facilitating its continued growth and prominence in the diabetes space."
In addition to leading the institute's support of ongoing diabetes research, Thurmond will support its focus on the intersection of diabetes and cancer, helping to answer the reasons why diabetes is significantly associated with an increase in cancer. As such, the institute recently established a new department – the Department of Diabetes & Cancer Metabolism. The institute also provides endocrinology care to cancer patients, since type 2 diabetes significantly increases the risk of cancer. In addition, a growing number of highly effective cancer therapies can also cause insulin-dependent diabetes.
"With the power of City of Hope's comprehensive cancer center alongside us, we are the only diabetes institute uniquely designed to focus on how to cure both diseases and to develop treatments to help prevent them," Thurmond added.
The Diabetes & Metabolism Research Institute's research in other initiatives include cellular therapies to treat type 1 and type 2 diabetes; discovering new biomarkers to identify those at risk for developing type 2 diabetes and its complications; developing drugs that precisely target the receptor molecules responsible for diabetes; improving islet cell transplantation; and reviving and/or replacing the cells that make insulin.
Thurmond and her team's research efforts include identifying cellular and molecular mechanisms in diabetes development and finding therapies to stop or reverse the disease's progression. One project    focuses on boosting the body's ability to create and preserve insulin-producing beta cells in order to maintain healthy blood sugar levels, as well as to boost muscle insulin responsiveness to combat prediabetes and type 2 diabetes.
Thurmond's work is supported by five research awards from the National Institutes of Health (NIH), the JDRF and Larry L. Hillblom Foundation. In fall 2018, Thurmond and her lab team were highlighted in an issue of the journal Diabetes for their discovery and identification of a new potential target that can keep the immune system stable and islet beta cells healthy, ultimately keeping type 1 diabetes in check. She was also awarded the prestigious John K. and Mary E. Davidson Lectureship and Award in the Department of Physiology at University of Toronto, Canada, in 2018, being the first female recipient in the history of the award.
Thurmond is also one of 21 accomplished female leaders, representing health organizations from across the U.S., awarded the Carol Emmott Fellowship in 2020. The fellowship expands the leadership capacity of women, who are already influential in their fields, so that they may increase their ability to make an impact and ultimately contribute to improving gender equity in health leadership through their own career advancement.
Prior to City of Hope, Thurmond was a professor of pediatrics and associate director of the Basic Diabetes Research Group within the Herman B. Wells Center for Pediatric Research at Indiana University School of Medicine, where she received the Trailblazer in Research Award in 2010.
Thurmond received her Ph.D. and postdoctoral training at University of Iowa, and her M.S. and B.S. degrees from University of California Davis. She serves on multiple editorial boards, including as associate editor for Frontiers in Endocrinology and a past associate editor of Diabetologia, as well as on national and international grant review panels, including as chair as one of the five NIH metabolism-focused grant review panels.
City of Hope has a long and impressive history of groundbreaking discoveries in the field of diabetes. It spans more than four decades of investigation since Rachmiel Levine, M.D., who discovered the role of insulin in glucose transport, launched diabetes research at City of Hope.
In 1978, Riggs and his colleagues synthesized human insulin from bacteria,
a legendary scientific first
. Synthetic human insulin was the first biologic approved by the U.S. Food and Drug Administration, and the product that launched the biotechnology industry. Decades later, millions of diabetes patients benefit from the daily medication they use to manage the disease. In another landmark contribution, Riggs led the team that developed the technology for creating monoclonal antibodies. Custom humanized antibodies produced using bacteria are behind numerous treatments addressing a host of conditions, including cancer and autoimmune conditions such as arthritis, multiple sclerosis and Crohn's disease.
# # #
About City of Hope
City of Hope is an independent biomedical research and treatment center for cancer, diabetes and other life-threatening diseases. Founded in 1913, City of Hope is a leader in 
bone marrow transplantation
 and immunotherapy such as 
CAR T cell therapy
. City of Hope's translational research and personalized treatment protocols advance care throughout the world. Human synthetic insulin and 
numerous breakthrough cancer drugs
 are based on technology developed at the institution. A National Cancer Institute-designated comprehensive cancer center and a founding member of the National Comprehensive Cancer Network, City of Hope has been ranked among the nation's "Best Hospitals" in cancer by U.S. News & World Report for 14 consecutive years. Its main campus is located near Los Angeles, with 
additional locations
 throughout Southern California. For more information about City of Hope, follow us on 
Facebook
, 
Twitter
, 
YouTube
 or 
Instagram
.