CONTACT
SLATE PR
Andy Gelb / Elyse Weissman
310-461-0111
L.A. event featured Alicia Keys, Sara Bareilles,Yolanda Adams, En Vogue and more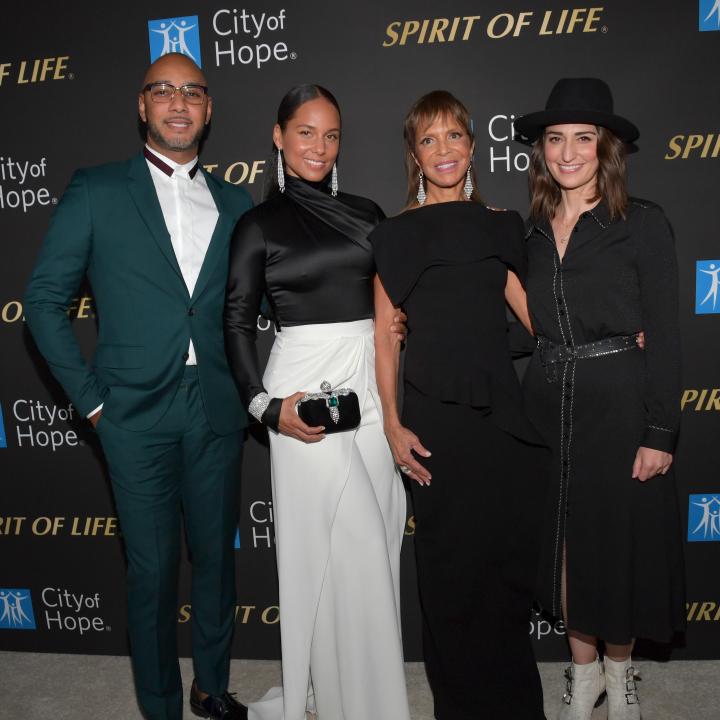 Swizz Beats, Alicia Keys, Sylvia Rhone and Sara Bareilles
Photo Credit: Getty Images for City of Hope
LOS ANGELES – OCT. 11, 2019: Last night, City of Hope, a world-renowned independent research and treatment center, raised more than $4 million at a black-tie gala honoring Epic Records Chairwoman and CEO Sylvia Rhone. The funds will go toward the nonprofit biomedical institution's research to find improved treatments for cancer, diabetes and other life-threatening diseases. Held at Santa Monica's Barker Hangar, the annual event featured a one-of-a-kind duet performed by Alicia Keys and Sara Bareilles, as well as performances from Yolanda Adams and En Vogue. Eric H. Holder Jr., 82nd attorney general of the United States, presented Rhone with the prestigious Spirit of Life® award.
Yolanda Adams opened the ceremony with a heartfelt performance, wowing the crowd with a medley of her favorites including "Just a Prayer Away," "Open My Heart" and "Someone Watching Over You."
Mega-producer Kuk Harrell thanked the incredible team at City of Hope for treating him like family during his battle with prostate cancer, taking a moment to acknowledge his two doctors and care team who were all in attendance. He explained that it wasn't easy to find the right place to seek treatment after his operation. He didn't want to be somewhere where he would become just another statistic; he wanted to be somewhere that felt like home. After a phone call to his manager, who called 2018 Spirit of Life Award honoree Jon Platt, Harrell said he received an outpouring of support from City of Hope representatives ready to welcome him with open arms.
The crowd was in for a treat when Alicia Keys and Sara Bareilles took the stage together for a one-of-a-kind presentation of some of their most beloved songs. It culminated with a beautiful duet of their hits "Girl on Fire" and "Brave."
After being welcomed to the stage by friend and admirer former Attorney General Holder, Rhone gave an incredibly moving and personal speech, reflecting on her life-long commitment to the music industry and thanking those who paved the way. Rhone, the first African American woman to receive this award, recalled attending similar ceremonies in the past but never seeing anyone who looked like her on stage. Now, she said, she hopes that doors are open for everyone.
In a surprise display of admiration and respect for Rhone, one of the most trendsetting female groups in popular music, En Vogue, delivered a moving medley of their biggest hits from their time under her leadership at Atlantic and Elektra Records.  For the first time ever, the Billboard and American Music Award-winning group performed as a quintet – having founding members Terry Ellis and Cindy Herron reunite with original singers Maxine Jones and Dawn Robinson as well as current member Rhona Bennett, who has been performing and recording with En Vogue for more than 15 years. While En Vogue has both performed and recorded as a quartet and a trio, this is a "first" for the five-woman collectively and created a milestone moment reminiscent of the historic reunions by The Supremes, Temptations and New Edition. 
The star-studded celebration culminated with an afterparty, deejayed by DJ Trauma.
Luminaries like 21 Savage, Swizz Beatz, Chloe Bailey, Bonnie Hunt, Jimmy Jam, DJ Khaled, Zara Larsson, Natalie Martinez, Meghan Trainor and Daryl Sabara, and Forest Whitaker were in attendance.
This year, the gala also included a very special Paddle8 art auction with many of the exquisite pieces on display around the venue. Proceeds from this auction that featured works by Derrick Adams, Deana Lawson, Julie Mehretu, Charles White and Kehinde Wiley will go toward the fight for health equity.
For photo highlights of the evening, please click
HERE
(Photo Credit: Getty Images for City of Hope)
###
About Sylvia Rhone
Rhone is regarded as the most influential female executive in the history of the music business. Recipient of nearly three dozen honors and awards, Rhone is currently the president of Epic Records, a division of Sony Entertainment. In an acclaimed career spanning more than four decades, Rhone has helmed senior positions at all three major record companies and was the first woman ever to be named CEO of a major record label owned by a Fortune 500 company, the first African American woman in history to attain such a title. Since being named president of Epic Records in 2017, the label has placed three artists simultaneously in the Top 10 of the Billboard 200 Albums chart twice, with Travis Scott's historic album "Astroworld" debuting at the top spot and returning to No. 1 again at the end of 2018. Rhone has guided multiple artists to the top of the charts at Epic Records, including Travis Scott, Camila Cabello, 21 Savage, Future, DJ Khaled, French Montana, Meghan Trainor and others. She has also been recognized for bringing unprecedented hip-hop success to the label.
Rhone's career reads like a virtual litany of groundbreaking accomplishments. In 1990, she became the first African American woman to head a major record company when she was named CEO/president of Atlantic's EastWest Records U.S. division. She masterminded multiplatinum successes of artists including En Vogue, Pantera, Levert, Das EFX and others. She became a major force at Atlantic Records in the 1980s and '90s. Her keen vision and business sense reinvigorated the label's black music mission and contributed to the imprint being named No. 1 Black Music division by Billboard Magazine in 1988.
Rhone also has been credited for championing pivotal female hip hop trailblazers during her career, including the first female rapper to ever release a full-length album, MC Lyte, who released "Lyte as a Rock" in 1988. Rhone's success in breaking through the artistic glass ceiling is emblematic of the empowered, genre-transforming female icons cultivated by her at multiple labels. Rhone launched five of the "31 Female Rappers Who Changed Hip-Hop," as designated by a 2014 Billboard Magazine article, including seminal groundbreaking artists Missy Elliott, MC Lyte, Rah Digga, Yo Yo and Nicki Minaj.
In 1994, Rhone was appointed chairman/CEO of the Elektra Entertainment Group, the first African American woman to be named chairman of a label owned by a Fortune 500 company. During her decade-long tenure, she transformed the boutique label into one of the most eclectic and successful rosters in music. Rhone guided the careers of legendary artists such as Missy Elliott, Metallica, Tracy Chapman, ACDC, Third Eye Blind, Natalie Merchant and Busta Rhymes, among others.
Acclaimed throughout her music business career as a female executive trailblazer with few peers, Rhone is the recipient of more than three dozen awards and honors from the music business and the greater community at large, including being ranked 35th on Billboard's Annual Power 100 List in 2019. In 2017, she was honored with the Harlem Business Alliance Award. In 2014, she was the first woman to receive the Music Business' Association Presidential Award for Sustained Achievement. Her other awards include the 2012 Essence Black Women in Music Trailblazer Award and the 2011 Keepers of the Dream Award.
News and entertainment outlets have recognized Rhone's contributions. In 2001, Ms. Magazine named Rhone Woman of the Year, along with Jane Fonda and Yoko Ono, among others. Rhone was one of four women recognized in Jet Magazine's 50 Years of Progress issue, which chronicled the business achievements of prominent African Americans in the previous half century. Additionally, she has been featured on Entertainment Weekly's Most Influential People list six times and The Hollywood Reporter's Women in Entertainment Power list nine times.
Rhone has been credited by noted Los Angeles Times writer and legendary music business journalist Chuck Phillips for "breaking the male bastion" of the music business. Phillips wrote, "Rhone's ascent from secretary to label chief was no cakewalk, but rather a hard-won victory rife with racist and sexist encounters." Additionally, a Miami Herald article designated Rhone as one of the "Twenty People Who changed Black Music" and heralded that she is "a living legend," noting that her "knack for finding quality musicians and pairing them with quality projects is the legacy that Rhone will leave, though she is a far cry from leaving her final imprint on the business."
About City of Hope's Music, Film and Entertainment Industry Group
Inspired by the guiding humanitarian principles of City of Hope and motivated by the institution's commitment to innovative medical research and compassionate patient care, a group of key industry executives founded the charity's Music, Film and Entertainment Industry group in 1973.

In its 46-year history, the group has raised more than $124 million for City of Hope and has honored some of the most important figures in the music and entertainment industry.
 
Recent past honorees* include Jon Platt, chairman and CEO of Warner/Chappell; Coran Capshaw, founder of Red Light Management; Joel A. Katz, chair of Global Entertainment and Media Practice of Greenberg Traurig; Sir Lucian Grainge, chairman and CEO of Universal Music Group; Frances W. Preston, president and CEO of BMI Inc.; Shelli and Irving Azoff, executive chairman of Live Nation Entertainment, chairman and CEO of the Front Line Management Group; Eddy Cue, senior vice president of Apple's Internet Software Services; Rob Light, head of the Music Department, partner and managing director of Creative Artists Agency; and Doug Morris, worldwide chairman and CEO of Universal Music Group and Sony Music Entertainment. (*All titles listed are those from the time they were honored)
About City of Hope
City of Hope is an independent biomedical research and treatment center for cancer, diabetes and other life-threatening diseases. Founded in 1913, City of Hope is a leader in 
bone marrow transplantation
 and immunotherapy such as 
CAR T cell therapy
. City of Hope's translational research and personalized treatment protocols advance care throughout the world. Human synthetic insulin and 
numerous breakthrough cancer drugs
 are based on technology developed at the institution. A National Cancer Institute-designated comprehensive cancer center and a founding member of the National Comprehensive Cancer Network, City of Hope is the highest ranked cancer hospital in the West, according to U.S. News & World Report's Best Hospitals: Specialty Ranking. Its main campus is located near Los Angeles, with 
additional locations
 throughout Southern California. For more information about City of Hope, follow us on 
Facebook
, 
Twitter
, 
YouTube
 or 
Instagram
.