Jennifer Peterson trains other nurses how to treat patients receiving the leading-edge immunotherapy. 'It has been amazing to see how the program has advanced,' she says.
When Jennifer Peterson, R.N., M.S.N., OCN, BMTCN, first came to City of Hope as a travel nurse more than a decade ago, she had no idea that it would change the trajectory of her career.
Originally from Iowa, where her mother was a nurse, Peterson knew from the age of 5 that she wanted to be a nurse, too. She went on to study nursing in college, where she combined her interest in helping people with her fascination with science and began to consider a career specializing in transplant nursing.
"I had done a little bit of work in transplant when I was in school, and my senior preceptorship was in a pediatric stem cell transplant unit," she recalled. "I found the science fascinating, and I really liked the connections I saw the nurses making with their patients. Being a nurse gives you the opportunity to really get to know people beyond their disease, and I really like that."
Aside from working in bone marrow and stem cell transplant units, Peterson also wanted to move around, never staying in one place too long. Becoming a travel nurse was the best of both worlds. "I wanted to work in a variety of hospitals and live in different areas of the country. Travel nursing was a great option to do both," she said.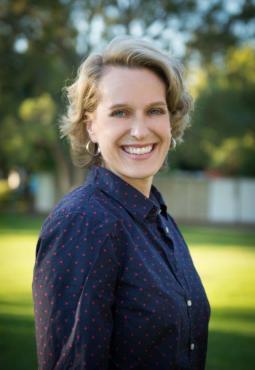 Eventually, her travels led her to City of Hope. "I was looking for a new assignment, and a recruiter called and said they found a position at City of Hope. I was familiar with the name, but aside from that, I was not familiar with much else about the institution." Peterson said. 
Peterson accepted the job. "It was probably the easiest transition I had ever experienced," she said. "People were so welcoming, and so many of the nurses had been at City of Hope for a very long time. I thought there must be something different about City of Hope, because people like it here and they actually stay."
Peterson spent a few years at City of Hope as a travel nurse, then left for three months on a new assignment. While there, she was approached to come back to City of Hope as a nurse educator. 
"I wasn't looking to get away from patient care, but I was interested in trying something different for a while. So, I did come back," she said.
Peterson has now been at City of Hope for 15 years and currently serves as the Hematology/Hematopoietic Cell Transplantation/IEC clinical practice education specialist.
"My responsibilities include onboarding and assisting with the orientation of new staff who come to any of the hematology units, and I participate in the R.N. residency program that we have for new nurses. I provide presentations on different hematologic malignancies, as well as an overview of hematopoietic cell transplants and CAR T cell therapy," Peterson explained.
"I also provide clinical support for staff on the units. If there's something that is new or something that staff are less familiar with or are uncomfortable with, I help train them."
CAR T at City of Hope
One of the most exciting aspects of Peterson's job is leading the training for nurses to assist with a remarkable immunotherapy known as chimeric antigen receptor (CAR) T cell therapy. City of Hope is at the forefront of this powerful treatment. Using this approach, immune cells are taken from a patient's bloodstream, reprogrammed to recognize and attack a specific protein found in cancer cells, then reintroduced into the patient's system, where they can then destroy targeted tumor cells. City of Hope physicians and scientists are targeting lymphoma, leukemia and the notoriously difficult to treat brain tumor glioblastoma using CAR T cell therapy, with clinical trials underway for additional solid tumors.
"I've worked in transplant since before CAR T was even an approved therapy. It's fascinating to see how far treatments have come for this patient population and what it has provided for survival for them," Peterson said.
There are several advantages to undergoing CAR T cell therapy. Many patients experience minimal side effects, treatments are highly personalized since they harness the patient's own T cells, and the effects can be long-lasting.
"Patients have the potential to have CAR T cells circulating for months to years post-infusion. So, they have this constant surveillance of CAR T cells that are looking for cancer cells to eradicate. This persistence provides the patient with the potential to avoid relapse," Peterson said.
Over the last several years, the use of CAR T cell therapy has grown exponentially, and Peterson has had a front row seat to it all.
"I support one of the units that participated in the clinical trials for CAR T cell therapy before any of the products were FDA approved. To see a therapy go from the trial space into an approved therapy is very exciting," Peterson said.
"Being able to expand CAR T cell therapy's availability to our patients has been incredible. It has been amazing to see how the program has advanced."
Creating a CAR T Cell 
Peterson explained how the process works. Once patients are deemed eligible for CAR T cell therapy by their physician, they first meet with a nurse coordinator, who educates patients and their caregivers on the infusion process. When it is time for patients to have their T cells collected, they are connected to an apheresis machine, which separates the T cells are separated from the blood. 
The process then moves from the hospital to the lab. The T cells are delivered to a manufacturing facility right on the City of Hope campus, where they are genetically modified using a viral vector that inserts genes into the cells.
"The genes instruct the T cells to grow a chimeric antigen receptor, or a CAR, on the external portion of the cell," Peterson explained. "That CAR is programmed to seek out a cell surface marker that the malignant cells express. This gives the T cells a target to latch on to, and the malignant cells die."
In the manufacturing facility, the CAR T cells are induced to multiply until there are enough to effectively target cancer cells. They are then sent over to the treatment facility.
Infusing the Cells
The next part of the process, Peterson explains, is the CAR T infusion, which begins with lymphodepletion. During this process, patients receive chemotherapy to target their current circulating T cells and make space for the new, manufactured CAR T cells. After two days of rest, patients are then infused with the CAR T cells.
"All of the FDA-approved products are a one-time infusion. Patients and family members are always very surprised at the small volume of cells. They are small but mighty. These cells pack a punch," Peterson said.
The infusion is also clear to opaque, often surprising patients, she said. "If patients have had prior stem cell transplants and blood transfusions, they're used to seeing the red or pink color of the cells, but that is not the case with CAR T cells."
CAR T infusion used to be an inpatient procedure, but now, the majority of City of Hope patients are able to have the procedure done as an outpatient. 
In 2022, City of Hope opened Judy & Bernard Briskin Hope Village. This 147-room hotel provides accommodations to patients and their families while the patients undergo treatment at the Duarte campus. Having a home-away-from-home available for City of Hope patients has helped make outpatient CAR T treatment more accessible.
"Outpatient CAR T infusion patients are treated in our day hospital. We have specific standard operating procedures for who can be treated this way. Accessible housing that is not too far from the hospital is one of the criteria. The patient must also have a caregiver, and has to meet certain performance criteria that show they are able to care for themselves and be independent," Peterson explained.
Incredibly, the entire process, from lymphodepletion to CAR T cell infusion, happens over just three days.
Helping With Side Effects
City of Hope health care providers are very proactive about treating CAR T cell therapy side effects so that patients do not experience uncomfortable symptoms for very long. For nurses who care for CAR T cell therapy patients, patient and caregiver education is critical during this time.
"There are specific, expected side effects for CAR T cell therapy, including a fever, low blood pressure or low oxygen levels, possibly requiring oxygen therapy. Patients are also at risk for infection because of the chemotherapy they receive prior to their T cell infusion, so nursing is always monitoring patients for infection," Peterson said.
Another common side effect is neurotoxicity. This can vary significantly from patient to patient, but can include confusion and difficulty speaking. CAR T-related neurotoxicity is often transient, and most patients return to their baseline neurological status.
"As nurses, we provide consistent reinforcement and reassurance to the family and the caregiver that we expect this to happen. We make sure they know that patients will receive medications to reverse these side effects or decrease the severity of the side effects, and that they will improve."
Once patients are discharged, they are then monitored in clinic by their care team.
"They're followed in the outpatient clinic at least a couple times a week and then, depending on their side effects and how they're recovering, their providers will decide how often they need to be seen moving forward," Peterson said.
The Future of CAR T
Peterson expects City of Hope's CAR T program to continue to grow, and she hopes the treatment will become more common for more types of cancer.
"I think we're moving in the right direction, and that is really exciting," Peterson said. "It would be nice to see more products approved for other disease processes, especially for patients whose disease isn't responding to other therapies. For those patients, I hope there will be an approved CAR T cell product as an option for them soon."
Ask any cancer patient about their experience during treatment, and they will sing the praises of the nurses who helped care for them. Nurses play a crucial role throughout the entire CAR T cell therapy process, and the bond between these patients and their nurses is a strong one. It is this bond that inspired Peterson to work with transplant patients early in her career, and it is what still drives her.
"Transplant and CAR T cell patients are a very special population. As a nurse, you have the opportunity to care for people who are going through a life-changing event, and really walk side by side with them during treatment. It's special. Seeing patients who have been discharged from inpatient care and are thriving and back to their normal lives after such a devastating diagnosis is amazing."
Pictured above: A CAR T cell attacks a tumor cell.