Walker is honored as a health care "Luminary" by Modern Healthcare magazine.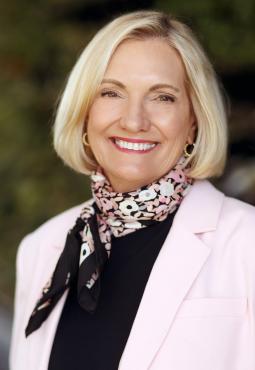 City of Hope Orange County President Annette M. Walker has been named a 2023 Modern Healthcare Top Women Leader in Healthcare Luminary. Only five women leaders in the country received this year's prestigious national distinction that honors women who have made outstanding, sustained contributions to health care and have a proven track record of advancing the careers of others.
Modern Healthcare considers Luminaries the most influential women leaders in the country. Walker was recognized for dedicating her career to closing the health care gender gap through mentorship and sponsorship and for leading City of Hope's expansion in Orange County, California, home to 3.2 million people. City of Hope is one of the largest cancer research and treatment organizations in the country and a National Cancer Institute-designated comprehensive cancer center.
Walker has twice been named among the 100 Most Influential People in Healthcare by the publication and a Modern Healthcare Top 25 Women Leader.
"It is an honor to receive this meaningful recognition," Walker said. "Thank you to Modern Healthcare for their steadfast commitment to ensuring the numerous contributions by women leaders in our field are recognized and celebrated. I have been described a lot of ways over the years, but "ceiling smasher, mentor, risk-taker" would be among the most satisfying, and I am humbled to be included in this accomplished group of inspiring women."
"As I experience at City of Hope and know from the many women leaders across the country who are among my most trusted and treasured colleagues, our nation's health care is gifted with an abundance of female talent. Their work is transformative, and they positively impact the lives of millions of people every day," Walker said.
Walker has led many national organizations in health care. Before joining City of Hope, she was president of strategy at Providence St. Joseph Health, the nation's third largest health system. While there, she was instrumental in bringing two prominent health organizations together. Her storied career includes the 2022 opening of a national academic cancer research and treatment center in Irvine, California, breaking ground on Orange County's only specialty cancer hospital, and decades of influential leadership and sponsorship.
Walker led the team that opened City of Hope Orange County Lennar Foundation Cancer Center — a national model for how people with cancer receive care — on time and on budget, despite the challenges of designing and building during a pandemic. Patients benefit from fully integrated, multidisciplinary cancer care — from prevention through survivorship — in one convenient location. They have access to City of Hope's more than 600 physicians and 1,000 researchers and scientists who only focus on cancer and more than 800 Phase 1-3 clinical trials conducted each year at City of Hope.
Walker has built her career on seeking innovative solutions, ensuring sound business strategies and brokering agreements. Committed to giving back, she has served on a wide range of boards for more than 20 years.
She has received numerous leadership and innovation honors from major institutions, organizations and publications. A featured speaker for national audiences, Walker is the author of numerous articles on strategy, leadership, marketing, quality, planning and management.
Modern Healthcare will recognize Walker at a gala during its Women Leaders in Healthcare Conference in Chicago, Aug. 9 to 11, 2023.