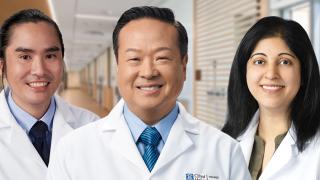 Physician Referral Lung Cancer
City of Hope is a nationally recognized leader in the research and treatment of lung cancer, one of the most common cancers in the United States and a leading cause of cancer deaths worldwide. We combine acclaimed lung cancer expertise, leading-edge technologies and advanced therapies with access to pioneering research and lifesaving clinical trials to offer you and your patients the most advanced comprehensive lung cancer care in the region.
 
Physician Referral Fax: 949-777-6750
Basic Text Field
Access to personalized approaches, including leading-edge targeted therapies and immunotherapies, best-in-class genomic testing and more.
Basic Text Field
City of Hope Orange County Lennar Foundation Cancer Center offers the latest and most comprehensive suite of diagnostic imaging, market-leading radiology, interventional radiology and radiation oncology equipment, providing a powerful combination of high tech and high touch.
 
Interventional Pulmonology
Basic Text Field
With expertise at the forefront of thoracic medicine, City of Hope's interventional pulmonology program provides the most advanced diagnostic and therapeutic pulmonary interventions available.
Basic Text Field
Our industry-leading radiation oncologists utilize their advanced knowledge in combination with external beam radiation techniques to optimize treatment outcomes.
Basic Text Field
Our advanced surgical options for lung cancer include minimally invasive techniques, such as laparoscopic and robotic surgeries. Utilizing our innovative telepathology platform, a surgeon can remain in an operating room and communicate in real time with the pathologist in the lab or with other remote experts.
Clinical Research and Trials
Basic Text Field
Providing access to nearly 1,000 innovative Phase 1-3 clinical trials being conducted at City of Hope each year.
Basic Text Field
City of Hope's nationally recognized supportive care services and programs include social work, support groups, integrative medicine and physical medicine and rehabilitation.
Retail and Specialty Pharmacy
Basic Text Field
Fills and dispenses prescriptions and offers over-the counter medications, alleviating the burden of going elsewhere for medication.
 
Basic Text Field
A full-service salon and specialty shopping experience with oncology-trained cosmetologists.
 
City of Hope Orange County's Lung Cancer Experts
We regularly treat aggressive and late-stage cancer, including complicated cases other institutions may have deemed untreatable. Treatment for lung cancer begins with a conversation and partnership with you and your patient and continues as a coordinated effort between staff from many different disciplines. From our oncologists to pathologists, nurses, radiologists, surgeons, researchers and support staff, we will collaborate to determine the best treatment plan for your patient.
PULMONOLOGY
---
Thomas Waddington, M.D.
Interventional Pulmonology 
PATHOLOGY
---
Jennifer S. Woo, M.D.
Pathology
RADIOLOGY
---
Jason Salsamendi, M.D.
Interventional Radiology
MEDICAL ONCOLOGY
---
Danny Nguyen, M.D.
Hematology & Medical Oncology
Tingting Tan, M.D., PH.D
Medical Oncology
Lihong Wu, M.D.
Hematology & Medical Oncology
Section Header Title Text
Contact Us
Section Subheader
For more information about our comprehensive lung cancer program, or to schedule a one-on-one with a City of Hope cancer expert, please contact one of our physician liaisons:
Expert and compassionate care through our City of Hope network, including City of Hope Orange County Lennar Foundation Cancer Center and seven network locations in Irvine Sand Canyon, Newport Beach, Huntington Beach, Long Beach and Torrance.
City of Hope believes that patients benefit from a collaboration between us and their referring physicians. We work in partnership with you, communicating with you frequently, and focusing on helping patients return to your care when they complete their treatment. Learn more about our programs and services.