"Since I've been here, I love everything about it. Literally everything."
Leanne Burnham, Ph.D., is a postdoctoral fellow in the City of Hope Division of Health Equities. She is a translational scientist who focuses on prostate cancer in African-American men.
"My goal is to address prostate cancer health disparities that exist in African-American men at the scientific level, at the clinical level and in the community," Burnham said. "That is important because this issue is something that should be able to be easily fixed, but for many reasons it's not." 
Burnham's interest in the disease is personal. Nine years ago, at 52 years old, her father was diagnosed with  prostate cancer. 
"That's why I got into this field," Burnham recalled. "I saw what happened to him and started talking to his friends and they would say, 'Oh, yeah, I have prostate cancer.'"
It was a community-based version of the Baader-Meinhof  phenomenon — the tendency we have to notice things more once we learn about them. Once her father was diagnosed, Burnham started noticing more and more African-American men in her church and community being diagnosed.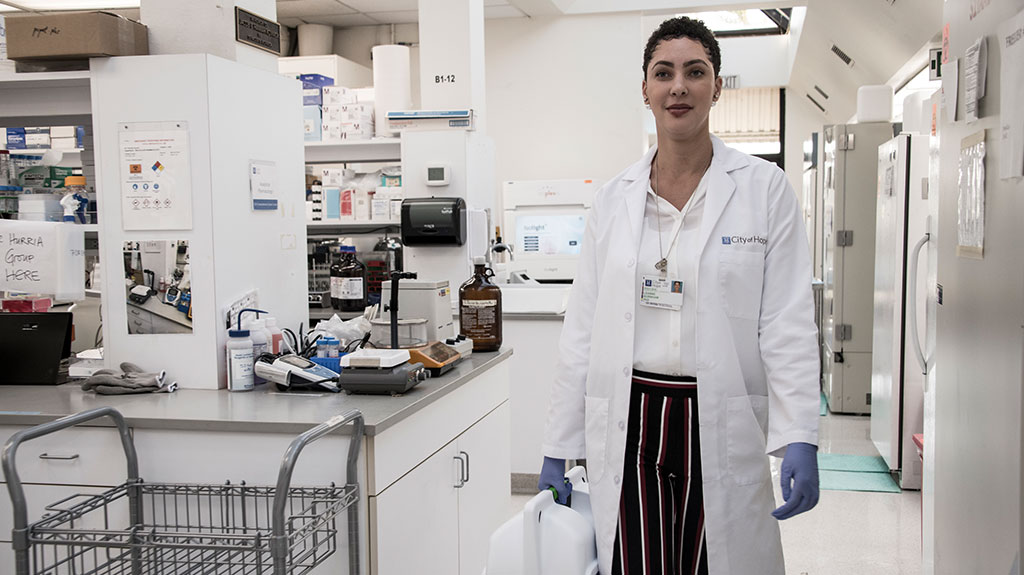 At the time, she was a college undergrad studying biology at the University of Akron. She decided to educate herself about prostate cancer in African-American men by shadowing her father's urologist and other Cleveland Clinic physicians.
"I started seeing how, in the clinic, prostate cancer looked very different in black patients versus white patients."
That interest carried over to graduate school at Loma Linda University School of Medicine. There Burnham was mentored in aspects of community health by Susanne Montgomery, Ph.D., director of the Community Outreach Corps for the Loma Linda Center for Health Disparities Research, and Carlos Casiano, Ph.D., associate director of the Center for Health Disparities, where she studied the effects of stress on health and prostate cancer.
Together they went to community events, black churches and health fairs. They designed health screenings  for African-American men.
"Leanne is crazy smart and really, really good at science," Montgomery said. "But she never forgets the 'why?' She always thinks about why it is important, the persons affected. She has a passion to find a cure, and these men heard and felt that. I think her work is going to be groundbreaking for prostate cancer science." 
While working together, Montgomery saw in Burnham a clarity and ease when communicating with men in the community.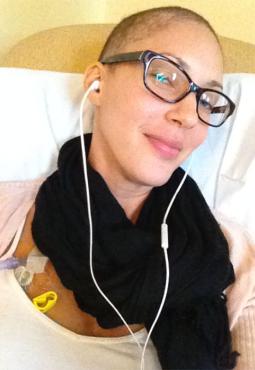 "What Leanne did was incredible. She was able to meet and connect with these men and discuss with them not just any cancer risk but their prostate cancer risk. What it meant. Why black men should be concerned about it," Montgomery recalled.
"And she explained the complexity of this challenging disease risk pattern to them in ways that they actually got it. Through the process, it ended up that she became very connected to the men and the men truly appreciated not just learning about their health risks in general, but the reason why they need to learn more about prostate cancer health."
Burnham is in a unique position to know how important messaging is. She's a cancer survivor herself. Three years ago, she got the startling diagnosis. 
"I had Hodgkin's  lymphoma," Burnham said. Stage 4.  
She was a 35-year-old graduate student at Loma Linda, working on her Ph.D. in physiology.
It all started with a cough that wouldn't go away and a low-grade fever. Initially she thought it was bronchitis or walking pneumonia. 
"How crazy is this that I do cancer research every day and I was walking around with cancer for obviously a long time and I didn't know?" 
After six months of chemotherapy, she was back to work. Last August, she joined City of Hope and what she calls a research "dream team" led by Rick Kittles, Ph.D., professor and founding director of the Division of Health Equities, who is nationally recognized for his work in prostate cancer and health disparities among African-Americans.
"I brought her on as a postdoctoral researcher to work on prostate cancer disparities, and in particular the translation of laboratory and clinical work into the community," Kittles said. "Not everybody can do that. She's a rare postdoc with strong skills that go beyond the laboratory. She is savvy and sophisticated enough to operate in the laboratory setting, scientific setting and also in the community setting. Very few Ph.D.s can do that."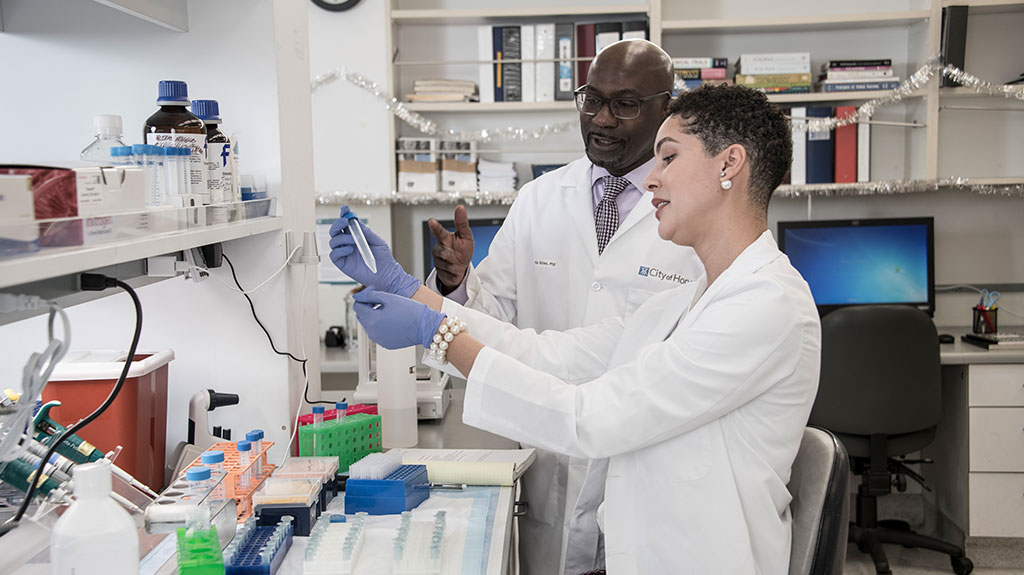 The admiration is mutual. Burnham has been following Kittles's work for well over a decade and says she has found in him the perfect mentor.
"He just has a very common sense approach to cancer research. He's able to see an issue in a community and address it in the community and address it at the bench," Burnham said. "His team really has great synergy. I'm excited to come to work every day."
Work Kittles says is important on multiple levels.
"There is a lack of focus and attention to prostate cancer in black men. And the little attention there is does not increase health literacy in the black and Hispanic communities. This is why Leanne's work is so critical, because she is able to collect data from the community, do research and then translate that information back to the community."
Burnham's research has focused on how stress hormone regulation may drive prostate aggressiveness in African-American men. She has published an article on the topic, with another on the way.
"We were able to use prostate cancer cells from African-American patients and white patients and I treated them with stress hormones," she said. "What I found was the black patients' prostate cancer cells would begin to upregulate genes and proteins that are known to make men resistant to therapy at a more significant rate.
"The reason there's no cure for advanced prostate cancer is because over time cells learn to resist hormone therapy and  chemotherapy. What I observed in my experiments suggests African-American men may be more likely to resist therapy at a faster rate."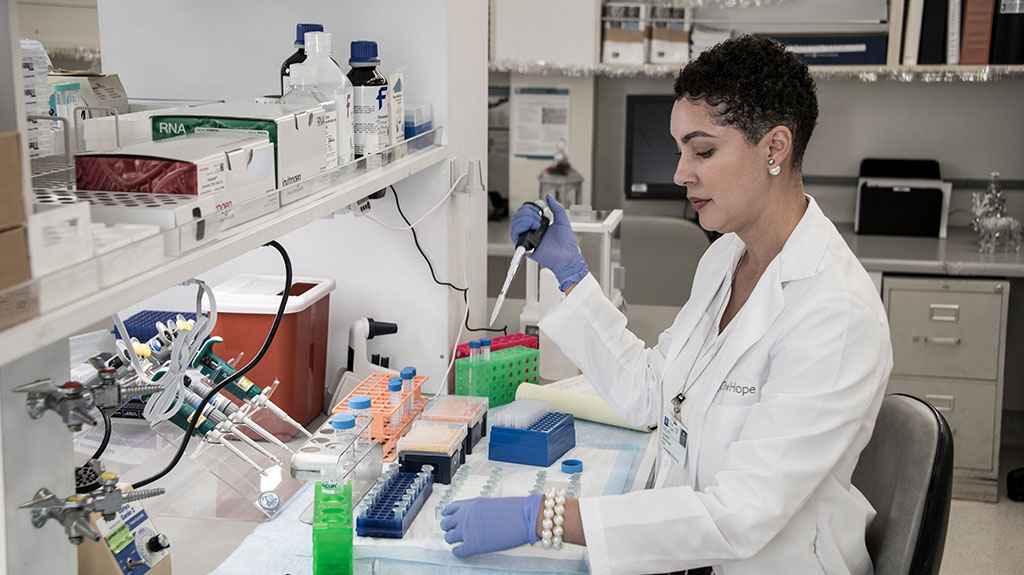 Burnham is concerned that African-American men may not even know they're at higher risk and that one of the things driving health disparities is a lack of conversations between physicians and African-American patients about prostate cancer screening.
"They're going to the doctor and the doctor may or may not even have a discussion with them about it," said Burnham, who authored a study that revealed 54 percent of 414 African-American men questioned had never discussed prostate cancer screening with their physicians. 
"To me, getting the word out and letting these patients know that they are at a higher risk and that there is screening they can have done at a younger age is important."
Studies also show that African-American men have a higher risk of metastasis, or cancer spreading, when diagnosed with prostate cancer, making early PSA screening even more important, yet screening recommendations for this group have changed at least three times in the last decade.
"I like to drive the message home that if these men catch prostate cancer earlier enough, it's very curable," said Burnham. "The problem is the disease is not detected in black men early enough. Why should they suffer more than any other demographic? They should be able to catch it early enough and have the same treatment options at an early stage.
"So, I kind of let them know that the ball is in their court, unfortunately, to bring to the attention of their provider that they need to be screened. Don't wait for the doctor to ask you about it, tell them you want to be screened." 
Burnham says the scope of the problem drives her passion.
"It's such a huge problem that's just not addressed sufficiently, it seems, on any level. I can count on my hands how many scientists, black scientists, who work on this issue in the country, we all know each other, we collaborate with each other, so in terms of science, there's not a lot of funding that goes to this topic, there's not a lot of labs that work on this," she said.
"I feel like a lot of men are walking around with this underlying disease that they don't even know, so what can I do about it? There are a lot of issues that plague the black community that I have a problem with, but the one thing that I can address is this."
Burnham's father is not the only family member to have been stricken with the disease. Her cousin, Yahoshuah Israel, a published author and cultural historian, is battling advanced prostate cancer and is now a City of Hope patient. He is proud of Burnham's efforts on behalf of the community.
"Black men tend not to want to deal with hospitals. It may be the residual effects of a group memory passed down from generations," Israel said. "So, someone of our community like Leanne is heaven sent in reaching out and explaining to our young men the importance of early detection. 
"We need more Leannes, because this is a serious, countrywide problem. She is making a tremendously positive impact in the community, and I have no doubt her efforts will impact the number of men who develop, and most importantly, survive prostate cancer." 
Burnham encouraged Israel to consider  clinical trials  at City of Hope.
"The experience that I'm having at City of Hope is so positive. In fact, the early results seem to be amazing and have given me and my family cause to be hopeful," Israel said. "I was not aware of the possibility that I could be accepted for a clinical trial.
"These types of programs seemed not to be readily accessible to people in my community, and I realize that were it not for Leanne, I would probably have been another of those who failed to take advantage of the possibilities of cutting-edge research. More importantly, I know that she will make a significant difference to others also."
Access is something Burnham is already working intensely to correct.
"The goal is having more black men enrolling in clinical trials at City of Hope. That would be a win-win. City of Hope needs more minority enrollment, and black men need to be able to take advantage of clinical trials that can help them, so we're seeing what things we can do to make a difference that way."
She's also an advocate for training and mentoring young people to become scientists, especially young African-American scientists.
If you can take scientists from these communities that are disproportionately affected by diseases and train them, they're going to do the research and they're going to reach back into their community," she said. 
"Unfortunately, if people aren't exposed to how these diseases affect these communities, they don't have necessarily the same drive to address those issues. I think that that's something important and that's part of what leads the passion of this team. We've all been affected by this disease in our families,  so we're passionate about addressing it."