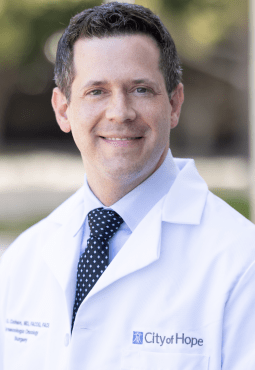 Every five minutes, a woman in the United States will be diagnosed with a gynecologic cancer — cancers that start in a woman's reproductive system. 
September is Gynecologic Cancer Awareness Month, an ideal opportunity to raise awareness about preventing and treating cervical, ovarian, uterine/endometrial, vaginal and vulvar cancer. 
"The prevalence of gynecologic cancer is a reminder for women to make their health a priority and consider gynecologic cancer prevention and early detection as important as heart health and bone health," said Joshua G. Cohen, M.D., medical director of the Gynecologic Cancer Program at City of Hope Orange County. He practices at City of Hope Orange County Lennar Foundation Cancer Center, Orange County's most advanced comprehensive cancer center.
"It's vitally important that women get their pap smears and understand the symptoms of gynecologic cancers," Dr. Cohen said. "Talk to your physician if you see or feel changes or have concerns. Advocate for yourself and your loved ones. We, as medical providers, want to hear from you and partner with you to optimize your health care."
What are gynecological cancers?
There are five main cancers of the female reproductive system:
•    Uterine (also called endometrial)
•    Cervical
•    Ovarian (can also include cancers in the fallopian tube and peritoneum)
•    Vaginal
•    Vulvar
What are the main symptoms of these cancers?
With only one screening test available (for cervical cancer), it's important to be vigilant for potential symptoms. Here are some of the main signs to watch for:
•    Unusual vaginal bleeding or discharge, including for women postmenopause (all gynecologic cancers)
•    Persistent pelvic pain (ovarian and uterine cancers)
•    Changes in bathroom habits, such as more frequent urination or constipation (ovarian and vaginal)
•    Feeling especially bloated or too full soon after a meal (ovarian cancer)
•    Itchy, painful genitals that may change in color or have a rash (vulvar cancer)
•    Pain or bleeding during or after intercourse (vaginal and cervical cancers)
What you can do to reduce your risk
In addition to watching out for symptoms (especially as you age, which increases your risk of gynecologic cancers), here are some other things you should be doing:
Get screened for cervical cancer. Pap testing to check for cancerous cells can begin at age 21 and be done every three years as long as there isn't an abnormal result. Between ages 30 and 65, you can get either a Pap test every three years or an HPV test (types of human papillomavirus can lead to cancer) every five years. You may also choose to get both tests together every five years. Cervical cancer screening is important because early cancer detection can lead to better treatment outcomes.
Speak with your doctor about the HPV vaccine. This Food and Drug Administration-approved vaccine significantly reduces the risk of HPV infection and of cervical, vaginal, vulvar cancers and precancers.
Know your family history. While anyone with a female reproductive system can get gynecologic cancer, you may have a higher risk if your relatives have had these types of cancer or breast cancer. Genetic testing may be an option if you have a family history of any of the following cancers: ovarian, uterine/endometrial, breast, pancreatic, prostate cancer and/or melanoma. We know there are at least 25 different genetic mutations, such as BRCA1 and 2, which contribute to development of these cancers.
Establish healthy lifestyle habits. Eat a healthy diet with minimally processed foods, exercise and don't smoke.
See your doctor regularly. Keep up with your annual wellness visits and make an appointment to visit your doctor right away if you experience gynecologic cancer symptoms.
At City of Hope Orange County Lennar Foundation Cancer Center, a team of some of the world's most acclaimed physician-scientists — with expertise in lung, breast, gastrointestinal, gynecological, genitourinary, blood cancers and more — leads next-level cancer treatment and research.
In addition, we have doctors who specialize in treating health conditions which impact your quality of life. These conditions include bladder incontinence, pelvic organ prolapse and chronic pelvic pain. 
Patients receive integrated, multidisciplinary cancer care — from prevention through survivorship — in one convenient location.
For more information, visit CityofHope.org/OC. To make an appointment at any of our five Orange County locations, call 888-333-HOPE (4673).