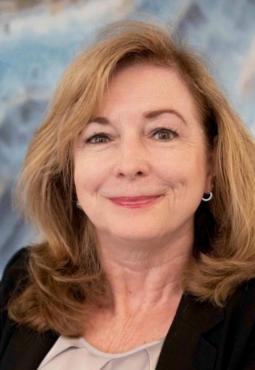 When Cynthia Powers, D.N.P., M.S.N., R.N., CPHQ, took to the stage to accept one of the most prestigious awards in oncology administration, she was filled with emotion. She thought about her parents, who recently passed away, her family and all the people she works with or has worked with.
"I didn't feel like I was alone standing on that stage," she said. 
For Powers, vice president and associate chief of nursing, City of Hope Orange County, receiving the Marsha Fountain Award for Excellence in Oncology Administration by the Association of Cancer Executives was one of the highlights of her career. Yet, Powers has never been driven by accolades or recognition. Each day, she draws inspiration from patients and their families and the teams of dedicated nursing professionals she leads.
"I've always focused on how I might make things better for patients and their families," said Powers. "Because at the end of the day, when I look back on my life, if I was able to move that rock up the hill just a smidge in terms of cancer care for patients, that's enough for me."
Powers has dedicated her career to answering the call of patients, advancing excellence in oncology nursing and developing the next generation of nursing leaders. In addition to the Marsha Fountain Award, she was also recently named Healthcare Executive of the Year by Greater Irvine Chamber of Commerce.
Also read: Hope is at work: City of Hope Orange County again named a top workplace by OC Register
The Marsha Fountain Award for Excellence in Oncology Administration is named for the late nursing leader who began her career as a pediatric oncology nurse in the 1970s before moving into the emerging field of cancer program administration. Renowned for her decades of pioneering leadership, Fountain served prior to retirement in 2015 as a leading consultant to cancer centers, health systems and hospitals.
Powers incorporates the inspiration she drew from Fountain into her own work. "As a nurse, Marsha Fountain focused so much of her energy on the patient experience. She was always asking how things could be made better for patients and how the status quo could be improved upon," said Powers.
"For me, that is a defining aspect of excellence in oncology administration — to inspire your teams to always be thinking what it is like to walk the patient's shoes, to be tenacious and dedicated to making decisions for the patient's sake. I am grateful and humbled to be mentioned alongside Marsha Fountain and recognized with this award named in her honor."
Also read: Oncology nurses honor the unique "you" of every patient
Powers says that excellence in oncology nursing plays a vital role in bringing hope to individuals who are relying on City of Hope to care for them at one of the most vulnerable times in their lives.
"Oncology nursing is a calling, and it takes a unique combination of clinical excellence and compassion," said Powers. "I tell my teams that it's the hardest job that you're ever going to love, and you will find something to love about it every day."