It seems almost meant to be that both father and son Tchekmedyian are oncologists
Above: City of Hope's two doctors Tchekmedyian, Dr. T (right) and Dr. Nishan (left), join in planting the healing garden at City of Hope Orange County Lennar Foundation Cancer Center.
It seems almost meant to be that N. Simon Tchekmedyian, M.D. (also known as Dr. T) and his son Nishan Tchekmedyian, M.D. (also known as Dr. Nishan) are oncologists. Nishan was born while Dr. T was in graduate fellowship training. As a toddler, he would climb onto his father's desk and dive into his journals and papers, "literally immersing himself in oncology," Dr. T said.
 
Young Nishan would accompany his father on inpatient rounds and visit his office. He also gained an early interest in clinical trials by tagging along at research meetings. The exposure to cancer care resonated with him. 
 
"As I got a little older, I got a glimpse of certain conversations with patients who were in difficult circumstances, and some of those discussions included goals of care and end of life situations," Dr. Nishan said. "They gave me a sense that there was a special connection between my dad and his patients and their families. And that was important, because it showed the deeply human aspect of taking care of patients, which is a central part of being an oncologist, and that was attractive to me."
Today, they practice together at City of Hope Orange County.
Patient-centered from the start
Both Tchekmedyians work seamlessly together. They could be grilling corn and sausage on the hand-made Uruguayan barbecue Nishan built or talking on the phone about clinical research during their commutes to work. But no matter where they are or what they are doing, they have always shared the commitment to putting their patients first.
 
"Nishan called me one night after working in the hospital and office all day," Dr. T said. "He was going to visit an extremely ill patient at home, but he had never done a home visit and asked for advice.
"I told him, 'Bring your stethoscope. Examine the patient. Place your hands on him. Then, go over everything with the patient and his family, to make sure they know you are there for them.'"
 
"I remember that conversation very clearly, and in the many home visits I've done since then, I always take my stethoscope," Dr. Nishan said. "In another memorable conversation, my dad also said, 'The most important tool for a doctor is a chair, because we need to sit down and talk with our patients. We have to focus on each individual patient, one at a time, and make sure that every single aspect of patient care is covered from A to Z. It's important in everything we do to show patients and their families that we truly care.'"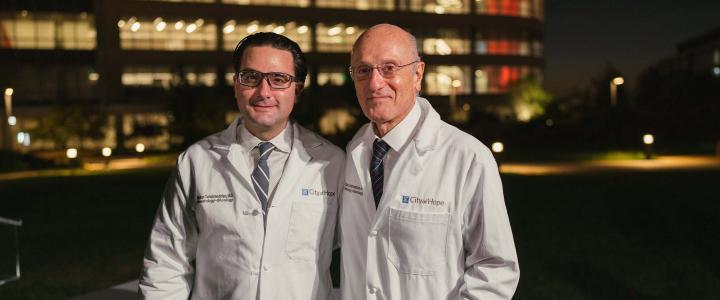 Like father, like son
After finishing his fellowship in medical oncology and hematology, Dr. Nishan interviewed across the country, looking for the perfect place to start his practice. He chose a leading medical group in Huntington Beach (Pacific Shores Medical Group, which joined City of Hope as part of City of Hope's clinical network expansion in Orange County) because he wanted to grow a practice in the community where he grew up. It also helped that he knew the medical director: his father. "I told him that I was extremely busy and needed help, and it worked," said Dr. T.
"It's a unique opportunity and a privilege to work with my dad," said Dr. Nishan. "We've complemented each other and worked quite nicely as a team because we share a patient-centered focus."
 
In the same way he inspired his son, Dr. T was himself inspired to become an oncologist by his father, whose medical studies were halted when he fled to Uruguay to escape the violence in Armenia during World War I.
 
"My dad, many years later, showed me a questionnaire I filled out in elementary school where I said I wanted to be a cancer doctor. That was in the 1950s, and there is no way that would have been in my head unless my father had put it there," Dr. T said. "My dad showed me that path, and he did that with my brothers as well because there are four of us and three are physicians.
"His dream was that if someone called our home and asked for Dr. Tchekmedyian he'd ask, 'Which one?' And the dream became a reality."
 
City of Hope's NCI-designated comprehensive cancer center is opening in Irvine this year, advancing our world-renowned cancer treatment and research. Our highly specialized cancer care is available now, near you. To make an appointment at any of City of Hope's four Orange County locations, click here or call: