With compassionate care and clinical expertise, our nursing team brings hope and healing to people with cancer
May is National Nurses Month, and we want to express our gratitude to all of our nurses and nursing services staff for their dedication, compassion and resilience, especially during these past few years. With compassionate care and clinical expertise, they bring hope and healing to people with cancer — and their families.
"Everything we do at City of Hope Orange County is for our patients; and as oncology nurses, we have the privilege of caring for them at one of the most vulnerable times in their lives," said Cynthia Powers, D.N.P., M.S., R.N., vice president and associate chief of nursing, City of Hope Orange County. "We walk with individuals facing cancer and form deep bonds with them and their families, celebrating their wins and supporting them through their setbacks. I tell our nurses that it's the hardest job you're ever going to love, and you will find something to love about it every day."

Also read: Oncology nurses honor the unique "you" of every patient

Our nurses and nursing services staff demonstrate excellence in so many ways: in clinical practice, education, research, leadership, innovation and advocacy. Their commitment and passion for their work shine through in all that they do.
We asked three members of our nursing services team to tell us why they feel called to this work and why they choose to work at City of Hope Orange County.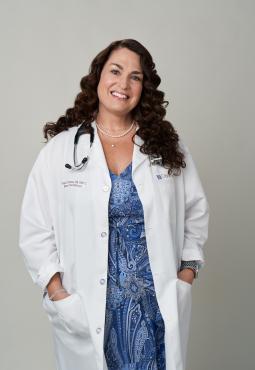 Paula Di Thomas, N.P., City of Hope Huntington Beach
"My job is to go into an exam room and be prepared for whatever a patient needs. My goal is to sit there and listen to them. I want to hear their story first. How are they doing? How are they feeling? If it's a teaching visit where I explain their chemotherapy treatment, I know that I'm entering a room with a patient that may have a fear of the unknown. And I have this compassion in me, so I want to make sure I can alleviate some of that fear. The family members are there most of the time, but sometimes the patient is alone. And those are the patients that I feel I need to grab their hand and walk them through this journey.

My mom passed away from cancer. I remember sitting at the table with the doctor, and he told me it was the end, and then he left, and I was all alone. And I know that none of my patients, or their family members, will be alone — that's never going to happen with City of Hope. We are going to be there and hold everybody's hand from the beginning of their journey to the end, whatever that may be. And that's why I'm here."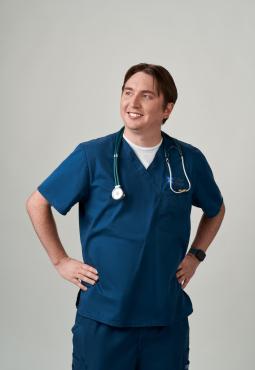 Charles Schweitzer, R.N., City of Hope Huntington Beach
"A lot of our patients are excited to have City of Hope in Orange County. There are so many people here with cancer. They need resources, and City of Hope has the ability to help them. It's great to be part of this organization and serve people in my community.

I've had members of my family deal with cancer, and I know it's something where a lot of help is needed. I absolutely love working with patients. My favorite thing is when I get a patient from the lobby. It's so good greeting them again and seeing how they're doing. It's like seeing a member of your own family. I really just love the day in, day out interaction with my patients. I feel so privileged to be part of this chapter in their life and to be there when they really need it."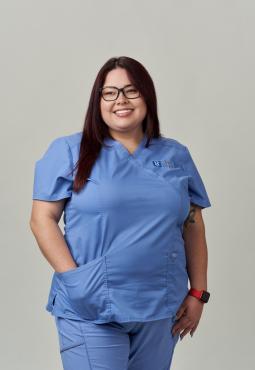 Angelina Jimenez, medical assistant, City of Hope Newport Beach Lido
"My aunt passed away from cancer. As I was figuring out how to cope with this loss, I knew I had to make a difference in people's lives. I was in the medical field at the time and going to school, and then I landed a job in oncology. I felt like my aunt was always with me. It's rewarding to help people who are sick and in need. I love what I do and have a passion for it. Every day I go home happy that I'm able to help another patient survive another day. That's the highlight of my life."
Join us in celebrating our remarkable nurses and nursing services staff. Nursing is more than a career, it is a calling. Our nursing team shows us what can be achieved when people are at their best for patients and their families.

City of Hope Orange County is hiring. Learn more: cityofhope.org/oc/HopeIsAtWork
 
To make an appointment at any of our four Orange County locations,  click here or call:
Newport Beach Fashion Island: (949) 763-2204
Newport Beach Lido: (949) 999-1400
Irvine Sand Canyon: (949) 333-7580
Huntington Beach: (714) 252-9415