When Sharon Whaley completed chemotherapy in 2020 at
City of Hope | Newport Beach
, it was a major milestone for her and for the cancer care community practice site. Whaley was one of the first patients to start infusion treatment at City of Hope | Newport Beach, which had opened a few months prior. She was the first patient to finish treatment there as well. In fact, the Bell of Hope that patients ring to signify the completion of their chemotherapy hadn't even been installed yet.
Whaley's journey to that point wasn't easy. But the City of Hope staff buoyed her spirits during the hard times.
"It's amazing how incredible, how supportive they are," she said. "They did everything for me during infusion — they brought me snacks, they escorted me to the restroom and waited for me, I've even had them pray with me. They'll do everything they can to make patients comfortable." 
"You're going to City of Hope"
Whaley wasn't overly concerned when her internist felt a mass in her abdomen during a checkup in late 2019. The Lake Forest resident was busy caring for her husband, Mike, as he recuperated from spinal fusion surgery. And she wasn't worried when subsequent scans detected a few pelvic tumors; she'd had a noncancerous tumor in her ovary 21 years ago and got a hysterectomy.
She wasn't thinking about cancer, but a longtime friend of her father's — an experienced physician who served on several hospital boards — was.
"He said, 'You're going to City of Hope because I want you to go to the best. If it's cancer, they can do something about it. And if there's any chance of curing it, that's where you're going to get cured.'"
Whaley's surgeon was Ernest Han, M.D., Ph.D., a City of Hope gynecologic oncologist. She quickly understood why her family friend made his recommendation.
"Dr. Han was telling me about all the things that could happen while I was in surgery," Whaley said. "He said if he found anything outside his area of expertise, he had many specialized doctors he could bring in at any moment if needed. It was comforting to know there are so many different types of cancer doctors at City of Hope."
Han removed five tumors — ranging in size from a pea to a softball — and diagnosed Whaley with peritoneal cancer. This rare form of the disease occurs in the thin tissue layer lining the abdomen, bladder and rectum. 
Once surgery was complete, Whaley started chemotherapy. And that's when she especially appreciated City of Hope's expertise. 
Compassionate care
Han and Whaley decided she should undergo chemotherapy closer to home, to avoid the long drive from Orange County to Duarte. The
Newport Beach location
wasn't open yet, so Whaley's first of six infusions took place at City of Hope's Corona community practice site. Whaley, who's allergic to several drugs, had a bad reaction.
"I felt like I was fading out," she said. "The nurses came over immediately and stopped the treatment."
City of Hope Newport | Beach opened in time for Whaley's second infusion. There, her physician was medical oncologist
Misagh Karimi, M.D.
"He's awesome; so caring, and an incredibly knowledgeable cancer expert," Whaley said. 
The team took things slowly during this infusion and avoided any adverse reactions. This allowed Whaley to relax in the brand new infusion center.
"It was nice being the first patient in Newport Beach because I got the chair with the ocean view," Whaley said. "They're reclining chairs and very comfortable. This was pre-COVID-19 so you could take family members with you. My husband was still recovering from his back surgery and wanted to come with me, so they put him in the chair next to me and took care of him, too."
However, Whaley had a reaction during her third round of chemo. Her treatment paused and during that time her husband had a massive heart attack. She resumed treatment as he was recovering, and the next two infusions took such a toll that Karimi canceled Whaley's sixth and final session.
Fortunately, by that point the chemotherapy had done its job. Since the last infusion in April 2020, Whaley's follow-up scans have been clear; she and Mike were able to take a couple of trips to visit family and even withstood bouts of COVID-19 at the end of the year. (And Whaley got to ring the Bell of Hope during one of her follow-up appointments.)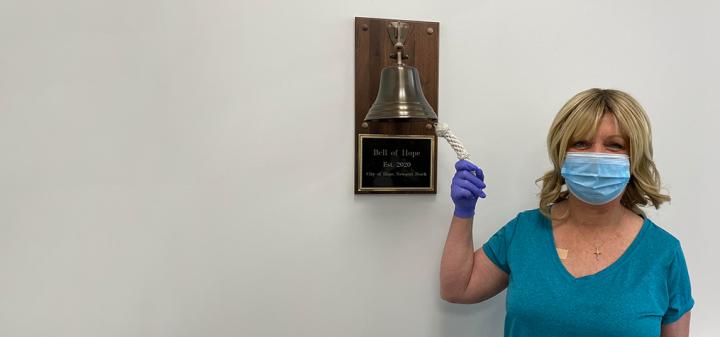 Now, Whaley is the one recommending City of Hope for cancer care. She referred a real estate industry colleague to the Newport Beach location, and her oldest daughter is monitored for her non-Hodgkin's lymphoma there.
Whaley also plans to get more involved when City of Hope Orange County's comprehensive cancer campus opens in Irvine, about a mile from Whaley's home. The campus is the site of
Lennar Foundation Cancer Center
, which will open in 2022, providing local access to City of Hope's pioneering cancer treatments, research and clinical trials.
The county's only hospital exclusively dedicated to treating and curing cancer is scheduled to open on-campus in 2025.
"I look at my cancer as God using me to help other people going through it," she said. "I know what they're going to experience. I want to help ease their minds and let them know they're in good hands. I have a strong calling that when City of Hope Orange County opens its doors in Irvine, I need to be there to volunteer."
Discover compassionate, world-class cancer care at City of Hope | Newport Beach. Our renowned cancer specialists use their unique expertise to deliver groundbreaking treatments backed by our pioneering research. Call (949) 763-2204 or
contact us online
.