By age 16, Julian Castaneda had already survived two battles with cancer. Today, he's many things: a survivor, a student, a founder, a leader searching for ways to assist other children facing the disease.
Looking back on his more than four years of treatment and a bone marrow transplant at City of Hope, Castaneda realized he wanted to help young cancer survivors know that they are not alone.
Castaneda founded the Bags of Love Foundation, which delivers everything from blankets, playing cards and coloring books to scholarships, tickets to concerts and sporting events to children and teens who like Castaneda have had their youth interrupted by cancer.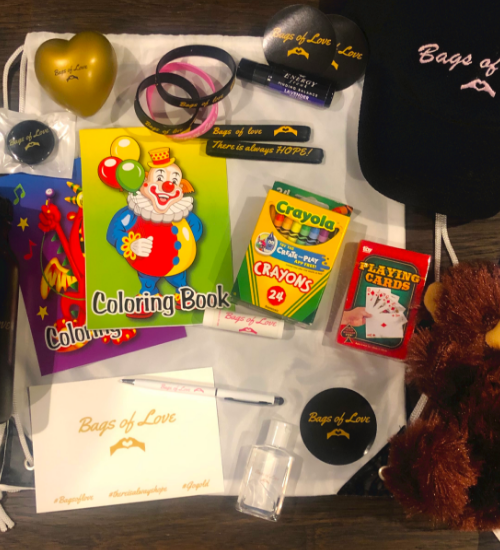 "I want to let other young survivors know there is always hope," said the Bakersfield resident who is majoring in marketing at Cal State Northridge. "It's about making days count, not counting down the days."
Castaneda, now 21, has big dreams. He wants Bags of Love to become a national effort and hopes it one day will become the largest nonprofit helping childhood cancer. He's committed to doing what it takes to make those dreams a reality, reaching out to underserved young people in Orange County, where he serves on the board of the Orange County Hispanic Youth Chamber of Commerce.
Castaneda is excited to be growing the foundation's presence in the region. "Orange County is a hub of medical innovation. Expanding our work into the region will allow us to build and strengthen our relationships with leading cancer research and treatment organizations like City of Hope. It's also a community with growing needs for cancer resources, and we're here to be the best resource we can be."
Bags of Love Foundation's 2022 scholarship applications are open now through April 30, 2022. For eligibility guidelines and to see previous scholarship winners, visit bagsoflovefoundation.com/scholarships.
Finding the match
Castaneda is grateful to City of Hope for finding the bone marrow donor he needed, despite the need for a more diverse donor registry. People of color constitute a small percentage of donors in the national marrow registry, which is where most patients must turn to find their match.
After an extended search, Castaneda's donor was eventually located in Germany. It forever changed his future, he said. "Once I received the transplant, I really did receive a new life, a new chance, a new beginning," Castaneda said. "Now I want to make sure that happens for other people."
A road twice travelled
Castaneda and his family had walked a long road before finding City of Hope. He was diagnosed with leukemia when he was 10 years old.
For nearly four years, Castaneda received chemotherapy, which pushed the cancer into remission. His life normalized again and he discovered he loved to run.
Two years later though, his symptoms returned. His strength started to ebb, his track times kept getting slower, and he was having a hard time getting out of bed in the morning. The leukemia had come back. He was 16.
"It was just crushing," Castenada said. "I had just gotten my life back to normal."
Doctors first put him on chemotherapy but told him he needed a bone marrow transplant. Enter City of Hope, one of the world's largest and most successful bone marrow transplant centers and a pioneer in breakthrough treatments for blood cancers.
When Castaneda came to City of Hope, he was feeling defeated. But "City of Hope was different," he said. His compassionate care team saw and supported him as a whole person during his three-month stay. When the staff learned how much he adored the Los Angeles Dodgers, they gave him tickets for the World Series to see a game in L.A.
"My family came to City of Hope because they have the best experts and provide great treatment, but it's more than that, they were always there for me," Castaneda said. "They got me through the toughest times. Every nurse and staff member knew me, and the doctors had answers for my questions. They gave me confidence and hope."
Called to help others
Castaneda took those lessons to heart. "I wanted to make my life count," he said. "I wanted to help these kids get through tough times."
The goal of Bags of Love is to recreate much of that experience, Castaneda explained.
"Patients need to feel comforted and have enjoyable things to do," Castaneda said. "We can do this now for them. We can make things better for them. We can show them that they aren't alone and there is always hope."