Pamela Becker, M.D., Ph.D.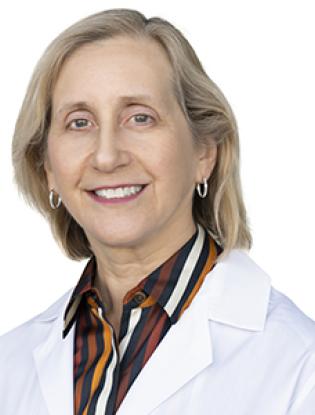 Hematologist
Appointments
Professor, Division of Leukemia, Department of Hematology & Hematopoietic Cell Transplantation
Hematology & Hematopoietic Cell Transplantation
Physician-researcher Pamela Becker, M.D., Ph.D., is a highly respected clinician with expertise in acute myeloid leukemia, multiple myeloma, bone marrow failure and other diseases of the blood and immune system, as well as a leader in studies to translate research breakthroughs into health solutions and to improve therapy for blood cancers.

As a hematologist, Dr. Becker has a few simple principles that guide her work with patients. One is to treat each patient as she would want members of her family to be treated. She also subscribes to the "Sully Principle": Just as the pilot remembered as the Hero of the Hudson wasn't satisfied until he knew that all of his passengers made it to shore, she strives to make a difference for every single patient.

In her research, Dr. Becker focuses on a specific mechanism by which acute myeloid leukemia resists chemotherapy; gene therapy for Fanconi anemia, a rare inherited condition affecting the bone marrow; and precision medicine approaches for treating blood cancers. She has been recognized with the Visionary Research Champion Award from the Washington/Alaska chapter of the Leukemia & Lymphoma Society and the Leadership in Science Award from the Aplastic Anemia & MDS International Foundation.

Dr. Becker earned a medical degree through the joint Harvard Medical School-Massachusetts Institute of Technology Health Sciences and Technology Program alongside a Ph.D. in cell and developmental biology from Harvard University. She pursued an internship and residency in internal medicine at the Harvard-affiliated Beth Israel Deaconess Medical Center, followed by a postdoctoral fellowship at Yale, focusing on hematology.

Joining City of Hope in 2022, Dr. Becker brought with her more than 30 years of experience in patient care, research and programmatic leadership. At UC Irvine, she was co-leader of the Systems, Pathways & Targets Program at the Chao Family Comprehensive Cancer Center. At the University of Washington, she was co-director of the clinical core for Fred Hutchinson Cancer Research Center's Program of Excellence in Gene Therapy and associate program director of UW's Gene and Cell Therapy Laboratory. At the University of Massachusetts, she was chief of the Division of Gene Therapy at the Chan Medical School in Worcester.

Away from the laboratory and clinic, Dr. Becker enjoys the arts, including classical music, opera and ballet, as well as swimming, playing violin and gardening.
1992, Hematology, re-certified 2002-2012, 2012-2022
1990, Internal Medicine, re-certified 2000-2010
1986, M.D., Harvard Medical School/Massachusetts Institute of Technology Health Sciences and Technology Program, Boston, MA
1986, Ph.D., Program on Cell and Developmental Biology, Division of Medical Sciences, Harvard Graduate School of Arts and Sciences, Cambridge, MA
Basic Text Field
1986-1988, Internal Medicine, Beth Israel Hospital, Harvard Medical School, Boston, MA
Basic Text Field
1986-1988, Internal Medicine, Beth Israel Hospital, Harvard Medical School, Boston, MA
Basic Text Field
2022-present, Professor, Department of Hematology and Hematopoietic Cell Transplantation, Division of Leukemia, City of Hope, Duarte, CA
2020-2022, Affiliate Investigator, Clinical Research Division, Fred Hutchinson Cancer Research Center, Seattle, WA
2020-2022, Affiliate Professor, Division of Hematology, University of Washington, Seattle, WA
2020-2022, Professor of Clinical Medicine, Division of Hematology/Oncology, University of California Irvine, Irvine, CA
2020-2022, Co-Leader, Systems, Pathways & Targets Program, Chao Family Comprehensive Cancer Center, University of California, Irvine
2021-2022, Member, Stem Cell Research Center, University of California, Irvine
2014-2020, Professor of Medicine, Division of Hematology and Institute for Stem Cell and Regenerative Medicine, University of Washington, Seattle, WA
2018-present Member, Society for Functional Precision Medicine
2015-present Member, American Society of Clinical Oncology
2012-present Member, Western Society for Clinical Investigation
2004-present Member, Southwest Oncology Group
1997-present Member, American Society for Gene Therapy now American Society for Gene and Cell Therapy
1995-present Member, International Society for Experimental Hematology now Society for Hematology and Stem Cells