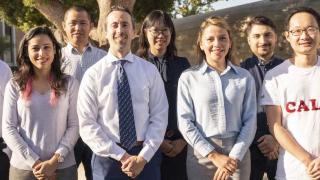 The overarching goal of our research is to understand the mechanisms of the inherent and acquired resistance of cancer cells to current available treatment modalities.
Research Lab Overview
The research focus of the Terence Williams Lab is to elucidate the molecular biology of cancer vulnerability derived from genetic, epigenetic, metabolic and tumor micro-environmental alterations, and to find strategies targeting this vulnerability to improve cancer chemotherapy, radiotherapy, molecularly targeted therapy and immunotherapy.
The Williams Lab is translating its bench findings in the underlying mechanisms of the deregulation of genome surveillance systems and nutrient scavenging/caveolae-mediated endocytosis to clinic for the personalized diagnosis, prognosis and treatment of cancer patients.
The picture on the right shows Tiantian Cui, M.D., Ph.D., an assistant research professor in the Terence Williams Lab, sharing and discussing science at the 2022 conference of the American Association of Cancer Research (AACR) at New Orleans, LA.
Highlights
The overarching goal of our research is to understand the mechanisms of the inherent and acquired resistance of cancer cells to current available treatment modalities, particularly radiotherapy and chemotherapy at the genetic, transcriptomic and proteomic levels.
Such knowledge allows us to design and implement novel therapy strategies for poor-prognosis cancers, including gastrointestinal (pancreatic, esophago-gastric, colorectal and hepatobiliary), thoracic (non-small cell lung cancer), thyroid, and head and neck malignancies. We use various mouse models (transgenic, genetically engineered, patient-derived xenograft and orthotopic models) as well as patient tissues (tumor and normal) in combination with basic molecular and cellular techniques to address the fundamental cancer biological questions about how cancers initiate, develop and progress to aggressive, therapeutically-resistant and metastatic disease.
We identify and validate our biomarkers in clinically-relevant disease model systems for the diagnosis, treatment and prognosis of cancer patients. We collaborate with many other labs at City of Hope, across the U.S. and internationally in five main overlapping research areas with the goal of driving the development of new clinical trials:
Caveolae-mediated endocytosis and nutrient scavenging
Oncogene mediated radioresistance
Identifying and targeting novel DNA repair and DNA damage response pathways modulating tumorigenesis and therapeutic response
Developmental therapeutics (e.g., protein-drug conjugates, RNA, radiopharmaceuticals, radioimmunotherapy)
Molecular profiling and predictive biomarkers in immuno-oncology
In the News
Dr. Changxian Shen stands next to his poster, "CTC1-STN1-TEN1 (CST) complex-independent roles for STN1 in DNA double-strand break repair in pancreatic ductal adenocarcinoma," at the 2023 conference of the American Association of Cancer Research (AACR) in Orlando, Florida.
STN1 forms a CST (CTC1-STN1-TEN1) complex crucial for telomere duplication and maintenance. We found that depletion of STN1 but not CTC1 or TEN1 sensitizes pancreatic ductal adenocarcinoma cells to ionizing radiation and chemotherapy drugs. Proteomic analysis revealed that STN1 physically interacts with many proteins crucial for general DNA repair, DNA replication and cell cycle progression.
Our findings have revealed novel CST complex independent mechanisms for STN1 in DNA repair and suggested STN1 is a promising biomarker for management of cancer patients with pancreatic ductal adenocarcinoma.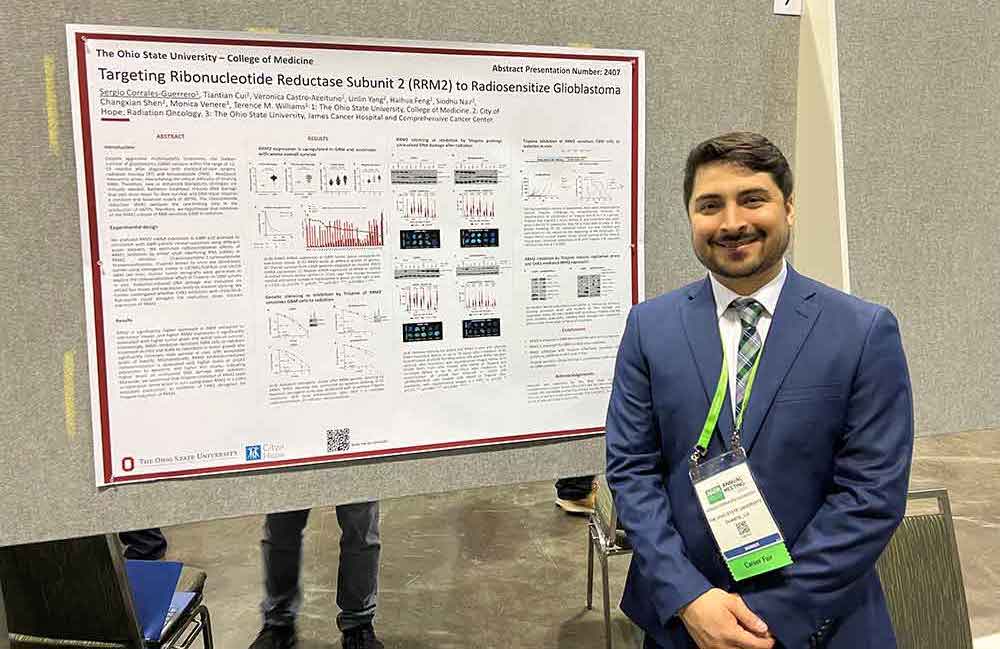 Sergio Corrales-Guerrero stands next to his poster "Targeting ribonucleotide reductase subunit 2 (RRM2) to radio-sensitize glioblastoma" at the 2023 conference of the American Association of Cancer Research (AACR) in Orlando, Florida.

Glioblastoma (GBM) is an aggressive malignant primary brain tumor that is resistant to currently available treatment modules. Intrinsic and acquired resistance to radiotherapy largely contributes to the poor clinical outcomes of GBM patients after systemic treatment. We discovered that ribonucleotide reductase subunit 2 (RRM2) upregulation promotes radiation resistance and selectively targeting RRM2 with blood-brain barrier permeable Triapine sensitizes GBM to radiotherapy.

Intriguingly, targeting RRM2 with Triapine induces synthetic lethality of GBM cells with CHK1 inhibitor Rabusertib. Our findings suggest that combining Triapine with radiation or Rabusertib may improve the therapeutic outcome of GBM patients.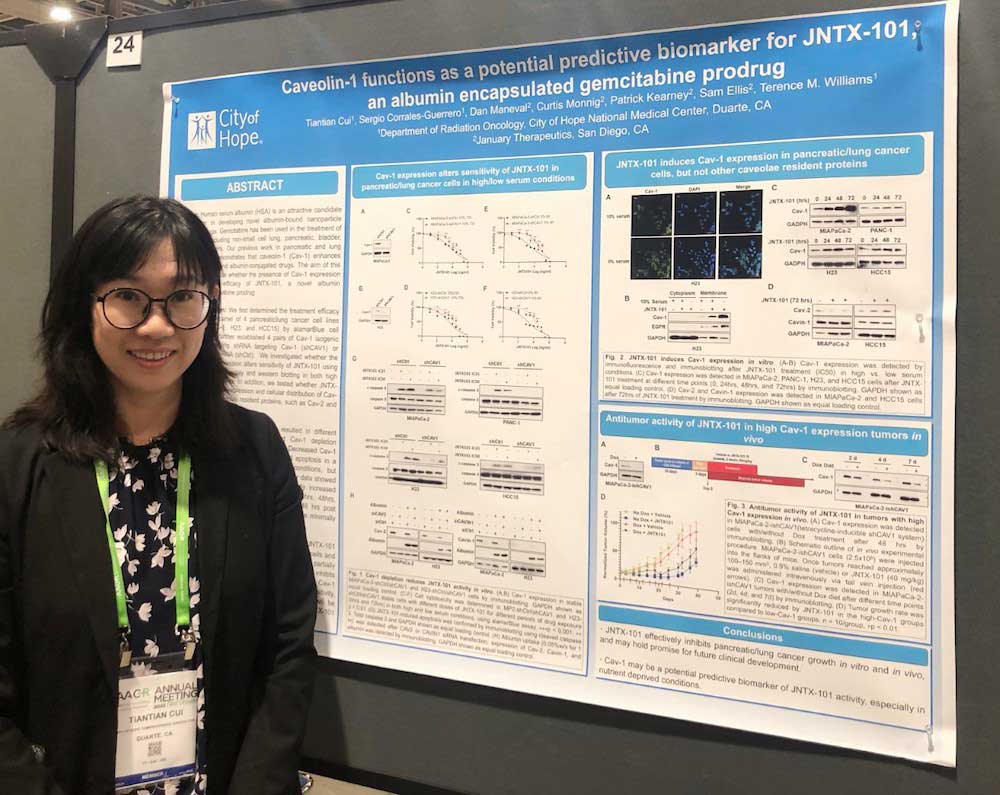 Dr. Linlin Yang stands next to her poster "Targeting KRAS mutant non-small cell lung cancer with EGFR aptamer displaying 3WJpRNA nanoparticles" at the 2022 conference of the American Association of Cancer Research (AACR) at NOLA

In this study, we assembled novel EGFRaptmer-3WJ-siKRAS mutation-targeted nanoparticles to target EGFR-expressing human NSCLC harboring a KRASG12C mutation to silence KRASG12C expression in a tumor-specific fashion.  We found that EGFRapt-3WJ-siKRASG12C nanoparticles potently and selectively depleted cellular KRASG12C expression, resulting in attenuation of downstream MAPK pathway signaling, cell proliferation, migration/invasion ability, sensitization of NSCLC cells to chemoradiotherapy, and in vivo growth inhibition of KRASG12C NSCLC tumor xenografts. Together, this study suggests that the 3WJ pRNA-based platform has the potential to suppress mutant KRAS activity for the treatment of KRAS-driven human cancers, and warrants further development for clinical translation. 

Dr. Tiantian Cui's poster 'Caveolin-1 functions as a potential predictive biomarker for JNTX-101, an albumin encapsulated gemcitabine prodrug' at the 2022 conference of the American Association of Cancer Research (AACR) at NOLA
JNTX-101, an albumin-encapsulated gemcitabine prodrug, effectively inhibits pancreatic and lung cancer tumor growth and may hold promise for future clinical development. Cav-1 expression dictates sensitivity to JNTX-101, at least partially through reduced apoptotic cell death. Cav-1 may be a potential predictive biomarker of JNTX-101 efficacy, especially in nutrient-deprived conditions.

COH Shared Resources Grant
Dr. Terence Williams and Dr. Tiantian Cui have received a COH Shared Resources Grant in 2021 entitled "Targeting Tumor Endocytosis to Drive Novel Anti-tumor Strategies". This study will identify individual biomarkers or biomarker signatures that predict for efficacy of albumin uptake and develop pharmacological strategies to increase albumin uptake prior to delivery of novel albumin-conjugated cytotoxic chemotherapeutics (as well as the FDA-approved nab-paclitaxel) or targeted agents, leading to rapid clinical translation of novel and innovative oncologic biomarkers and treatments.
Career Opportunities 
The goal of Dr. Williams' Lab is to revolutionize the management of cancer patients. To help achieve this goal, we are working to develop an innovative and dynamic scientific research team at City of Hope.
To accomplish our mission, we promote an environment centered on teamwork and learning for all team members at every stage of training (staff scientist level, post-doctoral, graduate and undergraduate).
Specifically, we are looking for enthusiastic, ambitious and self-motivated individuals who thrive in a fast-paced, competitive and challenging research environment and who can interact well with others as members of our research family. If you work hard and have a dream to make a significant difference in the health care of cancer patients, we invite you to contact us. Inquiries can be directed to Phyllis Burch at pburch@coh.org.

Please include the following:
Short cover letter
CV, biosketch, or resume with names of references
Areas of interest in our lab

Mailing address:
Department of Radiation Oncology
City of Hope National Medical Center
Beckman Research Institute
1500 East Duarte Road
Duarte, CA 91010

Inquiries can be directed to:
Principal Investigator: Terence M. Williams, M.D., Ph.D.
Dr. Williams is a radiation oncologist.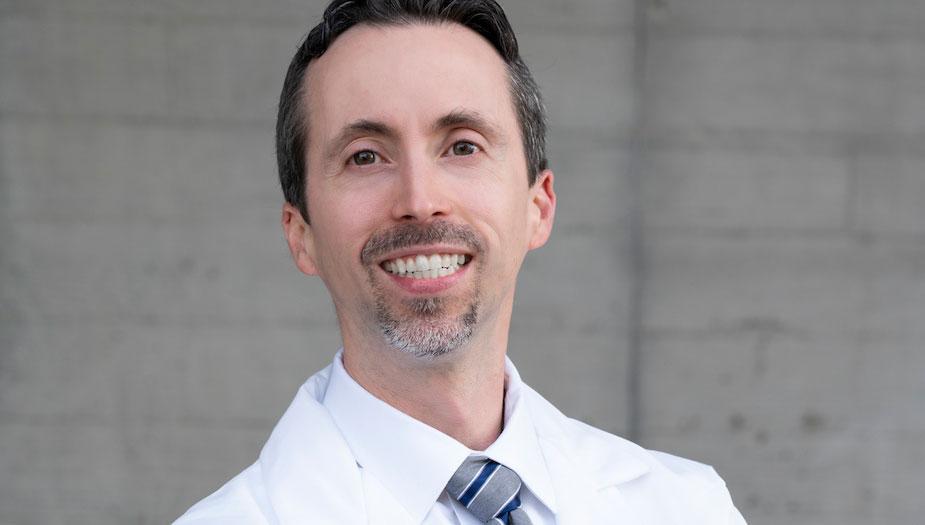 Adam Wolfe M.D., Ph.D.
Nikhil Sebastian, M.D.
Eric Miller, M.D., Ph.D.
Moumita Chatterjee, Ph.D.
Adriana Estrada, Ph.D.
Longzhu Piao, Ph.D.
Sooin Bae, Ph.D.
Ryan Robb, B.S.
Rebecca Packard, B.S.
Andrew Hu, B.S.
Ahmad Hegazi, B.S.
Megan Halloran, B.S.
Duan-Liang "Bruce" Shyu, M.S.
Marally Vedaie, B.S.
C. Andrew Robinson, B.S.
Chen Lin, B.S.
David Morrell, B.S.
Mitchell Romito, B.S.
Michael Lause, B.S.
Matthew Harbrecht, B.S.
Joseph Salloum, B.S.
Tianyun "Ardy" Li
Cory Pettit, B.S.
Steve Walston, M.D.
Patrick Wald, M.D.
Vaibhava Kesarwani
Eric Perez, B.S.
Who We Partner With
We collaborate with organizations in progressing the development of new treatments in our specialized areas of research.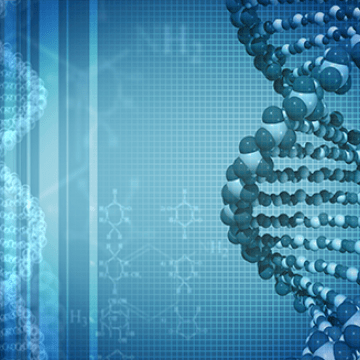 National Cancer Institute
Florida Biomedical Research Program
Radiation Oncology Institute
National Center for Advancing Translational Sciences
National Comprehensive Cancer Network
Radiological Society of North America
American Society of Radiation Oncology
American Society of Clinical Oncology
Cards
Deregulation Of AKT-mTOR Signaling Contributes to Chemoradiation Resistance in Lung Squamous Cell Carcinoma
Shen, C., Shyu, D.L., Xu, M., Yang, L., Webb, A., Duan, W., & Williams, T.M.
Narrative Review of Emerging Roles for AKT-mTOR Signaling in Cancer Radioimmunotherapy
Shen, C., He, Y., Chen, Q., Feng, H., Williams, T.M., Lu, Y., & He, Z.
Development of a MicroRNA Signature Predictive of Recurrence And Survival in Pancreatic Ductal Adenocarcinoma
Sebastian, N.T., Webb, A., Merrell, K.W., Koay, E.J., Wolfe, A.R., Zhang, L., Wilhite, T.J., Elganainy, D., Robb, R., Chen, W., Cloyd, J., Dillhoff, M., Tsung, A., Abushahin, L., Noonan, A., & Williams, T.M.
Cardiac Radioablation in the Treatment of Ventricular Tachycardia
Siedow, M., Brownstein, J., Prasad, R.N., Loccoh, E., Harfi, T.T., Okabe, T., Tong, M.S., Afzal, M.R., & Williams, T.
Oncogenic KRAS Drives Radioresistance Through Upregulation of NRF2-53BP1-Mediated Non-Homologous End-Joining Repair
Yang, L., Shen, C., Estrada-Bernal, A., Robb, R., Chatterjee, M., Sebastian, N., Webb, A., Mo, X., Chen, W., Krishnan, S., & Williams, T.M.
1500 East Duarte Road
Duarte, CA 91010