Paul Lawrence Menzel, M.D.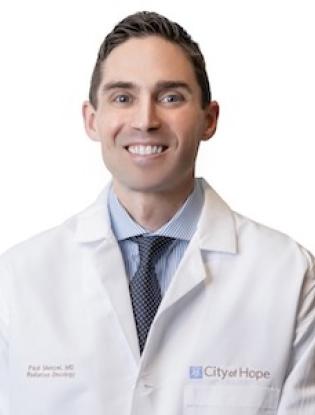 Radiation Oncologist
Clinical Expertise
Radiosurgery
Stereotactic Radiotherapy
Risk-Adapted Treatment
Malignant Disease
Benign Tumors
Appointments
Assistant Clinical Professor, Department Of Radiation Oncology
Paul L. Menzel, M.D., is a board-certified radiation oncologist whose experience has ranged from a hectic New York emergency room to a research center in Sweden to a clinic in Nigeria.
Dr. Menzel specializes in treating a wide variety of cancers and benign tumors. He has extensive expertise with a broad array of radiation systems and treatment techniques, including Gamma Knife, CyberKnife, SRS (stereotactic radiosurgery), SBRT (stereotactive body radiotherapy)/SABR (stereotactic ablative radiotherapy), IMRT (intensity-modulated radiation therapy), 3-D CRT (conformal radiation therapy) and brachytherapy.
Originally from Minnesota, Dr. Menzel spent time learning and training throughout both the world and the United States before landing in California for residency. He is thrilled to have joined the faculty at City of Hope.
Dr. Menzel is also a prolific researcher with more than a dozen published articles and presentations. His most recent clinical trials are investigating new treatments for prostate cancer.
Location
Providence Saint Joseph Medical Center
Roy and Patricia Disney Family Cancer Center
181 S. Buena Vista St.
Burbank, CA 91505
818-847-3440
2005-2009, Doctor of Medicine (Honors in Research), Cornell University Medical College, New York, NY

1999-2003, Bachelor of Arts in Biology (summa cum laude), St. Olaf College, Northfield, MN
2014-2015, Fellow (Brachytherapy and Genitourinary Cancers), Radiation Oncology, Stanford University Medical Center, CA
2010-2014, Resident, California Pacific Medical Center, San Francisco, CA
2009-2010, Intern, York-Presbyterian Hospital/Cornell Medical Center, New York, NY
2019-present, Assistant Clinical Professor, Department of Radiation Oncology, City of Hope, Burbank, CA

2015-2019, Clinical Instructor, Radiation Oncology, UCSF Medical Center, San Francisco, CA
2003-2004, Fulbright Scholar, University of Bergen, Bergen, Norway
American Board of Radiology

American Society for Radiation Oncology
Lavergne V, Sabnis A, Tupule A, Davidson PR, Kline C, Matthay K, Nicolaides T, Goldsby R, Braunstein S, Fogh SE, Sneed PK, Menzel P, Nakamura A, DuBois SG, Haas‐Kogan DA, Nakamura JL. Germline MUTYH Mutation in a Pediatric Cancer Survivor Developing a Secondary Malignancy. J Pediatr Hematol Oncol. 2020 Oct;42(7):e647- e654. doi: 10.1097/MPH.0000000000001668.
Menzel P, Theodosopoulos P. A Caudate Conundrum. Int J Radiat Oncol Biol Phys. 2019 Jul 1;104(3):481-482. DOI: 10.1016/j.ijrobp.2018.02.165. No abstract available. PMID: 31162051
Herlin G, Kolbeck KG, Menzel PL, Svensson L, Aspelin P, Capitanio A, Axelsson R. Quantitative Assessment of 99m-Tc-Depreotide Uptake in Patients with Non-Small-Cell Lung Cancer: ImmunohistochemicalCorrelations. Acta Radiologica 2009;50(8):902-8.
Lloyd S, Morin O, Raleigh D, Fogh S, Menzel P. Multiple myeloma and a mischievous pacemaker: A teaching case involving irradiation of a cardiovascular implantable electronic device. Practical Radiation Oncology 2018;8(2):90-94.
De B, Beal K, De Braganca KC, Souweidane MM, Dunkel IJ, Khakoo Y, Gilheeney SW, DeAngelis LM, Menzel P, Patel SH, Wolden SL. Long-term Outcomes of Adult Medulloblastoma Patients Treated with Radiotherapy. Journal of Neuro-Oncology 2018;136(1):95-104.
Menzel P, Chang A. PSMA PET Identified Para-aortic Prostate Cancer Recurrence After Surgery and Salvage Radiotherapy. International Journal of Radiation Oncology, Biology, and Physics (In Press Accepted Article).
Menzel P, Theodosopoulos P. A Caudate Conundrum. International Journal of Radiation Oncology, Biology, and Physics (In Press Accepted Article).