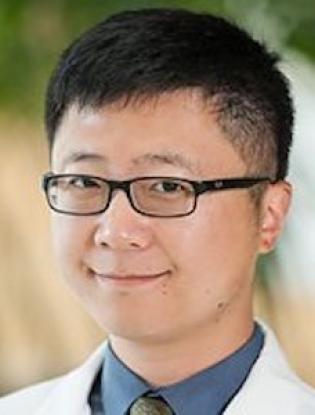 Pathologist
Appointments
Assistant Clinical Professor, Department of Pathology
With a background in computer science and academic research, I decided to become a pathologist to build and apply these technologies to advance laboratory medicine and improve patient care on the front line.
Keluo Yao, M.D., is a sterling example of the next generation of
City of Hope pathologists
: A scientist who understands both pathology and laboratory medicine and information science including the latest advances in artificial intelligence. Dr. Yao created and facilitated development of software tools specifically for the clinical laboratory.
Dr. Yao earned his medical degree at Tufts University School of Medicine, Boston. He continued his training with residency at The Ohio State University and pathology fellowships at University of Michigan, Ann Arbor, Michigan.
Dr. Yao has earned many awards for informatics – the study of information processing – as applied to the
pathology
profession. He's eager to have the opportunity to contribute to the City of Hope team. "A significant component of laboratory medicine deals with guiding cancer treatment and prevention," he said, "and it can be further enhanced through better use of technologies."
2021, State of Michigan, Medical License

2021, State of Michigan, Controlled Substance

2020, The American Board of pathology (Clinical Informatics)

2020, State of California, Medical License

2020, DEA Registration

2018, The American Board of Pathology (Cytopathology)

2017, The American Board of Pathology (Anatomic Pathology)

2017, The American Board of Pathology (Clinical Pathology)
2009-2013, M.D., Tufts University School of Medicine, Boston, MA

2003-2007, B.S., Biochemistry Ramesh Raina, Syracuse University, Syracuse, NY
2017-2019, Pathology Informatics Fellow, Pathology, University of Michigan, Ann Arbor, MI

2017-2018, Cytopathology Fellow, Pathology, University of Michigan, Ann Arbor, MI
2013-2017, Resident Physician, Pathology, The Ohio State University Wexner Medical Center and College of Medicine, Columbus, OH
2020-present, Assistant Clinical Professor, Department of Pathology, City of Hope, Duarte, California

2019-2020, Clinical Instructor, Department of Pathology and Laboratory Medicine, University of California, San Francisco, California
2018, Pathology Informatics Summit Travel Award, Association for Pathology Informatics

2018, Best Abstract Award, 70th AACC Annual Scientific Meeting & Clinical Lab Expo Informatics Division, American Association for Clinical Chemistry

2016, Inaugural Ohio State University Wexner Medial Center Pathology
Research Retreat Poster Presentation Honorable Mention, The Ohio State University

2016, Pathology Informatics Summit Travel Award, Association for Pathology Informatics

2015, Pathology Informatics Summit Travel Award, Association for Pathology Informatics
2017-present, American Society of Cytopathology

2014-present, United States and Canadian Academy of Pathology

2013-present, Association for Pathology Informatics
Mustafa Y, Mcclintock OS, Yao K. Artificial intelligence is the key driver for digital pathology adoption. Clinical laboratory International. January 2021
Yao K, Singh A, Sridhar K, Blau JL, Ohgami RS. Artificial Intelligence in Pathology: A Simple and Practical Guide. Adv Anat Pathol. 2020 Nov;27(6):385-393. doi: 10.1097/PAP.0000000000000277. PMID: 32773432.
Yao K, Li Z. Review of different platforms to perform rapid onsite evaluation via telecytology. Cytopathology. 2020 Sep;31(5):379-384. doi: 10.1111/cyt.12871. Epub 2020 Jul 5. PMID: 32506692.
Abel JT, Ouillette P, Williams CL, Blau J, Cheng J, Yao K, Lee WY, Cornish TC, Balis UGJ, McClintock OS. Display Characteristics and Their Impact on Digital Pathology: A Current Review of Pathologists' Future "Microscope". J Pathol lnform. 2020 Aug 11;11:23. doi: 10.4103/jpi.jpi_38_20. PMID: 33042602; PMCID: PMC7518209.
Yao K, Shen RL, Parwani A, Li ZB. A Comprehensive Study of Telecytology Using Robotic Digital Microscope and Single Z-stack Digital Scan for Fine Needle Aspiration Rapid On- site Evaluation J Pathol Inform 9(1): 49, 2019.
Yao K, Zhao W, Bajestani S, Gru A, Otterson G, Shilo K. Comprehensive Next-Generation Sequencing Analysis is Recommended for the Management of Patients With Melanoma. Appl Immunohistochem Mol Morphol 26(2): e24-e25, 2018. PM29176444
Yao K, Zhao W, Bajestani S, Gru A, Otterson G, Shilo K. Malignant Melanoma Presenting as Thoracic Midline Malignancy: Clinicopathologic and Molecular Features. Appl Immunohistochem Mol Morphol 26 (1): 46-53, 2018. PM28777149
Niazi MKK, Keluo Yao, Zynger DL, Clinton SK, Chen J, Koyuturk M, LaFramboise T, Gurcan M. Visually Meaningful Histopathological Features for Automatic Grading of Prostate Cancer. IEEE J Biomed Health Inform 21(4): 1027-1038, 2017. PM28113734
Brodsky SV, Barth RF, Mo X, Yildiz V, Allenby P, Ivanov I, Moore S, Hitchcock CL, Smith S, Sachak T, Yao K, Ball M, Rosborough K, Olson Z, Kiehl M, Muni N, Virmani R. An obesity paradox: an inverse correlation between body mass index and atherosclerosis of the aorta. Cardiovasc Pathol 25(6): 515-520, 2016. PM27683962
Brodsky SV, Gruszecki AC, Fallon K, Pasquale-Styles MA, Shaddy S, Yildiz V, Long SK, MacDonell M, Brideau RL, Keane J, Allenby P, Ivanov I, Moore S, Smith SM, Sachak T, Ball M, Yao K, James I, Muni N, Barth RF. Morphometric data on severely and morbidly obese deceased, established on forensic and nonforensic autopsies. Virchows Arch 469(4): 451-8, 2016. PM27480641
MacConaill LE, Campbell CD, Kehoe SM, Bass AJ, Hatton C, Niu L, Davis M, Yao K, Hanna M, Mondal C, Luongo L, Emery CM, Baker AC, Philips J, Goff DJ, Fiorentino M, Rubin MA, Polyak K, Chan J, Wang Y, Fletcher JA, Santagata S, Corso G, Roviello F, Shivdasani R, Kieran MW, Ligon KL, Stiles CD, Hahn WC, Meyerson ML, Garraway LA. Profiling critical cancer gene mutations in clinical tumor samples. PLoS One 4(11): e7887, 2009. PM19924296/PMC2774511
Pomerantz MM, Ahmadiyeh N, Jia L, Herman P, Verzi MP, Doddapaneni H, Beckwith CA, Chan JA, Hills A, Davis M, Yao K, Kehoe SM, Lenz HJ, Haiman CA, Yan C, Henderson BE, Frenkel B, Barretina J, Bass A, Tabernero J, Baselga J, Regan MM, Manak JR, Shivdasani R, Coetzee GA, Freedman ML. The 8q24 cancer risk variant rs6983267 shows long-range interaction with MYC in colorectal cancer. Nat Genet 41/> (8): 882-4, 2009. PM19561607/PMC2763485
Yao, K. "Characterization of Hypersensitive Response Related Genes of Arabidopsis thaliana" (2007). Syracuse University Honors Program Capstone Projects. 574./> https://surface.syr.edu/honors_capstone/574