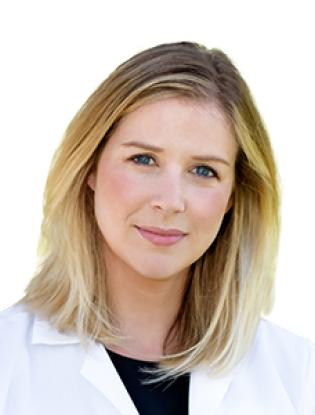 Surgical Oncologist; Breast Surgeon
Clinical Expertise
Breast Surgery
Breast Conserving Surgery
Benign Breast Disease
Appointments
Assistant Clinical Professor, Division of Breast Surgery, Department of Surgery
I see it as a privilege to walk alongside patients as they soldier through the difficult process of diagnosis, treatment, and beyond.
Dr. Polverini graduated summa cum laude from Loyola Marymount University in Los Angeles, where she was the recipient of multiple honors and awards, including a scholarship from the Department of Biology Bioethics and Science Research Fellowship at Keck School of Medicine of USC. Dr. Polverini went on to receive her medical doctorate from Keck School of Medicine, followed by a general surgery residency at Harbor UCLA. She completed her training in breast surgical oncology at City of Hope.

Dr. Polverini is board certified by the American Board of Surgery and has additional training as a physician consultant in wound care. She is actively involved in breast cancer research and ongoing clinical trials. She is the medical director of Breast Surgery at Huntington Memorial Hospital in Pasadena, California. She has surgical privileges at Huntington Memorial Hospital, Arcadia Methodist Hospital and City of Hope. She sees new consultations at both the Duarte and South Pasadena facilities.

Dr. Polverini specializes in both benign and cancerous conditions of the breast. She praises City of Hope for its "unshakable commitment to both research and treatment," and calls it "the perfect destination for me to pursue my life's passion."
2015, The American Board of Surgery, General Surgery Certification

2014, Advanced Cardiac Life Support

2014, Basic Life Support

2012, Fundamentals of Laparoscopic Surgery (FLS)

2011, Advanced Trauma Life Support
2001- 2004, Loyola Marymount, Los Angeles, CA, B.S. Biology, Summa Cum Laude

2004-2008, Keck School of Medicine of USC, Los Angeles, CA, M.D.
2015-2016, Department of Surgery, Fellow, Breast Surgery, City of Hope, Duarte, CA
2008-2014, Harbor UCLA, Department of Surgery, Resident, General Surgery
2016-present, Assistant Clinical Professor, Division of Breast Surgery, Department of Surgery, City of Hope, South Pasadena and Duarte, CA

2019-present, Medical Director of Breast Surgery, Huntington Memorial Hospital, Pasadena, CA
American Medical Association, Resident Member

American College of Surgeons, Resident Member
O'Connell CL, Boswell WD, Duddalwar V, Caton A, Mark LA, Vigen C, Liebman H. 2006. Unsuspected Pulmonary Emboli in Cancer Patients: Clinical Correlates and Relevance. Journal of Clinical Oncology; 24(30): 4928-4932
O'Connell C, Razavi P, Ghalichi M, Boyle S, Vasan S, Caton A, Duddalwar V, Boswell W, Grabow K, Liebman HA. 2011. Unsuspected Pulmonary Emboli Adversely Impact Survival in Patients with Cancer Undergoing Routine Staging Multi-row Detector Computed Tomography Scanning. Journal of Thrombosis and Hemostasis; 9 (20:305-11.
Falor AE, DeVirgilio C, Stabile BE, Kaji AH, Caton A, Kokubun BA, Schmit PJ, Thompson JE, Saltzman DJ. 2012. Early Laparoscopic Cholecystectomy for Mild Gallstone Pancreatitis, Archives of Surgery; 147 (11):1031-1035.
Goldner BS, Velasquez J, Stabile BE, Chen SL, Kim J, Lin M, Caton A, Lee B. 2013. A Public Hospital Experience with Young Gastric Cancer Patients. Journal of Clinical Oncology; 31(4): 2318.
Granzow JW, Li A, Suliman A, Caton A, Goldberg M, Boyd BJ. 2013. Bipedicled Flaps in Posttraumatic Lower-Extremity Reconstruction. Journal of Plastic, Reconstructive & Aesthetic Surgery; 66: 1415-1420.
Boyd JB, Caton AM, Mulholland RS, Granzow JW. 2013. The Sensate Fibular Osteoneurocutaneous Flap in Oromandibular Reconstruction: Clinical Outcomes in 31 Cases. Journal of Plastic, Reconstructive & Aesthetic Surgery; 66: 1695 – 1701.
Boyd JB, Caton A, Mulholland TS, Tong L, Granzow JW. 2013. The Sensate Fibula Osteocutaneous Flap: Neurosomal Anatomy. Journal of Plastic, Reconstructive & Aesthetic Surgery; 66: 1688 – 1694.
Caton AM, Dauphine C. 2014. Allergic Contact Dermatitis after Repeated Exposure to Dermabond. The American Surgeon; 80(5): 520-2.
Granzow J, Li AI, Caton A, Boyd JB. 2015. Free Flap Survival Following Failure of the Vascular Pedicle. Annals of Plastic Surgery; 75(1): 44-48.
Ratings and reviews below are gathered from the Press Ganey Clinician and Group Consumer Assessment of Healthcare Providers and Systems (CG CAHPS) survey. CG CAHPS is a standardized survey that is used to measure a patient's experience in the physician office setting. Ratings are an average of all responses to questions about a provider's care, with 5 stars being the highest.
Ratings
5.0
Show respect for what you say
5.0
Spend enough time with you
5.0
Recommend this provider office
5.0
Provider explain in way you understand
5.0
Provider listen carefully to you
4.9
Know important info medical history
---
Reviews
She was definitely keyed into the patient's needs and concerns. Everything was diagrammed on paper for us and she even allowed our concerned children to listen in to the treatment plan. We are very confident in this physician and will follow any protocol she suggests. What a blessing!
- Verified patient
Excellent.
- Verified patient
Overall, an excellent experience which deserves high marks!
- Verified patient