Surgeon Ana Tergas has seen firsthand how the HPV vaccine and regular gynecologic screenings can save lives
The memory still haunts her.
Surgeon Ana Tergas, M.D., M.P.H., fights back tears as she remembers her first OB-GYN patient in medical school: a Latina woman in her early 30s with advanced cervical cancer. Coming from an underserved community, the patient had never received the HPV vaccine and never got regular screenings like the Pap smear. She was dying.
"I spent a lot of time with her, got to know her family, and we'd grown very close," recalled Tergas. "It hit me hard when she passed away. She didn't have to die."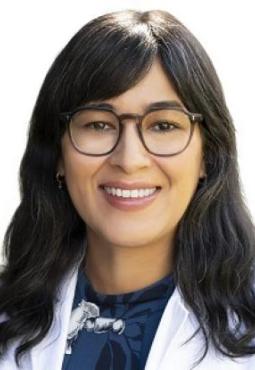 Tergas realized, and has since written passionately, that every case of cervical cancer constitutes a failure of the medical system, because vaccines and screenings make this disease highly preventable. But only if those essential tools are made available to everyone equally. And they're not.
The experience was a turning point for Tergas. She was well on her way toward becoming a top gynecologic oncology surgeon. She took to it naturally, gravitating almost immediately to the operating room, staying there "till all hours of the night, excited by the idea of using my hands for creative problem-solving. I fell in love with it!"
But the loss of that patient changed things. It would no longer be enough just to treat patients one at a time. Tergas resolved to make a difference on a broader scale, fighting to eliminate health disparities, especially in the Latinx community, and especially with regard to cervical cancer.
In short order, Tergas found herself in places like Honduras, El Salvador, Guyana and Indonesia, learning and serving. She spent eight years at New York's Columbia University, conversing in Spanish with her patients, 90% of whom came from the Dominican Republic. 
Along the way, she's amassed a formidable research portfolio, conducting studies and publishing papers that call out all manner of disparities, from the lack of OB-GYN specialists in rural areas to the unique and maddening discrimination faced by members of the LGBTQ community who need gynecological care. She even took to Twitter to rail against the closing of the OB-GYN department at a major hospital in a largely African American section of Brooklyn, New York. 
People began to hear her voice.
'She's Going to Fix It'
"She's extremely intelligent and organized, very well balanced," said Lorna Rodriguez-Rodriguez, M.D., Ph.D., City of Hope's vice chair of faculty development and professor in the Division of Gynecologic Oncology, Department of Surgery. It was Rodriguez-Rodriguez who heard about Tergas and recruited her to City of Hope in 2021, impressed by the young surgeon's leadership skills and her passionate mission.
"I really think she'll make a contribution to the survival of Latinx women with cervical cancer," she continued. "I have no doubt. She's going to fix it!"
Sounds like a pretty tall order, but Tergas has plunged in. She recently received a Young Investigator Award from the National Comprehensive Cancer Network. Her project, "Genetic Ancestry, Cervical Cancer Outcomes, and Prevalence of Homologous DNA Repair Deficiency in a Diverse Multi-Ethnic Population" will, she hopes, fill in some significant gaps.
"We're headed into an era of precision medicine fueled by genomics," she explained, "and we don't have enough knowledge of the genomics of cervical cancer. This is an opportunity to learn more." The genetic ancestry component is important, she says, because the old classifications just won't do anymore.
"We are handicapped using traditional models of race and ethnic categories," she explained, citing herself as an example. "My father's from Cuba, my mother's from Honduras. Based on my appearance, I could be classified sometimes as Black, sometimes as white."
Tergas was also selected by the National Institute on Minority Health and Health Disparities as a Research Institute Scholar. Plus, she chairs health equity and inclusion committees for the Society of Gynecologic Oncology.
An Advocate for the Voiceless
"Dr. Tergas is a brilliant, empathetic surgeon-scientist who desires to improve the health of marginalized groups," said fellow surgeon and friend Loretta Erhunmwunsee, M.D. "She is an advocate for those who don't have a voice."
"Dr. Tergas is an exceptionally creative and visionary scientist," agreed friend and colleague Victoria Seewaldt, M.D., Ruth Ziegler Chair in Population Sciences. "She brings a vision of inclusiveness, courage to ask the hard questions and an ability to create unity."
Stacey Wayne knew nothing of Tergas' activism and extracurricular activities when they met for the first time in March 2022. She's just grateful for the surgeon who saved her life.
Wayne, a recording studio administrator from Hollywood, California, needed surgery for a cancerous mass on her uterus. Poor experiences with her local doctors had left her frustrated and terrified. Tergas, she says, was different.
"Dr. Ana was so calm, so peaceful and sweet," recalled Wayne. "For half an hour she said nothing negative, just asked how I was feeling. She didn't freak me out. She did not scare this scared person! What she said to me was very simple: 'We're going to take care of this and you're going to be fine.'
"From that day, I felt calm and optimistic. I was relieved that she was a young woman, on the cutting edge, and I knew that if anyone can handle this, it's her and City of Hope."
The surgery went well. Wayne is now on chemotherapy to get rid of any lingering cancer cells. And Tergas continues to be involved in Wayne's care, typical of the "longitudinal" relationship she favors: staying with the patient from day one, through diagnosis, surgery, recovery and follow-up treatment. "And the conversations are always positive!" says Wayne. In gratitude, she bought Tergas a pair of earrings. "And on our next telehealth visit she was wearing them!"
That kind of gesture is typical of Tergas, who cherishes her relationships with her gynecologic oncology patients, "because you take full ownership," she explained, "helping the patient and her family, using all your skills. Nothing really compares." 
At City of Hope for about a year now, Tergas loves her multiple roles: surgeon, researcher, inclusion activist. She praises Rodriguez-Rodriguez for mentoring her in all of them.
"Lorna is an amazing role model," said Tergas. "She's a legend in the field."
The boss gets the last word.
"I want three more of her!" Rodriguez-Rodriguez said.