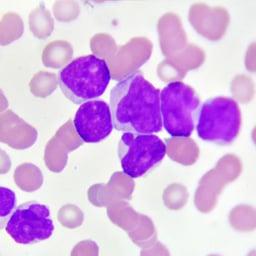 8-chloro-adenosine, an RNA-directed nucleoside analog, may prove a promising target with a unique mechanism of action for patients with relapsed or refractory acute myeloid leukemia (AML).
Previous activity has been demonstrated in a number of solid tumors and hematological malignancies, and now principal investigator
Vinod Pullarkat
, M.D., from City of Hope is opening the first-in-man investigation of the new therapeutic approach in poor-risk AML.
Unlike other nucleoside analogs used to treat AML, 8-chloro-adenosine inhibits RNA synthesis within AML cells in a dose-dependent manner. The unique RNA and ATP-targeting mechanism of action will first be evaluated in single-agent studies, with the potential for synergistic effects with Bcl-2 inhibitors in future research.
The phase I/II dose-finding study evaluating 8-chloro-adenosine as a single agent is now open for recruitment for patients who have:
Relapsed AML after failure on at least one line of salvage therapy
De novo AML and have not achieved complete remission after two lines of therapy
AML evolving from myelodysplastic syndrome or myeloproliferative disorder and have failed a hypomethylating agent or induction chemotherapy
Relapsed after allogeneic hematopoietic cell transplant
8-Chloro-Adenosine in Treating Patients With Relapsed or Refractory Acute Myeloid Leukemia (NCT02509546)
For enrollment information in this study, please contact Vinod Pullarkat, M.D., by phone at 626-256-4673.
****