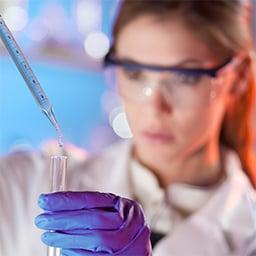 At City of Hope, our innovative clinical and scientific research advances enable us to transform the future of health and deliver effective treatments to our patients. Our Fall 2020 Physician Newsletter highlights an array of recent successes that herald new possibilities for treatments and patient care.
Using cancer expertise to inform COVID-19 care and research
Recognized as a pioneer in creating breakthrough treatments for all hematologic cancers — including
leukemia
,
lymphoma
,
multiple myeloma
and
myelodysplastic syndrome
, and other blood-related disorders — City of Hope is also a world leader in setting standards for
stem cell transplantation
and improving long-term outcomes for both children and adults. The institution's past achievements have fueled a number of scientific advances, like the Triplex vaccine that was developed to prevent cytomegalovirus. These discoveries are now being used to inform COVID-19 research and care.
With research expertise on deadly viruses similar to SARS-CoV-2, cancer and vulnerable immune systems, experts at City of Hope were primed to quickly begin COVID-19 research. Two vaccine development projects are currently underway. One is led by
Don Diamond
, Ph.D., professor in the Department of Hematology & Hematopoietic Cell Transplantation, and co-investigators
Flavia Chiuppesi
, Ph.D., and
Felix Wussow
, Ph.D., both research professors. The other is led by
Larry W. Kwak
, M.D., Ph.D., deputy director of City of Hope's comprehensive cancer center and the Dr. Michael Friedman Professor in Translational Medicine. Both research approaches are shaped by prior work that has advanced bone marrow transplant treatment and care.
Making bone marrow transplant safe and available to all
The gold standard for transplants has historically involved harvesting stem cells from a close relative, usually a sibling, with human leukocyte antigen (HLA) markers identical to the patients. The haploidentical transplant program at City of Hope is setting a new gold standard in the treatment of leukemia and other blood cancers.
In this type of transplant, often referred to as "half-match," donor cells have to only match half the patient's HLA markers, and the donor is typically a family member. The advantage of having a haploidentical transplant is that it increases the chance of finding a donor as almost everyone has at least one haploidentical relative.
Overcoming barriers in graft-versus-host-disease
Graft-versus-host disease is a long-term side effect of allogeneic stem cell transplant patients. Occurring in over 50% of cases, GVHD causes the donor's T lymphocyte cells to attack the patient's cells, including healthy tissue of the recipient's body such as gut, liver, lung and skin. Currently, immunosuppressants are used to minimize the degree of GVHD. However, they can also diminish the anti-cancer effects of the donor T cells.
Through experimental work on T cells, an international team of researchers led by City of Hope's
Defu Zeng
, professor of Diabetes Immunology, found a way to prevent GVHD after stem cell transplants while retaining the transplants' positive effects on fighting leukemia and lymphoma. "If successfully translated into clinical application, this regimen may represent one of the novel approaches that allow strong graft-versus-leukemia effects without causing GVHD," says Zeng.
Age is no longer a barrier for patients undergoing bone marrow transplants
Older patients with acute myeloid leukemia were previously not often candidates for transplant because of risk of toxicity and other age-related barriers. City of Hope became one of the first institutions to use transplantation to treat patients with AML over the age of 50 by developing transplant regimens that relied less on the intensity of chemotherapy and radiation and more on the anti-tumor effects of the graft itself.
To learn more about these advances and others, check out our Physician Newsletter. Every issue contains in-depth articles on the numerous innovative advances taking place at City of Hope.