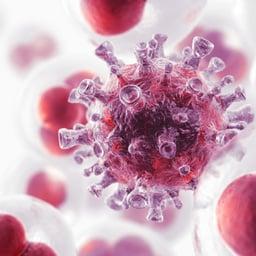 In search of a durable cure for multiple myeloma, City of Hope is now exploring a new chimeric antigen receptor 
(CAR) T cell therapy
for patients with relapsed/refractory disease. A first-of-its-kind therapeutic target, CS1 is a protein expressed across nearly all multiple myelomas with conversely low expression on normal tissues. In a disease that accounts for 10 percent of all blood and bone marrow cancers, "CS1 is a very promising target for multiple myeloma patients who currently have few viable treatment options to turn to," said
Xiuli Wang
, Ph.D., researcher and professor of hematology at City of Hope.
City of Hope — an early pioneer in
CAR T cell therapy
research since the late 1990s — is bringing the exciting technology to patients with multiple myeloma.
The process begins at City of Hope's goods manufacturing practice (GMP) facility, where each individual trial patient has their T cells collected and reengineered to express CS1 chimeric antigen receptors. More capable of recognizing multiple myeloma cancer cells and triggering immune attack, these designer T cells are then reinfused into the patient where they can multiply. "Normal T cells are 'regular soldiers' trying to fight cancer," added principal investigator
Myo Htut
, M.D. "We modify them outside the body in the lab and make them Navy SEALS so they are more effective."
Following promising preclinical and translational research,
Htut
is now bringing the revolutionary CAR T cell therapy targeting the CS1 protein to phase I trial.
The phase I study is now open for recruitment and will evaluate safety and effectiveness in patients who have relapsed or refractory multiple myeloma after at least three prior treatment regimens, including an immunomodulatory agent, proteasome inhibitor and anti-CD38 antibody.
CS1-CAR T Therapy Following Chemotherapy in Treating Patients With Relapsed or Refractory Multiple Myeloma (NCT03710421)
For enrollment information in this study, please contact Htut by phone at 626-218-2405.
For all other CAR T inquiries (patient, physician, clinical trials) contact our dedicated CAR T referral line to speak directly with a nurse navigator at 833-310-CART (2278).
****