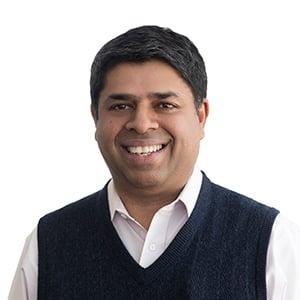 Sanjeet S. Dadwal, M.D.
City of Hope researchers, led by
Don Diamond
,
 Ph.D., who developed COH04S1 vaccine against SARS-CoV2, and
Sanjeet S. Dadwal
, M.D., principal investigator for the
Phase 2 clinical trial
, are now enrolling patients. This study is the only one if its kind to prospectively study the safety and effectiveness of an investigational vaccine in blood cancer patients who have received a bone marrow transplant or chimeric antigen receptor (CAR) T therapy. 
This trial is also the first comparative study of an investigational COVID-19 vaccine with the current Food and Drug Administration (FDA)-approved Pfizer vaccine in people who are immunocompromised after receiving immunosuppressive therapy. For patients who are likely to have difficulty mounting an antibody response due to extended B cell aplasia post-therapy, the T cell response to vaccine will be critical. 
COH04S1 belongs to a category of vaccines called modified vaccinia Ankara (MVA) vaccines. Created from a synthetic MVA, COH4S1 works by inducing immunity to SARS-CoV-2 by stimulating the immune system to produce antibodies against SARS-CoV-2 that can block the virus from entering healthy cells. With COH4S1, the immune system can also grow new disease-fighting T cells that can recognize and destroy infected cells. COH04S1 has already been tested for safety in healthy volunteers and leads to strong T cell responses against SARS-CoV-2 antigens. 
COH04S1 is also the only COVID-19 vaccine to advance to Phase 2 trials in cancer patients that includes both SARS-CoV-2 spike and nucleocapsid proteins. By inserting these proteins into the MVA delivery vehicle, the MVA is then able to replicate DNA within cells, leading to the expression of both proteins, spurring immunity against the virus. Giving COH04S1 after CAR T therapy may work better in reducing the chances of contracting COVID-19 or developing a severe form of COVID-19 in patients with blood cancer compared to the current vaccine options.