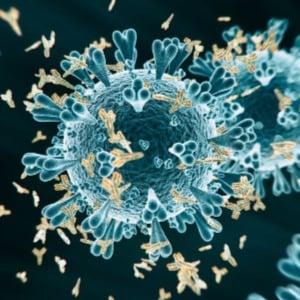 The expertise at City of Hope has allowed investigators to quickly begin exploration and development of new treatment options to combat the novel SARS-CoV-2 virus.
Working toward this goal,
Sanjeet Dadwall
, M.D., chief of the Division of Infectious Diseases, and
Steven T. Rosen
, M.D., provost, chief scientific officer and the Irell & Manella Cancer Center Director's Distinguished Chair, are conducting sequential phase 1 and 2 clinical trials to evaluate the safety and efficacy of leflunomide in patients with severe COVID-19 infection and a simultaneous malignancy.
The National Cancer Institute has funded the trial with a P30 grant supplement for COVID-19 research projects. City of Hope is one of a few cancer centers that has received such funding during the pandemic. The research will hopefully lead to discoveries that can be used to treat and prevent the deadly SARS-CoV-2 virus in patients with cancer at City of Hope and worldwide.
Determining the Safety and Efficacy of Leflunomide in Sequential Phase 1 and Phase 2 Studies
Patients with cancer are considered high risk for contracting coronavirus and have an increased risk of developing severe COVID-19 cases, likely due to immunosuppression caused by cancer or treatment. "There are currently few effective drugs against COVID-19, and our clinical trial will help us determine if these therapies can be used as new treatments against this devastating disease," said Rosen. Developing new treatments that can treat severe disease while simultaneously being safe for vulnerable patients are urgently needed.
Previous studies conducted at City of Hope of the orally available, FDA-approved rheumatoid arthritis drug's ability to treat patients with relapsed or refractory multiple myeloma, equipped the research team with a trove of insight into the clinical management, pharmacokinetics and anti-cancer activity of leflunomide and its active metabolite, teriflunomide. Results from that study demonstrated disease stabilization at doses below 60 mg/day. The team is using the latter data as well as other preclinical and clinical findings to inform their current research study.   
As a dihydroorotate dehydrogenase inhibitor known to impact pyrimidine synthesis for DNA and RNA production, leflunomide may hold promise as an antiviral candidate as RNA virus SARS-CoV-2 contains a high content of pyrimidine base uracil. Antiviral activity was demonstrated in a preliminary experiment in which viral RNA replication was halted significantly in cancer cells infected with reovirus, a naturally occurring RNA virus, upon treatment with leflunomide.
The drug was also shown to impair ex-vivo IL-6 expression in virally infected peripheral blood mononuclear cells indicating that it may have some anti-inflammatory activity which may also contribute to treatment of COVID-19. 
Clinical manifestations of SARS-CoV-2 infection vary, but a common occurrence in morbidities and mortalities show sudden development of acute respiratory distress syndrome (ARDS) and multiple-organ failure in late stages of the disease or in recovering patients. Past research has implicated cytokine storms as major causes of ARDS and multiple-organ failure, and there is clinical evidence of cytokine upregulation in patients with COVID-19.
Having a deeper understanding of inflammatory responses, before and after treatment with leflunomide, can help researchers understand the disease and ability of the drug to treat it.
Throughout the study the researchers will be investigating safety and tolerability of leflunomide when combined with standard-of-care treatment for COVD-19 while also evaluating efficacy and other secondary and exploratory objectives, including but not limited to:
Time to clinical improvement
Time to SpO2 > 93% on room air
Time to first negative SARS-CoV-2 test by polymerase chain reaction (PCR)
The relationship between teriflunomide levels and pharmacodynamic biomarkers such as viral load and cytokines
The kinetics of viral replication through serial measurements of viral load by nasopharyngeal swab and tracheal aspirates
As the clinical trial gets underway, City of Hope investigators are positioned to be able to expediently deliver a new treatment to COVID-19 patients with immunosuppression or a history of cancer, as well as other patients, if the studies are successful.
Clinical Trial Eligibility Criteria
Potential candidates may be eligible if they meet the following criteria, which includes but is not limited to:
Being 18 years of age or older
Having a SARS-CoV-2 infection confirmed by a PCR-based test within four days prior to enrollment
COVID-19 disease baseline severity of Severe according to FDA guidance
Active cancer requiring systemic treatment within the last two years
Adverse events related to prior cancer therapy must have recovered to a grade less than or equal to one or to baseline
Subjects must be able to forgo systemic cancer therapy for ~39 days
To learn more about this trial, click here.