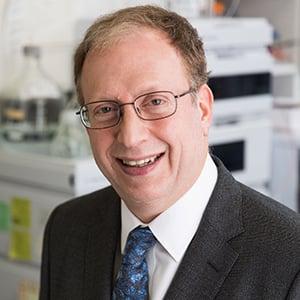 Don J. Diamond, Ph.D.
Having previously developed a safe and efficacious Triplex vaccine to prevent incidence of cytomegalovirus infection in stem cell transplant patients with a Modified Vaccinia Ankara (MVA) virus vaccine vector platform,
Don Diamond, Ph.D.
, professor in the Department of Hematology & Hematopoietic Cell Transplantation, had a pre-established path to follow when he and a team of scientists began working toward a SARS-CoV-2 vaccine candidate at the start of the global pandemic. As a National Cancer Institute-designated comprehensive cancer center, City of Hope maintains the highest standards for infection prevention, allowing all of our innovative research and clinical trials to continue safely without interruption throughout the pandemic. Our primary focus on cancer has also allowed us to continue to provide our patients with the best cancer care available today. If you have patients who are delaying treatment, we urge you to refer them to City of Hope for care, as cancer doesn't stop for a pandemic. We are accepting new cancer patients.
Bolstered by promising immunogenic preclinical research findings, Diamond, alongside
Flavia Chiuppesi, Ph.D.
, and
Felix Wussow, Ph.D.
, both assistant research professors in the
Department of Hematology & Hematopoietic Cell Transplantation
, and principal investigator
John A. Zaia, M.D.
, the Aaron D. Miller and Edith Miller Chair in Gene Therapy, are now conducting a Phase 1 trial to evaluate the safety and tolerability of the investigational vaccine known as COH04S1 in humans.
Developing a multi-antigenic MVA SARS-CoV-2 vaccine to confer immunity
The primary goals of any vaccine are twofold — to prevent infection through the stimulation of the humoral immune response (neutralizing antibodies) and to confer long-term immunity through the cell-mediated immune response (memory T cells). In an attempt to meet these aims, the investigators turned to an MVA vaccine. MVA, which is an attenuated poxvirus, has been shown to be safe, highly immunogenic and capable of incorporating heterologous DNA, which is one of the reasons it is an effective vector. In addition to being the only Food and Drug Administration-approved vaccine for monkeypox and having FDA approval for smallpox, it is part of the federal government's Strategic National Stockpile for lifesaving use during a public health emergency.
"We chose this vaccine platform because MVA vaccines have been shown to be safe and effective in immunocompromised patients, such as cancer and transplant patients, and can produce an immune response in less than 14 days with long-lasting T cell immunity," said Diamond.
After generating recombinant synthetic MVA (sMVA) vectors, the investigators inserted full-length SARS-CoV-2 spike (S) and nucleocapsid (N) antigen sequences to be co-expressed upon delivery and replication in cells, thereby eliciting an immune response.
Preclinical research demonstrates a strong immune response against SARS-CoV-2
Neutralizing antibodies and strong responses by T cells were seen when the investigational vaccine was tested in vivo in mice. "We spurred the production of CD4 and CD8 T cells of various types, including memory T cells," Diamond said. "These T cells can live in the blood for a longer time than antibodies and attack a pathogen should it appear at a later time."
As SARS-CoV-2 continues to spread, there is the possibility that antigenic drift could occur, rendering single antigen vaccines less effective. To determine whether COH04S1 would still retain immunogenicity if large mutations occurred, the scientists created test viruses called pseudoviruses that contained the genetic sequences of the original Wuhan and the altered D614G form of the SARS-CoV-2 Spike antigen. Ferrets, an animal model susceptible to SARS-CoV-2, were vaccinated with the COH04S1 investigational vaccine.
"Despite the fact that our investigational vaccine had a slightly different genetic sequence, it's capable of preventing cell entry of a slightly mutated version of SARS-CoV-2, which is now the dominant circulating strain in the U.S., from getting into a cell," Diamond noted.
Testing safety and tolerability in a Phase 1 trial
The Phase 1 trial is being conducted to determine the safety and tolerability of COH04S1 in humans. City of Hope is currently looking for a minimum of 117 healthy volunteers who haven't had COVID-19 and are between the ages of 18 and 54 (inclusive) to enroll in this trial. The goal is to collect safety and immunogenicity data to initiate the Phase 2 trial in late spring this year. Trial participants will receive two injections given 28 days apart in the muscle of their upper nondominant arm, and could receive the investigational vaccine in both injections, the vaccine followed by a placebo, or both injections as placebos. The single dose variable will allow the team to study whether it is sufficient to stimulate immunity without the need for a booster. Each participant will be on the study for one-year follow-up.
In addition to the vaccine, volunteers will receive a health screening and testing to determine whether they have COVID-19 or antibodies against the virus. As part of the study, they will be asked to donate blood and saliva for research testing and to participate in telehealth and in-person follow-up visits for one year.
City of Hope is currently investigating how to manufacture the vaccine in a freeze-dried form, to avoid cold-chain requirements, at one of the three good manufacturing practice facilities located on the main campus in Duarte, California. Once a safe and tolerable dose has been determined, the investigational vaccine will move into Phase 2 and 3 trials. A Phase 2 trial could begin as soon as the second quarter of 2021.