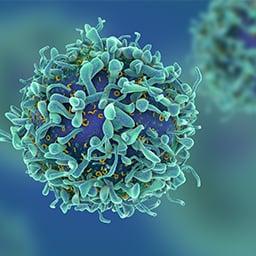 The physician-scientists at City of Hope who see one of the highest volumes of patients with multiple myeloma in Southern California have firsthand knowledge of the unmet treatment needs of this patient population, especially for those with relapsed or refractory multiple myeloma (RRMM). But a current Phase 1/2 study of a novel antigen-specific T cell immunotherapy for patients with RRMM being led at City of Hope by
Maung Myo Htut
, M.D., associate clinical professor in the Department of Hematology & Hematopoietic Cell Transplantation, promises new hope. The multicenter clinical trial is being conducted in conjunction with the Dana Farber Cancer Institute, Memorial Sloan Kettering Cancer Center, MD Anderson and the Karmanos Cancer Institute.
Advancing multiple myeloma care through groundbreaking clinical research
Over the years, innovative research at City of Hope, including the development of myeloma cell lines for basic research and the creation of technology to create monoclonal antibody treatments like daratumamab or elotuzomab, have helped push the field of multiple myeloma forward. As a leader in stem cell transplant, which remains one of the most effective forms of treatment when combined high-dose chemotherapy, we've been able to expand the possibilities of transplant for multiple myeloma through our haploidal transplant program and transplant regimens for older patients. These efforts have resulted in survival outcomes that exceed those of SEER LA and SEER National across all age groups (<60, 60-70, >70 years).*
Our ultimate goal is to make multiple myeloma a manageable nonlethal disease, and the experimental native T cell therapy known as NEXI-002, that Htut and his team are investigating, may be a large step toward reaching that aim. In safety evaluation and dose expansion phases, the investigators will determine the safety, tolerability and preliminary antitumor activity of the novel immunotherapy, respectively.
*Data derived from the National Cancer Institute's Surveillance, Epidemiology and End Results (SEER) Program.
Activating T cells against several antigen-specific multiple myeloma targets
The NEXI-002 immunotherapy consists of CD8+ T cells that have been derived from peripheral blood mononuclear cells obtained from the original stem cell donor. Before the product is ready for infusion, the cells get primed ex vivo through the use of nanoparticle-sized artificial antigen-presenting cells that contain five leukemia associated antigen peptides. An enrichment and expansion system is then used to create active T cells with tumor-specific targets and memory T cells that can contribute to long-term anti-tumor responses and tumor immunity.
By using a native T cell population, some toxicities associated with other immunotherapies may be avoided. Another potential benefit is the ability to target a variety of antigens on the tumor cell, thereby reducing the risk of immune escape. 
Enrolled participants will receive bridging therapy, administered in order to manage the cancer, up to two weeks before lymphodepleting therapy. Following the therapy, the participants will receive an IV infusion of NEXI-002. A post-treatment follow-up period after the infusion will be conducted to monitor trial participants for adverse effects and any anti-leukemia response for a period of up to one year. Overall survival and other secondary endpoints and will be monitored during the follow-up period as well.
Findings from the study of this next-generation T cell therapy will inform the future of immunotherapy as a treatment option for multiple myeloma and other cancers and diseases.
Read more about this trial
here
.