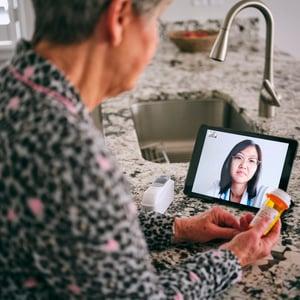 During these unusual times, we continue to monitor the novel coronavirus (COVID-19) and respond to the evolving situation in order to ensure the safety and well-being of patients and health care professionals.
Our experience with immunocompromised and immunosuppressed patients, particularly within our bone marrow/stem cell transplant program, helped us create a roadmap for maintaining the highest standards for infection prevention and control across all our programs during the COVID-19 pandemic.
As the highest ranked cancer hospital in the western United States, we remain committed to providing lifesaving cancer treatments, even in the face of a global public health challenge.
Integrated telehealth options
In recent years, telehealth has expanded across health care to increase the convenience offered to patients. In the last couple of months, telehealth has become an indispensable facet of health care not only for those on the frontlines of COVID-19 but for cancer centers such as City of Hope, caring for some of the most vulnerable patients. Telehealth offers many ways we can continue to deliver world-class cancer care while minimizing the infection risk to the immunocompromised patients and health care professionals.
With multiple telehealth offerings, patients have various methods — telephone or televideo — to engage with our health care providers. These "visits" can include evaluation, management of treatment side effects, review of labs and scans, access to answers and reassurance. These convenient touchpoints are also seamlessly integrated into the medical record system for continuity of care.
City of Hope's
Hope Virtual platform
enables televideo visits for the patients as well as their caregivers. It provides an enhanced face-to-face engagement with physicians and other care team members while minimizing the risks of in-person visits during this global pandemic. We also plan to use technology during inpatient visits, to allow loved ones into the conversation remotely, since they cannot come into the hospital due to the current "no visitor" policy.
Telehealth helps us reach more patients
At this time, we understand that many patients may prefer not to come in for an appointment. The telehealth program at City of Hope ensures continuity of care for those patients. These services also establish consistent connection and support not only for them, but also their health care providers.
At City of Hope, we remain committed to delivering optimal cancer care, even in exceptional circumstances such as COVID-19.
Looking ahead — telehealth options after the COVID-19 pandemic
City of Hope will continue to offer patients many of the same efficiencies and convenient telehealth options after the pandemic. Many visits traditionally done in-person will be available via telehealth from the convenience of patients' homes. But the opportunities provided by telehealth are countless.
Moving forward, we can envision expanding use to reduce medical visits in even more ways. Telehealth allows for telegenetic consultations, remote chemotherapy support, remote monitoring using wearables, as well as ongoing survivorship follow-up and palliative care. Additionally, virtual same-day visits could be developed to expedite condition triage via a phone call. This may ultimately allow for automatic set-up of a same-day or next-day virtual visit with the provider to fully address the condition in question, which increases patient satisfaction and access to care.
Having telehealth technology in place during this crisis has allowed us to continue to deliver the leading-edge care we're renowned for. Continuing to optimize telehealth moving forward will allow even more patients to benefit from our expertise.