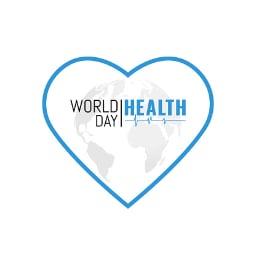 World Health Day, celebrated annually on April 7, marks the anniversary of the founding of the World Health Organization (WHO). This year's goal is to "focus global attention on the urgent actions needed to
keep humans and the planet healthy
and foster a movement to
create societies focused on well-being
."
As the WHO states, "the pandemic has revealed weaknesses in all areas of society and underlined the urgency of creating sustainable well-being societies committed to achieving equitable health now and for future generations without breaching ecological limits." It is of utmost importance that we look to address issues that predominantly affect underserved and underrepresented communities. City of Hope is firmly committed toward achieving equitable health, given our status as a leader in research and the treatment of cancer, diabetes and other life-threatening diseases. Our various programs and health initiatives look to address and eliminate disparities in health now and into the future. These programs are centered around best-practice community strategies, increasing diversity in research and creating sustainable solutions for health.
The Programs That Push Us Forward
City of Hope is home to the acclaimed Division of Health Equities, which is focused on eliminating disparities in health. By building strong bidirectional relationships with neighboring communities and placing a focus on education and trust, the mission of this program is to increase participation of underrepresented communities in the workforce and in the development of research and policy.
CCARE is a broad initiative implementing best-practice community strategies to reduce and eliminate health inequities. The primary focus of this program is to increase awareness of the most advanced practices in health care for all patients. CCARE provides free education, training and screening throughout the community. For example, our Eat, Move, Live! program links City of Hope with cities and school districts to implement an obesity, diabetes, cancer and other chronic diseases prevention program. CCARE also partners with community leaders in the Greater Los Angeles and the Inland Empire areas to hold health fairs and cancer screening events. CCARE works as a community resource, encouraging healthy food retailers to accept EBT cards (California's version of food stamps) and place healthy food in more visible areas of the store.
"We can clearly see the relationship between poverty and poor health outcomes," said Kimlin Tam Ashing, Ph.D., professor and director of CCARE. "And although we don't always understand the exact mechanism of that relationship, that doesn't mean we can't act."
City of Hope's care for patients doesn't stop after treatment is concluded. Survivorship programs are available to help patients transition from active treatment to survivorship and wellness. At the end of treatment, City of Hope cancer survivors receive a Survivorship Care Plan, which is a personalized document that provides the survivor and their future health care providers with a guide to monitor and manage their ongoing care.
The Nourishing Hope Program is built upon the philosophy of promoting the connection between nutrition and well-being. The Garden of Hope exhibits this philosophy, operating as a community garden on the Duarte campus of City of Hope that is open to patients, employees, visitors and the greater community. The garden allows anyone to be a part of growing and harvesting fresh, healthy, sustainable and clean food.
Research in Population Sciences Addressing Health Disparities
Research is a cornerstone of City of Hope's efforts in the field of cancer as we are constantly looking at innovative ways to advance the treatment landscape. We believe that humanity should benefit equally from advancements in cancer research. City of Hope researchers are focused on conducting research and trials designed for underserved populations.
Lindsey Treviño, Ph.D.
, assistant professor in the Division of Health Equities at City of Hope, is currently exploring
population-based gene and environmental studies
. The first of her research projects is focused on the "
Identification of environmental exposures linked to the development of liver cancer in the context of obesity and diabetes.
" With increasing evidence that metabolic syndrome may raise the risk for liver cancer, and the consideration of racial/ethnic disparities for multiple components of metabolic syndrome, models are needed to study the link between environmental exposures and metabolic syndrome in the development of liver cancer in vulnerable populations. Treviño is also working on a study titled the "
Determination of epigenetic mechanisms underlying development of liver cancer due to environmental exposures.
" This is one of only a few studies to examine epigenetic mechanisms of liver cancer with consideration to environmental factors.
Victoria L. Seewaldt, M.D.
, the Ruth Ziegler Chair in Population Sciences at City of Hope, is
exploring the use of Metformin
, a diabetes drug, that may assist in the prevention of breast cancer. Insulin triggers cell growth factors, and too much insulin can "hard-wire" the cancer environment. Metformin does an outstanding job of restoring insulin sensitivity, allowing insulin levels to return to normal. It is the fourth most commonly prescribed medication in the U.S., as well as one of the least expensive. This could help to create a cost-effective component of cancer care, increasing access to lifesaving treatments for everyone.
City of Hope is one of three institutions sharing in a
$3 million grant from the National Cancer Institute to establish the Translational Research Center in Lung Cancer Disparities
, or TRACER. Working with community groups, health departments and other stakeholders in California, Virginia and South Carolina, TRACER seeks to identify cancer risks specific to Black communities. This research will be conducted in part by Seewaldt and
Loretta Erhunmwunsee, M.D.
Erhunmwunsee's research has shown that low socioeconomic status is an independent prognostic factor for poor survival in patients with nonsmall cell lung and esophageal cancer. Among her research interests is better understanding why ethnic minorities and poor/underserved populations have worse outcomes and poor quality of life in early-stage lung cancer.
Chemicals and Cancer
Much of our modern life would be impossible without the industrial chemicals that go into so many of the products we rely on and take for granted. But those conveniences come with a price: they may elevate our risk of certain cancers.
Shiuan Chen, Ph.D.
, professor and chair of the Department of Cancer Biology at City of Hope and the Lester M. and Irene C. Finkelstein Chair in Biology, is investigating two areas in particular: BPA and PBDEs.
BPA — Bisphenol A — is everywhere. It's used in polycarbonate plastics, epoxy resins, dental sealants and thermal paper used in receipts. BPA is one of the highest-volume chemicals produced worldwide and is found pervasively in the environment worldwide. Many people, especially those in lower income communities, come in contact with BPA by handling low-cost food packaging.
PBDEs — Polybrominated diphenyl ethers — number in the hundreds. They are primarily used as flame retardants in foams, textiles, plastics, electronic devices, building materials, furnishings, airplanes, motor vehicles and more.
We've known for some time that BPA and PBDEs affect our endocrine systems, acting like the female hormones estrogen and progesterone in the body. Chen's research is designed to find out whether these chemicals increase the risk of breast cancer, and, if so, to influence public policy.
"We want to produce strong scientific evidence to convince governmental regulatory agencies to stop the use of such environmental chemicals," he said. "We want to increase awareness among the general population and encourage them to voice their concerns to the government."