Janet Yoon, M.D., has dedicated her career to improving outcomes and quality of life for the youngest cancer patients with some of the toughest cancers
Pediatric sarcomas, which affect the bones and soft tissues of children and teenagers, are among the toughest cancers to treat. Pediatric oncologist Janet Yoon, M.D., is passionately dedicated to improving the outcomes and quality of life for these young patients.
Last August, she joined City of Hope as medical director of the Pediatric Musculoskeletal Tumor Program after a stellar career at Rady Children's Hospital San Diego.
"I asked her to come to City of Hope because she has the perfect combination of clinical expertise, deep funds of knowledge and a remarkable bedside manner," said the man who hired her, Saro Armenian, D.O., M.P.H., Barron Hilton Chair in Pediatrics, Department of Pediatrics, and The Norman and Sadie Lee Foundation Professor in Pediatrics. 
Her role as medical director involves some big-picture changes that will make the most advanced treatments available to her young patients — but she's also devoted to her clinical practice.
"One of the reasons I like doing sarcoma care is that I really enjoy the relationships. The complexity of care and the time you spend with these patients and their families gives a depth to the relationship that's second to none for me," she said.
Why Sarcomas Can Be Tough 
"Sarcomas are very challenging tumors, and they can outsmart all the therapy," Yoon said. "Even when they respond to the initial treatment, once treatment stops, they can come back — and when they do, they become much harder to treat."
The first goal of treatment, when possible, is to reduce the size of the cancer so that it's easier to control with chemotherapy, radiation and/or surgery. Even then, however, the results are not always effective.
When sarcomas are diagnosed at an advanced stage, they're even harder to treat — and this often happens with teenagers. 
"I had a young lady who was a cross-country runner, and she ran a race days before she was diagnosed with a tumor in her leg," Yoon said. "By the time she got medical attention, the disease had progressed."
Teenagers are young, they're healthy, and it's common to have pain from sports or growth spurts, so they tend to shrug off their symptoms. This is also the age when they exert their independence and don't want to run to their parents with every problem. 
The message here is clear — if you're a teenager who's experiencing pain, if you feel a lump or a growth, do tell your parents and have it checked by a doctor.
Breakthroughs and Clinical Trials
There have been some breakthroughs with targeted treatments and immunotherapies, and Yoon was an investigator on one of these studies, published in Neuro-Oncology in 2022. It involved a treatment called entrectinib, which can inhibit the growth of tumors caused by the NTRK mutation.
NTRK inhibitors have been particularly effective for infantile fibrosarcomas, which affect very small children. 
CAR T cell therapy is also being considered as a possible treatment for sarcoma, though studies are still in the preliminary phases.
"Thankfully, here at City of Hope we have access to very extensive tumor profiling and testing opportunities," she said. "With molecular profiling, we may be able to find other effective targeted agents."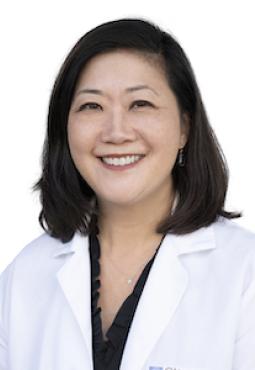 One of Yoon's top priorities is lowering the age requirements for clinical trials, so that pediatric sarcoma patients can have access to the most promising new treatments. 
"We know that whether someone is 13 or 19, the disease processes affecting them are similar, and I'm always advocating to reduce the age limit for eligibility," she said.
To achieve this, she is working with Mark Agulnik, M.D., section chief of Sarcoma Medical Oncology at City of Hope and an expert on adult sarcomas; the Children's Oncology Group, an organization devoted to pediatric cancer research; and pharmaceutical industry collaborators.
Currently, there are several trials for sarcoma at City of Hope for patients under the age of 18. 
Yoon is also collaborating with leadership to tackle the challenge of streamlining the time between a referral and a patient's first visit to the pediatric department, something that's extremely important with a disease like sarcoma that can advance quickly.
The 'Miracle' Patients
While the overall five-year survival rate for pediatric cancers is 85%, the rate for pediatric sarcoma is 65%. But sometimes, despite the odds, there are unexpectedly wonderful outcomes for some patients.
"I call them my miracles," Yoon said. "And that's what keeps you going."
One of these patients was a 16-year-old boy with Ewing sarcoma, a childhood bone cancer. It began in his hip, and by the time he consulted with Yoon it had spread to his lungs. His treatment was successful — but two years later, the cancer came back.  
He had just started college at Stanford University, and was being cared for at the cancer center there, but he asked that Yoon be the one to guide his treatment, which she did.
"I think it all goes back to the depth of the relationship you establish and the trust that goes both ways," she said. "He managed to undergo treatment and keep up with his studies at the same time — a very tenacious young man."
He's 26 today with a successful career in finance, and he still stays in touch with Yoon to say hi and let her know how he's doing. 
"Those miracle stories keep you going, so when parents tell me they're holding out for a miracle, I always say, 'I'm not going to tell you miracles don't happen. I see them. But, statistically, they aren't likely,'" Yoon said. "Our job is to maintain that space of hope for them, while being honest about how realistic that hope is." 
That's why from the very beginning — and regardless of whether the outcome is expected to be good or poor — she makes sure to get all of her patients and their families involved in supportive care.
"One of the reasons I was drawn to City of Hope was because of the very strong supportive care group that we have here — social work, child life, psychology — all centered around oncology care," she said. "I'm also a big advocate of minimizing pain, and I work very closely with my supportive care colleagues to assist with that."
While it may not be possible to control the disease forever, she focuses on her patients' quality of life and the things that are important to them. 
Her Calling
As far back as kindergarten, Yoon wanted to be a doctor, and by fourth grade she knew she would become a pediatrician.
But she never thought she'd become an oncologist.
In her pediatric residency, during her oncology rotation, the attending physician took her aside and said, "I don't know what you intend to do with your life, young lady, but I can tell you you're going to become an oncologist."
"I told him that nobody in their right mind goes into oncology because the cases are too hard," she said. "Fast forward two years, and this doctor told me he'd prove that this was what I was meant to do."
He invited her to his clinic, where she saw a little girl she'd taken care of during a bone marrow transplant for leukemia. She hadn't seen the child since then. 
"She had a full head of hair and was thriving. She ran up to me and gave me a huge hug, and her mom gave me a hug," Yoon said. "I'd wanted to go into medicine to make people's lives better and leave an impact, and that interaction changed things for me. It set everything in motion, and the rest is history."
In the short time that Yoon has been at City of Hope, she's worked tirelessly as both medical director and skilled and compassionate physician. She's also, apparently, a pretty terrific colleague.
"She's the most approachable person I know and makes you feel as though you've known her for years," Armenian said. "And she's the first one to laugh at your jokes, even the not-so-funny ones."
Who could ask for more?