She will be seeing patients at the main campus as well as the newly expanded South Pasadena site, where the goal is to establish a community hub for the diabetes and endocrinology program at City of Hope
Pooja Manroa, M.D., has a warm, natural charm and the reassuring confidence of a highly skilled physician. She recently joined City of Hope's newly expanded Department of Diabetes, Endocrinology & Metabolism, where she brings a passion for her work and the evolving science that is improving patient outcomes.
She'll be seeing patients three days a week at the main campus in Duarte, California, and one day a week at the South Pasadena clinical network location, where the department is widening its scope to serve the growing needs of the local community. 
Ping Wang, M.D., chair of the department, spearheaded these changes and described some of the services that will now be available not only to cancer patients, but the general public.
"We are expanding our South Pasadena site to establish a community hub for our diabetes and endocrinology program at City of Hope, combining clinical care, patient education and clinical research under one single roof," he said.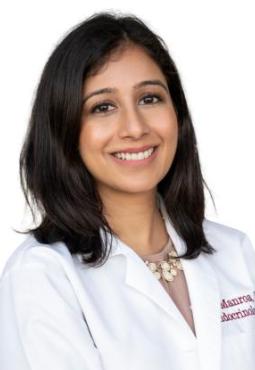 The need for endocrinologists has been steadily increasing because, as a result of increased lifespan, more people are developing age-related endocrinology disorders, such as diabetes and osteoporosis. In addition, lifestyle-related diseases, such as type 2 diabetes, obesity and other hormone-related disorders, are on the rise as well.
The expansion is also important for cancer patients — not just those with thyroid or endocrine cancers, but also those receiving certain molecular targeted treatments and immunotherapies that can sometimes affect the endocrine system. 
A Focus on Advanced Medical Science
One reason Manroa chose to join the team at City of Hope is her enthusiasm for the way endocrinology is practiced here.
"We have a unique interface between cancer and endocrinology, using a multidisciplinary collaboration to deal with diseases," she said. "We're also big on the personalized management of cancer based on a patient's molecular diagnosis, with trials for advanced thyroid cancer based on that diagnosis." 
One area of focus for her is the preoperative diagnosis of thyroid nodules, using ultrasound and molecular testing to improve patient outcomes and experience.
    
This information helps determine what course of treatment is most appropriate for a particular patient. For example, people whose tumors have the BRAF or RET mutation may be good candidates for certain targeted treatments, which can be more effective than standard treatments and often have far fewer side effects. 
City of Hope is currently conducting trials for advanced thyroid cancer with the drugs dabrafenib, trametinib and selpercatinib, which have already been Food and Drug Administration-approved to treat other types of cancer. And she looks forward to being a part of new trials that are emerging.
A Passion for Endocrinology
Manroa has been intrigued by the endocrine system since her medical school days in Mumbai, India. 
"I found it remarkable the way these hormones work to regulate our bodies and affect not just one organ, but multiple systems," she said. "And when I saw how it was applied to patient care, I was just fascinated."
In addition to playing a crucial role in the health of the entire body, the endocrine system also affects our emotional well-being, and psychologists and psychiatrists often refer patients to her when other treatments fail.
"Several years ago, I saw a heart patient who was on a medication called amiodarone. He was extremely depressed and was referred to me by a mental health professional," she recalled. "It turned out that he was severely hypothyroid. I started him on thyroid hormone replacement, which significantly improved his depression. And he was just so thankful."
She also has a keen interest in new evolving technologies, such as insulin pumps and continuous glucose monitors for diabetes patients, that improve patient outcomes and quality of life.
In Search of the Best Standards of Care
Her dedication to finding the most advanced medical care is why she left her native India.
After completing medical school and her internship in Mumbai, a friend who was training in medicine in the U.S. told her about how much more evidence-based and advanced the practice of medicine was here — and Manroa knew that was exactly what she wanted.
She was accepted as a medical resident at the prestigious Cleveland Clinic Foundation in Ohio, did a fellowship in endocrinology at the University of Pittsburgh, where she became director of the thyroid unit, then joined the endocrinology department at the University of Texas. She came onboard City of Hope on July 1, where she is also the site director of the fellowship in endocrinology.
In addition to City of Hope's advanced medical practices, there's something else that drew her to her new position here.
"There's a real respect for diversity and inclusion here," she said. "It doesn't matter where you came from or what you look like. Those values are very important to me."