With respiratory viruses spreading, it is important for cancer patients, their families and their caregivers to take preventive steps
A triple threat of COVID-19, influenza (flu) and respiratory syncytial virus (RSV) is hitting our communities hard. RSV rates continue to climb in Southern California, and we still are battling COVID-19.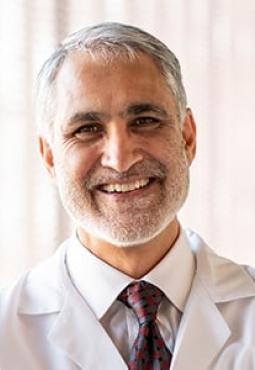 Masking, social distancing and good hand hygiene reduced the number of flu and other respiratory virus infections during the first two years of the pandemic. "Now, with relaxation of recommendations surrounding masking and social distancing, people are again at risk for acquiring these viral infections, and a major concern is lack of immunity because of low exposure in the last two years," explains Vijay Trisal, M.D., chief medical officer and the Dr. Norman & Melinda Payson Professor in Medicine at City of Hope. 
"All three [influenza, RSV and COVID-19] are particularly worrisome because they can cause severe illness in patients undergoing chemotherapy, those who have received stem cell transplants and other immunocompromised patients," Trisal adds.
Each illness is different. Here's how you can best protect yourself:
COVID-19: COVID-19 spreads through the air. Wear a mask in public spaces, especially indoors. Stay up to date on vaccine boosters and encourage your caregivers and loved ones to do so, too. 
Flu: Get the flu vaccine. Initial signs indicate that this year's flu vaccine is working well to keep people out of the hospital. Wear a mask — like COVID-19, flu is most often spread through droplets in the air and close contact.
RSV: RSV is spread more often from surfaces than in the air. Wash your hands frequently and use hand sanitizer after being in public spaces and washrooms. 
COVID-19, flu or RSV?
On average, the incubation period for flu is two days, COVID-19 is one to three days and RSV is four to six days. For all three, a person can be contagious 1-2 days before symptoms appear.
| | | | |
| --- | --- | --- | --- |
|   |   |   |   |
| Signs and symptoms | RSV | Flu | COVID-19 |
| Symptom onset | Gradual | Sudden | Gradual |
| Muscle and body aches | Sometimes | Common | Sometimes |
| Cough | Common | Common | Common |
| Diarrhea | Rare | Sometimes* | Sometimes |
| Fatigue | Sometimes | Common | Common |
| Fever | Sometimes | Common | Common |
| Loss of taste or smell | Rare | Rare | Sometimes |
| Shortness of breath or difficulty breathing | Sometimes** | Rare | Common |
| Runny or stuffy nose | Common | Common | Common |
| Sneezing | Sometimes | Sometimes | Sometimes |
| Sore throat | Sometimes | Sometimes | Common |
| Headache | Sometimes | Common | Common |

*Diarrhea from flu is more common in children. **Shortness of breath from RSV is more common in infants and young children. 
Important Information for Caregivers
Caregivers can reduce the risk for their immunocompromised loved ones by ensuring they get fully vaccinated for COVID-19 and the flu. Caregivers who are symptomatic for a viral infection should refrain from visiting patients in the hospital. When at home, practice infection prevention tactics, such as masking, social distancing and frequent disinfection of common surfaces. Take steps to improve ventilation and do not share personal household items such as cups, utensils and towels.
If you are a cancer patient and you feel sick, please stay home and test yourself for COVID-19. If you test positive, contact your care team to see if they want you to start any antiviral therapies. If negative for COVID-19, getting tested for influenza and RSV is recommended — please contact your care team or the nurse triage line for assistance. 
"When a patient is sick with respiratory symptoms and comes to City of Hope, we often run a 'respiratory panel,' which tests for a variety of pathogens including RSV, COVID and influenza. We have effective treatment options for both the flu and COVID-19, and the sooner you start treatment, the better," Trisal says.
"Anyone can get sick from these viruses; however, cancer patients can get very sick," he adds, "so early intervention is key."