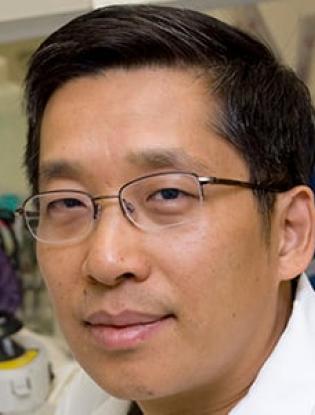 Professor, Department of Stem Cell Biology and Regenerative Medicine
Research Area
Cell Fate Determination
Symmetric Vs. Asymmetric Cell Divisions
Epigenetic Regulation of Neurogenesis
Brain Cancer Inhibitors
1996 - University of California San Diego, Ph.D., Biochemistry

1986 - University of Science and Technology of China (USTC), B.S., Biology
2014-Present - Professor, Department of Stem Cell Biology and Regenerative Medicine, Beckman Research Institute of City of Hope, Duarte, CA

2009-2014 - Associate Professor, Department of Developmental & Stem Cell Biology, Beckman Research Institute of City of Hope, Duarte, CA

2002-2009 - Assistant Professor, Department of Developmental & Stem Cell Biology (Neurosciences), Beckman Research Institute of City of Hope, Duarte, CA

1996-2002 - Postdoctoral Fellow, Department of Cell Biology, Harvard Medical School, Boston, MA

1991 - 1996, Graduate student, Department of Chemistry and Biochemistry, University of California, San Diego, CA
Our research is aimed to understand how neural progenitor cells balance proliferation and differentiation during brain development and to harness the knowledge we gain from the basic researches for developing brain tumor treatment. We use the embryonic mouse cerebral cortex as the model system to investigate regulatory mechanisms of neural progenitor cells pertinent to the temporal and spatial progression of neurogenesis and gliogenesis. Current projects focus on the following questions:
How symmetric versus asymmetric cell division is regulated during the mitosis of a neural progenitor cell in the developing cortex?
Neural progenitor cells control proliferation vs. differentiation through symmetric vs. asymmetric cell divisions. Symmetric cell division expands the progenitor cell pool and asymmetric cell division generates mature neuronal and glial cells. During brain development, the balance between symmetric and asymmetric cell division is modulated by coordinated actions between growth stimulatory (e.g. growth factors, sonic hedgehog, wnt) and inhibitory (e.g. tumor suppressors) pathways. How these positive and negative signals exert their impact on the fate of daughter cells during the mitosis of a neural progenitor cell is what we are keen to study. We have identified a network of interacting proteins, including Ephrin-B, RGS3, KIF20A, SEPT7 and Galpha subunits, which appear to act during cytokinesis to impact the decision of daughter cells to either stay as a progenitor cell or become differentiated. Ongoing studies focus on understanding how these mitotic proteins may provide an integration point linking growth stimulatory and inhibitory signals to the final process of cell fate determination of daughter cells.

What are the epigenetic and transcriptional mechanisms that guide the developmental progression of cortical neurogenesis and gliogenesis?
The gene expression potential of a cell's genomic DNA, in large part modulated through specific epigenetic modifications, determines its cellular state. We are interested to understand epigenetic mechanisms, including DNA methylations and histone modifications, which guide a neural progenitor cell to choose between a proliferative and a differentiative state. Our approach is to apply purified primary neural progenitor cells and their neuronal progeny to various genome-wide survey technology to identify epigenetic and transcriptional profiles that are specifically attributed to the in vivo state of the cell type. These data will then help us identify candidate genes or mechanisms for further functional characterizations and validations. We are currently conducting global analyses of histone modifications and single cell RNA-seq to identify factors important for guiding neuronal and glial differentiation during cortical development.

Can regulators of symmetric and asymmetric cell divisions be harnessed for developing brain cancer treatment?
Regulators of symmetric and asymmetric cell divisions that work during cytokinesis may lie downstream of many growth stimulatory (oncogenic) pathways and may thus serve as general therapeutic targets for developing anti-proliferation therapies for brain tumors. We are currently testing this idea by targeting the EphrinB-RGS3-KIF20A-SEPT7 axis proteins in medulloblastoma- and glioblastoma-initiating/stem cells. Our hope is to identify small molecule inhibitors that can disrupt the interactions amongst these proteins in brain tumor cells thereby stop tumor cell proliferation.
Qiu, R, Wu, J, Gudenas, B, Northcott, PA, Wechsler-Reya, R, and Lu, Q. Depletion of kinesin motor KIF20A to target cell fate control suppresses medulloblastoma tumour growth. Communications Biology. In press.
Qiu R, Murai K, Lu Q. Spindle Orientation-Independent Control of Cell Fate Determination by RGS3 and KIF20A. Cereb Cortex Commun. 2020;1(1): tgaa003. doi: 10.1093/texcom/tgaa003. PMCID: PMC7446295.
Qiu R, Geng A, Liu J, Xu CW, Menon MB, Gaestel M, Lu Q. SEPT7 Interacts with KIF20A and Regulates the Proliferative State of Neural Progenitor Cells During Cortical Development. Cereb Cortex. 2020 May 14;30(5):3030-3043. doi: 10.1093/cercor/bhz292. PMCID: PMC7197076.
Hahn MA, Jin SG, Li AX, Liu J, Huang Z, Wu X, Kim BW, Johnson J, Bilbao AV, Tao S, Yim JA, Fong Y, Goebbels S, Schwab MH, Lu Q*, Pfeifer GP*. Reprogramming of DNA methylation at NEUROD2-bound sequences during cortical neuron differentiation. Sci Adv. 2019 Oct; 5(10): eaax0080. doi: 10.1126/sciadv.aax0080. PMCID: PMC6810389.
Geng A, Qiu R, Murai K, Liu J, Wu X, Zhang H, Farhoodi H, Duong N, Jiang M, Yee JK, Tsark W, Lu Q. KIF20A/MKLP2 regulates the division modes of neural progenitor cells during cortical development. Nat Commun. 2018 Jul 13;9(1):2707. doi: 10.1038/s41467-018-05152-1. PMCID: PMC6045631.
Liu J, Geng A, Wu X, Lin RJ, Lu Q. Alternative RNA Splicing Associated With Mammalian Neuronal Differentiation. Cereb Cortex. 2018 Aug 1;28(8):2810-2816. doi: 10.1093/cercor/bhx160. PMCID: PMC6041894.
Liu J, Wu X, Zhang H, Pfeifer GP, Lu Q. Dynamics of RNA Polymerase II Pausing and Bivalent Histone H3 Methylation during Neuronal Differentiation in Brain Development. Cell Rep. 2017 Aug 8;20(6):1307-1318. doi: 10.1016/j.celrep.2017.07.046. PMCID: PMC5564459.
Liu J, Wu X, Zhang H, Qiu R, Yoshikawa K, Lu Q. Prospective separation and transcriptome analyses of cortical projection neurons and interneurons based on lineage tracing by Tbr2 (Eomes)-GFP/Dcx-mRFP reporters. Dev Neurobiol. 2016 Jun;76(6):587-99. doi: 10.1002/dneu.22332. Epub 2015 Aug 17. PMCID: PMC4744584.
Hahn MA, Qiu R, Wu X, Li AX, Zhang H, Wang J, Jui J, Jin SG, Jiang Y, Pfeifer GP*, Lu Q*. Dynamics of 5-hydroxymethylcytosine and chromatin marks in Mammalian neurogenesis. Cell Rep. 2013 Feb 21;3(2):291-300. doi: 10.1016/j.celrep.2013.01.011. PMCID: PMC3582786.