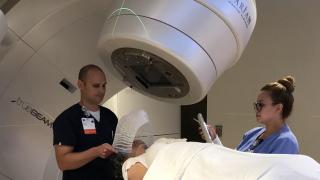 City of Hope Radiation Oncology

As a National Cancer Institute-designated comprehensive cancer center, City of Hope is committed to providing more than 17 million Southern Californians with coordinated, community-based cancer care.
Our radiation oncology program is one of the largest and most experienced in Southern California. With a focus on precise imaging and selective, targeted treatment, City of Hope's physicians and researchers are harnessing the precision and power of these advanced tools to kill cancer cells while preserving a patient's quality of life.
We offer a comprehensive set of specialized services and advanced technologies, planned and provided by our uniquely trained staff, for a broad range of cancer diagnoses.
With radiation therapy locations across Los Angeles, Riverside, Orange and San Bernardino counties, we bring City of Hope's expert care and leading-edge treatment to your neighborhood.
Find a Radiation Therapy Location Near You
Our commitment is to improve patient care by leveraging a comprehensive and multidisciplinary approach, designed to improve clinical outcomes where possible. Our highly trained and board-certified radiation oncologists offer a compassionate team approach, ensuring access to wide-ranging treatments and ongoing follow-up care. We utilize the latest technologies in radiation oncology and the most advanced medical treatment protocols.