With limited access to the newest treatments in his native Philippines, Michael Tan sought treatment at City of Hope
Michael Tan is an avid cyclist in his native Manila, Philippines. The mountainous and verdant countryside trails have always provided relaxation and respite for him after a busy day as a commercial and residential realtor. When business slowed down dramatically due to the global COVID-19 pandemic, Tan increased his time on his bicycle, biking up to seven hours a day.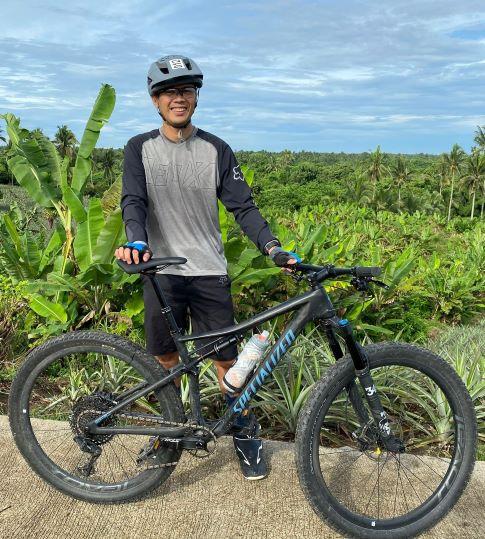 Swelling in Legs
It was after one of those long bike rides that Tan noticed some swelling in his left calf muscle, not uncommon after pedaling for hours. But over time, the swelling didn't go away. Instead, it increased and spread upward. When swelling occurred in his other leg, he became alarmed that this wasn't routine swelling from a bike ride.
"I decided to have a blood test to find out what was really going on," he said. The results revealed an extremely high count of immature while blood cells, or lymphoblasts, which is not normal in healthy blood and is an indicator of blood cancer. His doctor in Manila admitted him right away. Further tests confirmed a diagnosis of acute lymphoblastic leukemia, or ALL.
Acute Lymphoblastic Leukemia
The most common childhood cancer, ALL outcomes have improved among pediatric patients, largely because of better treatment that stems from leading-edge clinical trials. Treatments have been less successful among adults with ALL. The annual incidence of ALL in adults worldwide is about 100,000 diagnoses a year. From that number, 21% are Asian, with 7.5% being Filipino. Cancer does not affect all ethnic groups the same, nor do treatments produce the same results. While the number of ALL and other cancer diagnoses are still fewer among Asians than the white population, cancer does remain the leading cause of death among Asian populations.
Tan began his treatment in January 2021, a modified protocol that is a standard initial treatment for ALL. After two months, though, he was advised that he should seek out alternatives.
"I was not responding well to that treatment," he said. "We started looking at other treatment options available in other countries, on other continents," he said. "We looked elsewhere in Asia, Australia and the United States." Tan and his wife Kit were also researching medications recommended for the treatment of ALL, some of the most effective of which were not yet approved for use in the Philippines and were thus unavailable.
Travel in the Time of COVID-19
"Given the pandemic, we first thought of traveling regionally, perhaps to Taiwan," said Kit. "But Taiwan was on COVID-19 lockdown, and our travel to Singapore was pending approval by the Ministry of Health. We switched to a hyper-treatment protocol, but that really was just buying us time in bringing down the lymphoblasts. It did not give us the dramatic results that we wanted."
In April 2021, while in COVID-19 isolation as the second wave of the omicron variant swept through the Philippines and with Kit contracting the coronavirus herself, she began doing research online. She reached out to 50 hospitals around the world, including three in the United States, desperate to help her husband find treatment. Many of those she contacted did not respond; others declined to consider his case because they were not confident they could treat him successfully.
When Kit contacted a relative living in California, she was told that City of Hope should be their first and only choice. Since they are Philippine residents, the Tans discovered City of Hope's Center for International Medicine (CIM) online and started a conversation.
"Traveling abroad to an unfamiliar place for an unknown treatment and unknown outcome can be frightening," said Roxanna Man, R.N., B.S.N., M.H.A., senior director of International Patient Services at CIM. "When the Tans first reached out to us, they were understandably stressed and very anxious because their options were so limited in their native Philippines. We stayed in touch with them day and night for three weeks straight to coordinate their visit to City of Hope, and helped with their travel arrangements and getting his appointment."
'We're Off to City of Hope'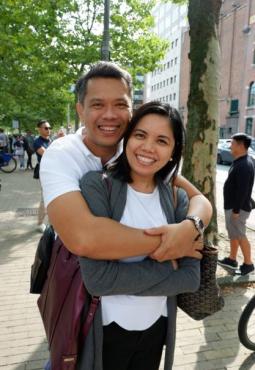 A health care administrator herself and a trained paramedic, Kit provided detailed, organized records of her husband's treatment, from the time of symptoms and diagnosis to his current protocol. She sent more than 200 documents, scans and other medical information produced in the time since Tan's original diagnosis to CIM, who reviewed his case and shared the documents with City of Hope physicians so that they could consider potential therapies and Tan's prognosis.
Kit was napping at her home in Manila when the phone rang one afternoon. It was Michael Chu, M.B.A., supervisor of International Patient Services at CIM. "He waited until he knew he could get me at 2 in the afternoon, even though we are 15 hours ahead of California," she said. "After listening to our situation, CIM made all the arrangements for us to travel. I told my husband, 'We're off to City of Hope.'"
"As a team, CIM was very glad to work with Michael and Kit and give them a successful and smooth transition to City of Hope so that he could get the treatment he needed, when he needed it," Chu said. "We are so happy to have been able to help them, and we appreciate their trust in us and partnership on this path."
A Patient of Anthony Stein, M.D.
After a nearly 14-hour flight, upon arrival at City of Hope's Duarte campus, Tan would become a patient of Anthony Stein, M.D. The Tans said their level of confidence and hope rose immediately after coming here and meeting Stein.
"He instinctively knew about the diagnosis and the best way to treat it," Tan said. "He was calm and competent, and confident he could help."
"Michael came to us as a patient with relapsed, refractory ALL, but when we repeated his cytogenetic and mutational studies, we discovered that he was Philadelphia chromosome-positive," said Stein. "What that means is that Michael's diagnosis in the Philippines was accurate as ALL, but he was not confirmed as Philadelphia chromosome positive (Ph+), which makes a substantial difference in his treatment and response."
Ph+ ALL accounts for approximately one-fourth of cases of adult ALL. It typically presents with an aggressive clinical course, responds poorly to standard chemotherapy and carries a high risk for relapse. Once identified, physicians can prescribe a tyrosine kinase (TK) inhibitor to target and override the Ph+ chromosome.
"Once we added the TK inhibitor, Michael's response rate to the regular chemotherapy was much, much better," Stein said.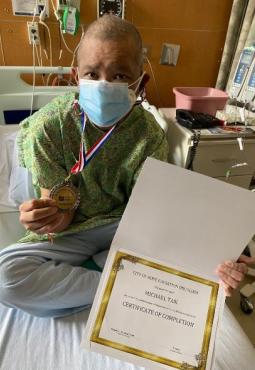 After a successful round of chemotherapy, Tan was strong enough to take the next step in his recovery process: a stem cell transplant, his only option for a fully curative therapy.  A donor match was made from within his family, and he received his transplant on Oct. 13. Earlier this year, Tan was healthy enough and cleared to travel back to his Manila home, where the couple's teenage son and daughter were waiting to see their parents after months of being apart. For now, he will return to City of Hope every three months to received medications to prevent a relapse in leukemia as well as fungal infections, drugs that are not available in the Philippines at this time.
Since his transplant, Tan remains in good health, with no evidence of disease. Just a few months earlier,  City of Hope child life specialists held a virtual call with the Tans' children to let them know what their dad was going to go through, the milestones to expect, and to manage their expectations and answer questions.
Interdisciplinary Care
The Tans also befriended a former patient and his wife who offered to share his story with new patients to give them his firsthand account of his treatment and experience with City of Hope.
"My wife and I were so fortunate to be able to talk with them," Tan said. "It gave us confidence and a sense of peace in speaking with them. He went out of his way to assure us that everything was going to be OK, because 'you're at City of Hope now.'"
It was that attention to detail and the interdisciplinary approach to their care experience that the Tans said made such an impact.
"When we came here, the first thing we were struck by was the big HOPE letters in the courtyard," Tan said. "That was our first selfie, in front of those big letters that really did give us actual hope that I came to the right place for the right treatment for me."
An International Ambassador 
The Tans were also inspired by the credo captured on the Golter Gate about preserving the soul as well as the body. "I saw that everywhere we went on campus," Tan said. "With Dr. Stein, all my nurses, my nurse practitioner, the valets, everyone. The fear that I had about what was going on with me melted away a little. City of Hope felt like home. That really helped me in my treatment and recovery. The environment and culture of City of Hope made a big difference."
After his recovery, Tan said he wants to be an "ambassador" for City of Hope among Asian populations and in Asian countries.
"I am so thankful to City of Hope and the Center for International Medicine for taking me on," he said. "I would like to share my story to others internationally who may benefit from what City of Hope can do."