The journal, pale yellow sheets etched with neat, bubbly cursive, sits on a side table in Donna McNutt's bedroom. In it are her reflections on having cancer.

The feel of the first year's entries is hazy, dim and questioning — painful missives describing McNutt's despondency after being diagnosed with multiple myeloma.

"Cancer is lonely," says one entry. "You want to protect your children from everything and I feel myself trying to protect them from their mom possibly dying at an early age."

Although myeloma is no longer detectable in her body, McNutt can never fully let go of her thoughts about relapse, and possibly dying. Her journal — with its frequent undulations of fear and uncertainty — is a metaphor for those complex emotions.

According to a 2006 report from the National Academies of Science, "Survivors of cancer, although free of the cancer for which they were treated, may be immobilized by fears of recurrence." Nearly 60 percent of cancer survivors remain moderately-to-severely concerned one year after remission, according to the American Cancer Society's Studies of Cancer Survivors.

"In many cases there's not a normal arc of, you get a horrible diagnosis that's life-threatening and then if you're lucky, you finish treatment and it never comes back," said Marissa Cangin, Psy.D. a clinical health psychologist in the Department of Supportive Care Medicine at City of Hope.

"There are so many things that happen in between, and even when you are celebrating there can be this voice inside screaming, 'What if?'"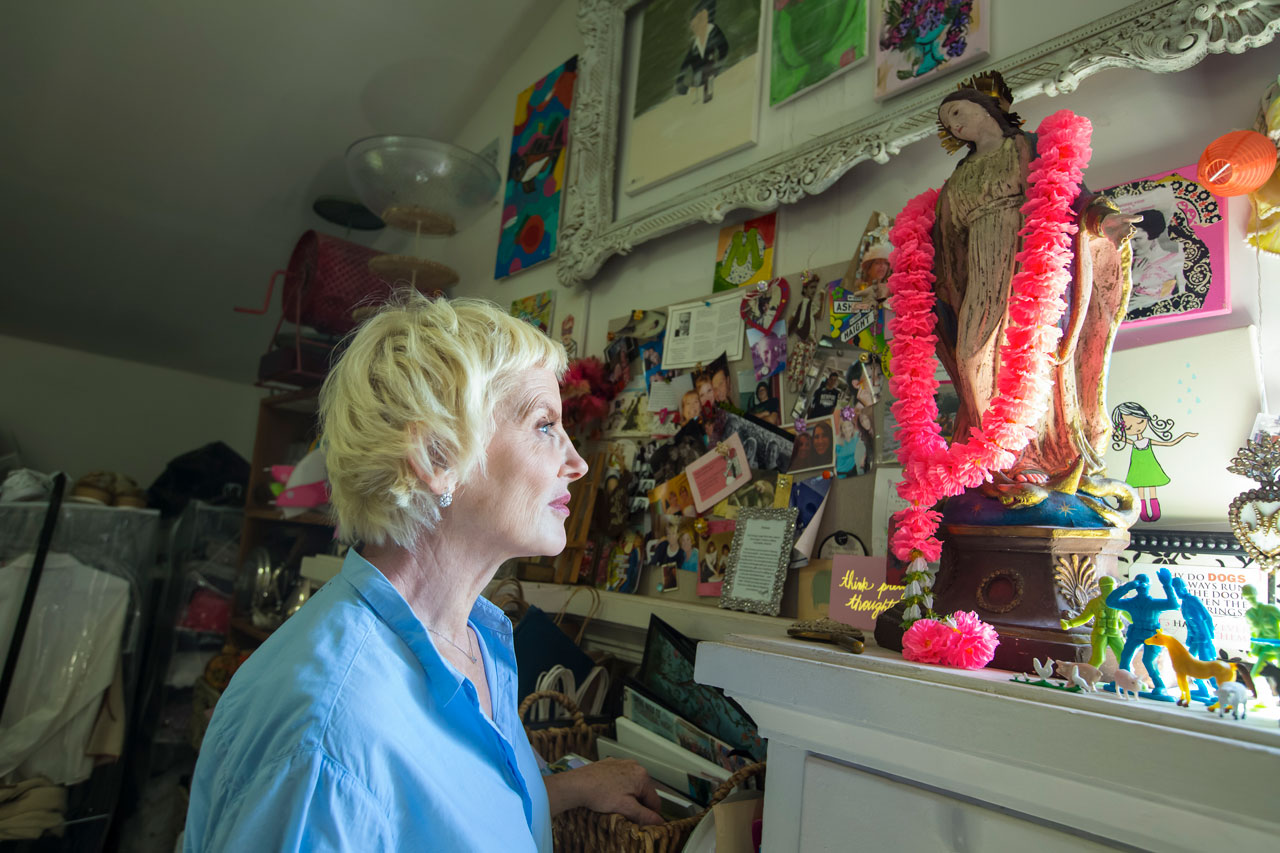 For McNutt, despair takes on a different hue depending on the day. Some days it is stinging. On others it can be mobilizing.

McNutt is using her journal — and her cancer journey, overall — as a tool to teach her children how to face difficulty with grace and hope.

"It's not all perfect little quotes and 'I love you's,' but what Mom knows, what Mom feels like, what Mom wants for you, things that I'm so grateful for," said McNutt. "I get to teach them what it is to be strong when something like this happens to you — to remember that Mom fought cancer with everything she had."
'I Had This Monster That Was In Me'
McNutt, 56, is sitting on a bench on the City of Hope campus — her shoulders hunched forward, her face creased with worry.

"I'm worried about what is waiting for me on the other side of those double doors," she said on a breezy day last November, gesturing toward the building where, a few minutes later, she had an oncology appointment.

"I had this monster that was in me and I will always live with the reality that it could come back."

Three weeks earlier, McNutt, who for the past year had been in remission, got a call about lab test results from her oncologist, Amrita Krishnan, M.D.

"I had my labs on a Thursday and my phone rang on a Saturday," said McNutt. "It was Dr. Krishnan. "I thought, 'Why is Dr. Krishnan calling me on a Saturday?'"

"She said, 'Donna, the rest of your labs have come in and there's some concern.'"

Normally upbeat and positive — she is quick to quip and smiles easily — McNutt had a feeling, although she felt healthy, that cancer was creeping back.

"When I get one of those tests, I'm consumed with it again," she said. "And I hate that part of it."

The tests revealed elevated levels of light chain proteins and a substance called creatinine. These could be fleeting problems, symptoms of a mild infection or they could mean the myeloma had returned.

"Literally every time I went to the restroom, I'm checking my urine to see if it had too much foam," said McNutt, referring to a possible sign her kidneys weren't functioning properly. "I go to yoga and I'm like, 'Do I have bruises?'"

During the weeks following the tests, McNutt went from happy and whole — to hypervigilant.

"I see her and I can tell it's overwhelming," said Jack McNutt, her husband. "She knows this is not just an ailment she's going to fix, but something that is going to overwhelm her again and again."

It is a cycle that began the Easter day two years ago when McNutt first found out she had cancer.

The stinging words from the oncologist, according to McNutt: "'We got your bone marrow back and there were so many cancer cells, they quit counting.'"

"I think back now and it's almost like I'm watching a movie," said McNutt, who was 54 when she was diagnosed. "I do remember this — I said, 'Could you tell me how long I have to live?' And the oncologist said, 'Well, I think I could buy you five years.'"

McNutt's normal blood cell production had been choked off and overwhelmed by cancer — at least 85 percent of her marrow was myeloma. Calcium from damaged bones was leaching into her bloodstream; her kidneys were failing and she had four broken ribs.

Pain had begun creeping into her midsection several weeks earlier. It sank deeper and deeper until her entire ribcage throbbed. At one point McNutt, on her mother's advice, wrapped herself in medicated arthritis patches to soothe the pain. "It was almost comical how many I had on me," she said.

"For six weeks I walked around with dwindling ribs," said McNutt. "I probably broke two at a time and even now I think, 'How did I walk around like that?' Broken ribs are so painful."

That sobering inventory — hypercalcemia (high blood calcium), renal problems, anemia and bone problems, also known by the acronym, C.R.A.B. — reflects the typical symptoms of multiple myeloma. It is a relatively rare blood cancer, expected to affect more than 30,000 people in 2018 according to the American Cancer Society.

McNutt was diagnosed with Stage 4 disease.
She languished in the hospital for several days following her diagnosis, "I looked like a bloated, broken 90-year-old woman," she said. "I couldn't even move — I could not move, I was in so much pain."

McNutt's family — her husband and her three children, Corbin, Hunter and Tatum — huddled close by. Jack McNutt remembers how he felt when the oncologist put his wife's survival at five years.

"I remember thinking, 'I can't believe my wife has an expiration date all of a sudden,'" he said. "I mean, we never know when we're going to die, but to have an expiration date to say you are going to die.

"It was just sad, so sad, thinking about that."

McNutt's daughter, Tatum, who was then 15, says she felt a similar sadness well up after her first hospital visit.

Up to that point, no one had sat her down to fully explain things. All she knew was the worst-case scenario being painted on the internet. According to websites she read, the chances of her mom dying within six months were, "10 out of 10."

After leaving the hospital, Tatum remembers feeling overwhelmed and anxious, like her world was crumbling. "My first thought was I'm never having kids,'" said Tatum. "I told my boyfriend 'I'm too afraid to have kids without my mom.'"

It took several days — of crying, of rationalizing, of purging negative emotions — before the family stopped feeling terrified. Armed with a healthier level of fear, the McNutt family decided they would fight for more than the six-month prognosis suggested on the internet — more than the five years from the Orange County oncologist.

Around the same time, a piece of advice surfaced from the barrage coming from friends and family. A friend who was a cancer survivor spoke highly about a hematologist-oncologist and myeloma specialist at City of Hope, Krishnan, who had treated her.

Jack McNutt made a mental note. A day later, McNutt's oncologist in Orange County mentioned she was collaborating with Krishnan.

It felt like an omen.

"It felt like we were in the right hands," said Jack McNutt. "After that, I made my decision for Donna and me. We're taking this path — done."

McNutt arrived at City of Hope several weeks later. Soon afterward, she got a stem cell transplant, effectively killing off any visible trace of myeloma in her body.
Her elation was short-lived. Only days after being told she was in remission, McNutt could feel the fear of relapse creeping into her mind.

Cangin said mild anxiety and fear can be important parts of the cancer journey. They are much healthier than denial and can function as "teachable moments" that may motivate healthy behaviors.

But sometimes, as in McNutt's case, healthy fear metastasizes to something worse.

"I call it consuming fear, where every ache and pain creates the thought that, 'Uh oh, the cancer's back,'" said Cangin.
Dreaded Test Results
On that crisp, fall day in November, McNutt walked tentatively to her appointment with Krishnan. She would be getting results of a follow-up round of labs to see if her light chains and creatinine were still elevated.

McNutt, her face drawn, sat very still as she waited in the examination room. Moments later, Krishnan walked in.

The two exchanged pleasantries — "Hello, how have you been?" — but for McNutt, there was clear tension as she waited to get her new numbers. The database holding her results was slow to load. "Let me know when those tests are brought up," she said, staring at the computer screen.

"Ah, here they are," said Krishnan as the results finally appeared. "Your kidneys are point-nine. That's fabulous. Better than they've been."

At first, McNutt misunderstood. "Oh my god, a one-point-five to a one-point-nine?" she asked. An increase in creatinine would have been bad news.

"No, a point-nine now," said Krishnan.

McNutt's face brightened. Her light chains had remained level — also a positive sign.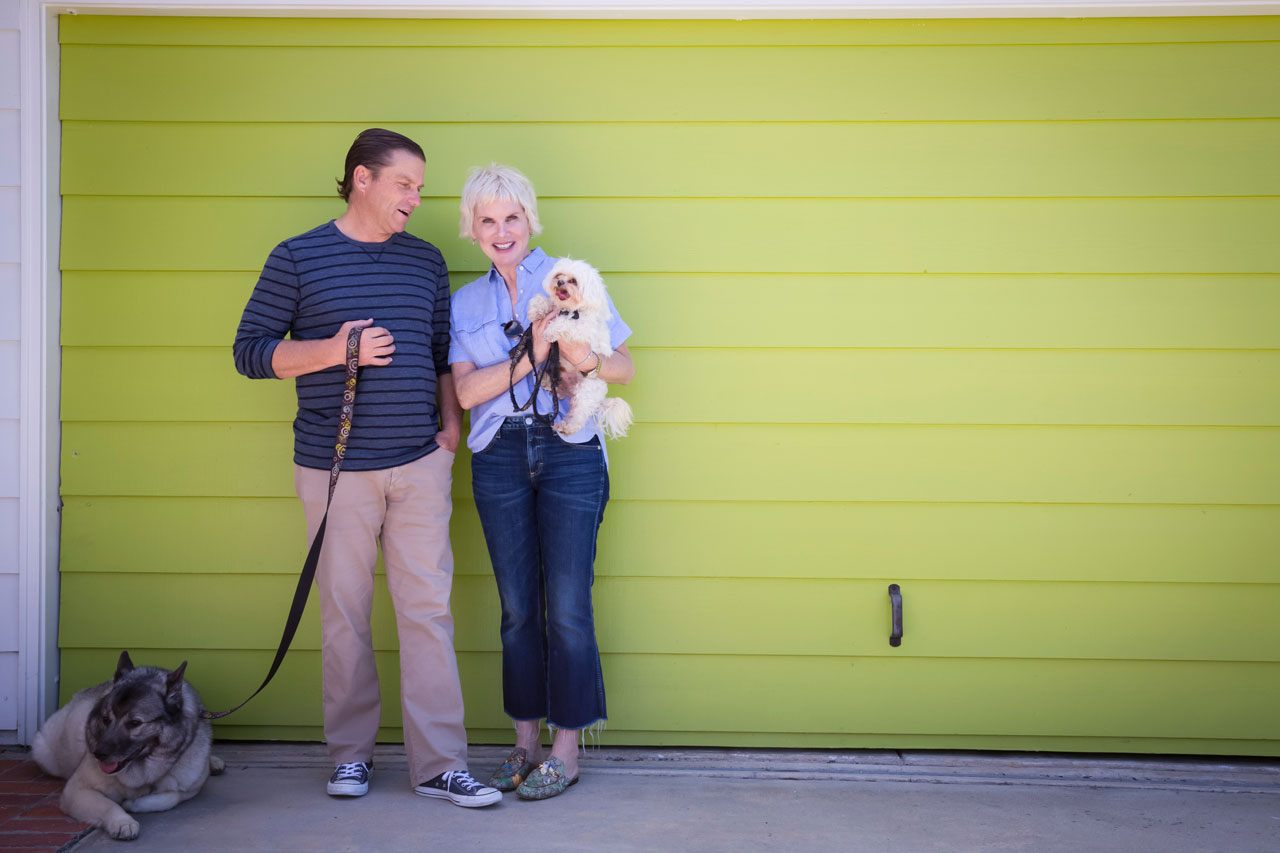 "Wow," she said. "You know, I had to hear this so badly.

"I don't know if your other patients experience this, but you hear something (bad) and you immediately think you're a cancer patient again."

"Well, I'm glad the (numbers are) good," said Krishnan.

After a short exam, Krishnan left the room and McNutt collapsed with relief as she sat on the exam table. Bent over, holding her head in her hands, she sighed several times.

"I have no more excuses not to get out of bed," she said. "Because, I'm not kidding, I have dragged the last month. My psyche's been a little off.

"Now I can put this behind me. Go forward until the next teeny bump."

After her appointment with Krishnan, McNutt slowly unraveled her darker emotions and climbed back to a more hopeful space.

"I can cry. I can hurt. I can feel all those things, but I do get to make a choice," said McNutt. "That choice is to be grateful for the day — to be grateful for every moment I get and to be grateful that there is even a medication that keeps me in remission."
"Cancer makes you still," said McNutt in a recent journal entry. "It made me still. I am not sure if my children and my husband can feel that I look at them with such depth now."

It is July 2017, and McNutt looks radiant as she, Jack and their three children sit together in the family's Laguna Beach, California, cottage. Their rapport is as easy as it is loud; about sports, fashion, politics. More often than in the past, the McNutt family is like this — talking, traveling, bickering, happy simply being together.

"It's like that phrase, you're on borrowed time," said the eldest son, Corbin, 27. "I definitely feel like, 'Wow, this is all just like bonus time.' You know all the things that could be taken away from you so you don't take anything for granted."

That sense of cherishing simply being, of taking nothing for granted, colors more recent entries in McNutt's journal. Almost three years removed from a broken body and spirit, McNutt's musings about cancer evolved from a place to contemplate the "Why me?" of diagnosis to an opportunity to project a philosophy of life for her children — one that she may not have shared were it not for cancer.

"My heart never just beat for me," she writes. "My children are parts of my heart walking the earth and I ached for your pain and celebrated in your joy."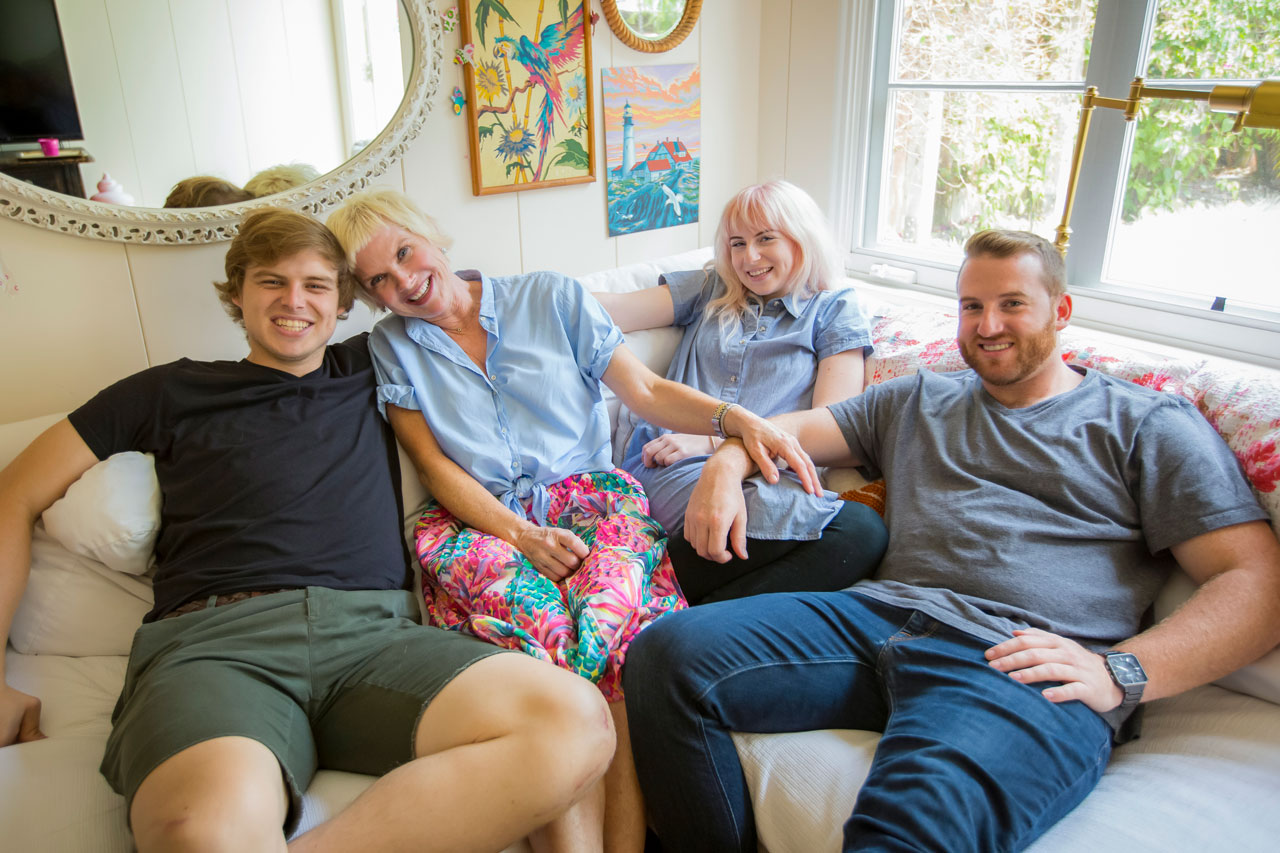 McNutt says that cancer will always loom over her — her disease does not have a cure, so she will likely be on maintenance therapy for the rest of her life. But one thing cancer has done that she did not expect: It has cast a sheen over every interaction she has, especially with her family.

"What I now realize is more than my body failing me, my mind has played such an important role in my healing on this journey," she said. "Instead of looking at, 'Oh my gosh this terrible thing happened to me,' I look at it more like 'Thank you for another day.'

"I believe my relationships are the best they've ever been because I don't wait till tomorrow to say something that I need to say today."