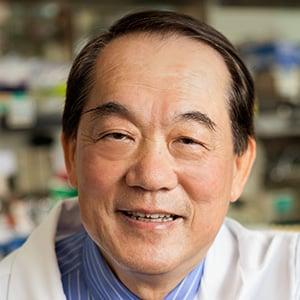 Shiuan Chen, Ph.D.
, the Lester M. and Irene C. Finkelstein Chair in Biology and chair of City of Hope's Department of Cancer Biology, was recently awarded a $3.36 million grant by the National Cancer Institute (NCI) for a phase 2 clinical trial studying the effects of white button mushrooms on prostate cancer.
Chen, who also heads City of Hope's
Natural Therapies Program
, has previously studied the effects of white button mushrooms on breast and prostate cancer patients. He found that phytochemicals in mushrooms had the ability to block the activity of an enzyme called aromatase, which assists in the production of estrogen and contributes to breast cancer. Chen also showed that mushroom chemicals reduce the activity of another enzyme called steroid 5-alpha reductase that produces dihydrotesterone, or DHT, which drives prostate cancer development.
During the phase 1 prostate cancer trial, Chen and his
research team
, including
Clayton Lau
, M.D., a urologic oncologist, director of City of Hope's
Prostate Cancer Program
 and the Pauline & Martin Collins Family Chair in Urology, and Przemyslaw Twardowski, M.D., a medical oncologist at John Wayne Cancer Institute, focused on showing the effectiveness of white button mushrooms in lowering PSA, or prostate specific antigen, a marker for prostate cancer, as well as their safety. For the study, freeze-dried white button mushrooms were ground into a powder and taken as tablets. Lau and Twardowski are co-principal investigators of the newly funded NCI grant.
The first phase of the study was to observe mushrooms' efficacy in reducing detectable PSA levels in patients who had already had their prostates removed and who are in remission. "Typically in that situation, their PSA value should be basically zero or very low," Chen said.
In the phase 1 trial, two patients had a complete response, two had a partial response and six had stable disease.
Encouraging results
"We were very excited that we saw such a positive effect just by taking an everyday mushroom," Chen said. He said the mushrooms appeared to affect a type of immune cell called MDSC (myeloid-derived suppressor cell) that has potent immune system-suppressing activity. When the activity of these cells is decreased, immune function is increased.
Phase 2 of Chen's study will seek to validate the results of phase 1 in two different types of patients:
one group with "biochemical recurrence" and the other undergoing "active surveillance."
The "biochemical recurrence" group includes prostate cancer patients who have already had surgery or radiation and may or may not be experiencing any symptoms, but show an increase in PSA numbers.
The "active surveillance" group includes prostate cancer patients who may have low-grade or slow-growing tumors. Constant monitoring and observation of changes in the PSA in each patient will be a part of the study of this group. If the PSA reaches a certain point, doctors will assess and treat it.
"In the phase 2 trial, we are including patients while they are waiting and being actively observed. We'll see how the white button mushrooms affect them and their immune function. Together with the correlative study, we will be able to see and define much better the immunological effect of the mushroom," Chen said.
Another aspect of the NCI-funded project is an animal study "to see if we're able to get the same results and gather even more information," he added.
Chen also co-authored a recently published medical paper highlighting the protective effects of mushroom consumption on prostate cancer in men in Japan. He said he is excited about how the research of mushrooms is expanding.
Accessible to Everyone
Chen said that over-the-counter mushroom supplement products are "great, but they're also expensive." He said he chose to use white button mushrooms in his study to show that a common supermarket mushroom is just as potentially healing and nourishing as more exotic species, and easily accessible to everyone.
Chen, who has also studied the healing powers of foods such as
blueberries
,
grapes
,
 pomegranates
and cinnamon, is excited to begin this next phase of research to highlight the healing power of the humble fungus. He is hopeful that his research may lead to new dietary regimens that can reduce the progression of prostate cancer or improve the efficacy of androgen-deprivation therapy.