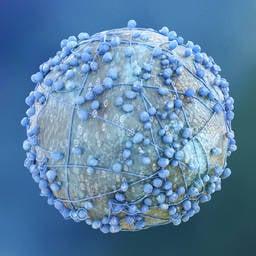 Flow cytometry — an analytical tool used to measure certain characteristics of cancer cells, such as size, shape, and the presence of tumor markers on the cell surface
— plays an important role in the diagnosis and management of certain cancers. It is also vital for research aimed at quantifying the effects of disease treatment and learning more about how cancer operates in the body at a cellular level.
At City of Hope, scientists and physicians have a dedicated facility with high-quality flow cytometry analysis and sorting instrumentation to support their research goals.  
"To advance our understanding of the causes of cancer and to develop improved therapeutic approaches, it is critical for researchers to have the ability to routinely analyze and isolate discrete cell types from complex heterogeneous populations," said
Jeremy Stark, Ph.D.
, scientific director of
Analytical Cytometry Core (ACC)
and professor in the Department of Cancer Genetics and Epigenetics. "The ACC fulfills this vital function for our users by providing services to define and isolate discrete immune system cells and cancer cells based on cell surface markers, quantify and isolate cells expressing fluorescent markers, and to examine discrete cell growth states."
Flow cytometry allows researchers to get highly specific information about individual cells by suspending them in a fluid and rapidly passing them single file through a laser or lasers. Light scattered from the cells or particles is detected as they go through the laser beam, providing information about size and granularity. Additional data can be gathered by labeling cells with fluorescent markers prior to analyzation. 
"For example, one of our newest instruments, a BD FACSymphony flow cytometer, provides for expanded information in regards to expression levels of various cell types," says Lucy Brown, MS, staff scientist and manager of the Analytical Cytometry Core. "The Symphony can acquire simultaneously up to 28 fluorescent markers at the single cell level. Before the purchase of this instrument our limitation was around 15 fluorescent markers; thus, we have greatly exceeded the capabilities for analysis in our facility."
The FACSymphony is part of a suite of instruments in the ACC including several flow cytometry analyzers of varying complexity like a five laser Fortessa analytical cytometer that can detect up to 18 simultaneous fluorescent parameters and a NanoSight NS3000 instrument for measuring individual nanoparticles. The ACC also has six cell sorters to physically separate cells of interest for subsequent analysis based on their optical properties.
In addition to cutting-edge instrumentation, City of Hope's ACC facility provides researchers with expertise in analyzing and/or sorting sample populations of interest via interpretation of their physical, fluorescent and/or light-scattering properties. The facilities and their services can be used by both City of Hope and non-City of Hope researchers, and all analyzers are available for unassisted end user runs. As an added convenience, the ACC supports several off-line workstations in the core space where investigators can analyze their ACC-derived data, but ACC staff are also available to provide trainings in user operation of the analytical instruments, basic flow theory, software, and data analysis for result generation and presentation. Other functions of the ACC include application assistance, experimental design, and site license management for key software used in data analysis like FlowJo and FCSExpress v6.
The ACC is a National Institutes of Health (NIH)/National Cancer Institute (NCI) Cancer Center Support Grant (CCSG) Sponsored Core. It received the highest score possible, "exceptional merit," during the last NCI review.