On a recent sunny afternoon in El Segundo, California, Jim Belardi sprinted across an Olympic-sized pool, the bubbling water around him forming a smooth, cool cocoon. 
Every few seconds, as his head surfaced, he could hear faint sounds familiar to a decorated swimmer: The rhythmic splashing of divers into the glimmering water; a coach calling out commands like 'kick' and 'pull!'
Belardi climbed out of the pool, adjusted his goggles and felt the warm sun glancing off his face. 
He took a deep breath and considered how far he'd come: This day marked nearly 14 years since he'd narrowly survived what was, at the time of his diagnosis, a generally incurable form of acute leukemia.
Click to watch how a lifesaving transplant led to a transformative gift
"Swimming is about slim margins and the fight that happens both inside your body and inside your mind," said Belardi, who received a lifesaving bone marrow transplant at City of Hope. "And what I realized after going through it; cancer is no different."
On the heels of this realization — and of how critical scientific innovation was to his recovery — Belardi and his wife Leslie are making a transformative gift, representing the largest single contribution for blood cancer research, to support City of Hope's Hematologic Malignancies Research Institute (HMRI.)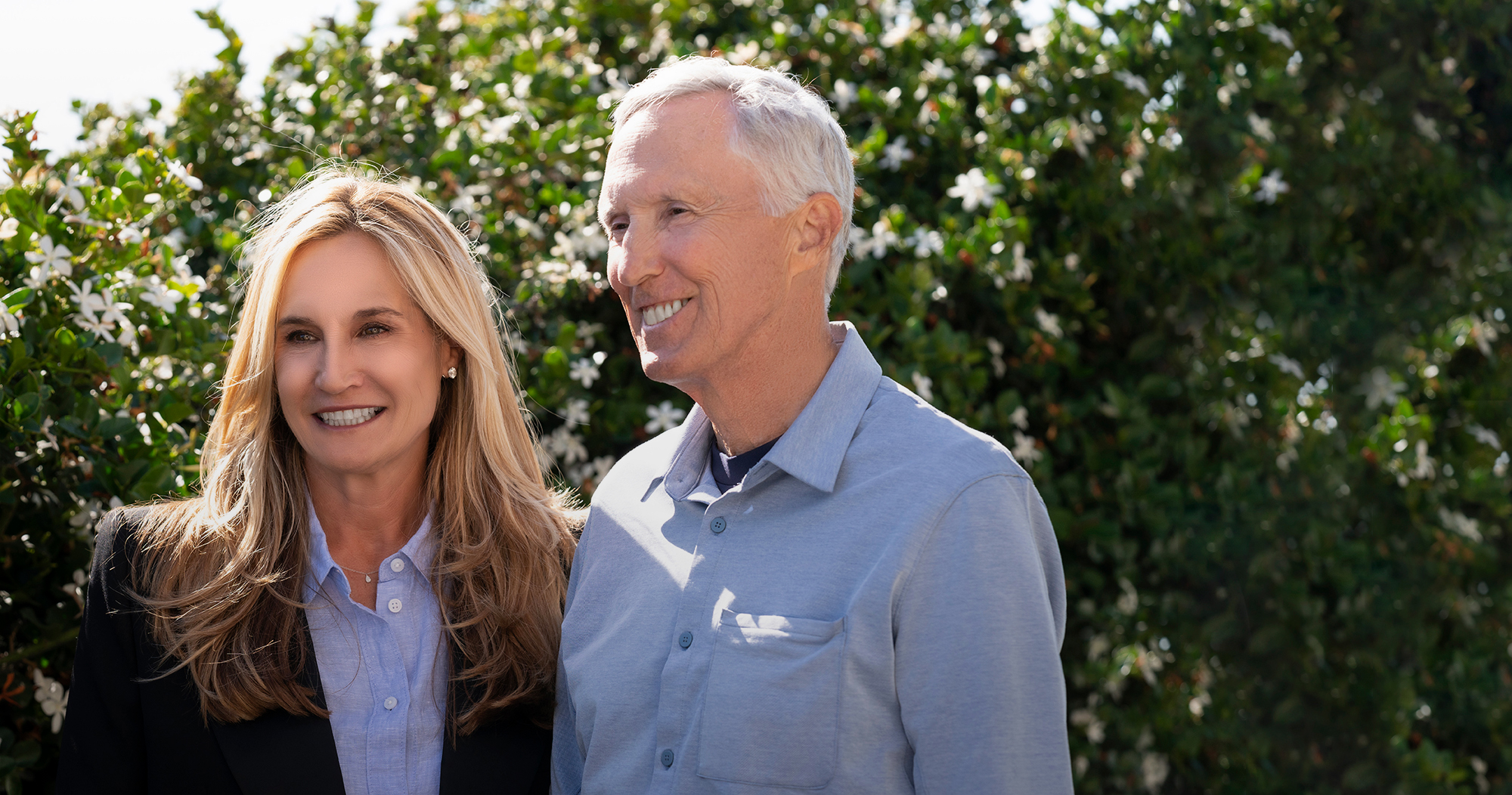 The gift will accelerate progress on promising new therapies for some of the most difficult-to-treat blood cancers — cancers like the one Belardi survived.
"Any part that we can play in helping to save lives and have more happy endings, we're grateful to do that," said Leslie Belardi. "We also hope this gift will take some of the fear out of cancer. It doesn't have to be a death sentence, and we believe the new treatments and research that result from this gift will help to get rid of that stigma."
Something Was Off
Swimming, and the command of the body and mind that it demands, has always been a part of Belardi's life. 
He started the sport when he was 8, and years later got a scholarship to swim at Stanford University. For decades, he would painstakingly trim fractions of seconds off race times on his way to competing in the 1976 and 1980 Olympic trials and, later, become a decorated master's swimmer.
In 2007, days after setting a record at a master's meet, Belardi began feeling feverish and lethargic, and racked by night sweats. 
"Something was off," said Belardi, who was 50 at the time of his cancer diagnosis. "I could tell even before the symptoms really set in, because I wasn't swimming as fast as I usually do."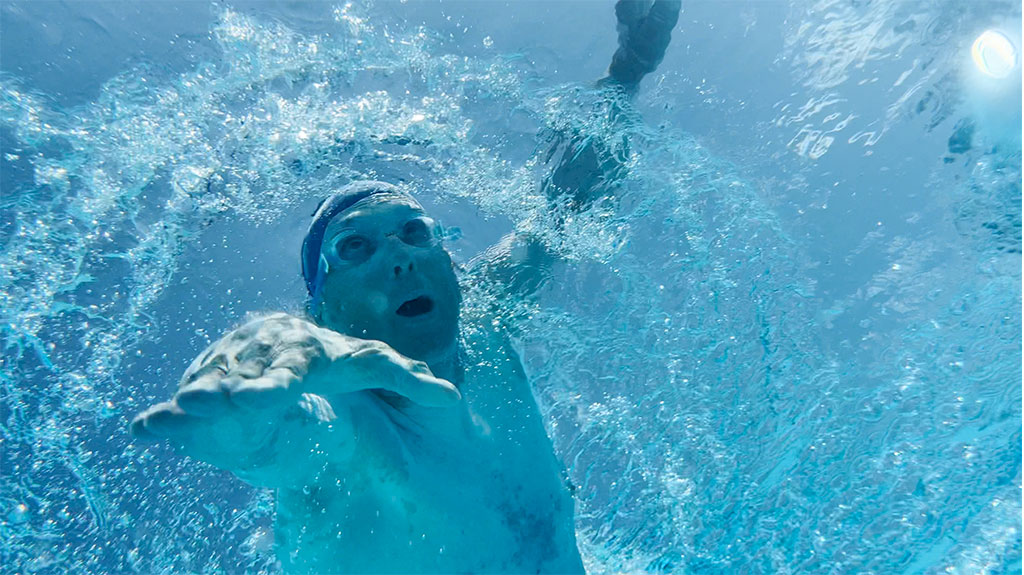 "Taking care of athletes is different because they have a sense of their own body that most of us don't have," said Stephen J. Forman, M.D., director of the HMRI, and Belardi's oncologist.
"They know what they can do when they're healthy, and if they're not achieving that, their first thought is something's not right, and that's what led Jim to get medical attention."
Belardi went to his primary care doctor who was, at first, nonplussed, since the patient before him was in seemingly perfect health. But to be sure, he ordered a blood panel. 
Not long after he left his doctor's office, Belardi got a phone call urging him to return immediately.
"I remember turning the car around and being worried because I didn't know what the urgency was about or what the diagnosis was," said Belardi. "But for the doctor to tell me to go back there right away, I knew it wasn't good. 
"Shortly after I arrived back to the doctor's office they said, 'It's pretty clear you have leukemia.'"
'You Need To Be At City Of Hope'
But it was not just any leukemia. 
Belardi had a type of leukemia called Philadelphia chromosome-positive acute lymphoblastic leukemia with myeloid features. The approach for treating this type of cancer, at the time of Belardi's diagnosis, was as complex as the name suggests.
After several emotional conversations with his family, and after interviewing top oncologists across the country, one piece of advice stuck with Belardi. It came from a doctor at a cancer hospital of some repute.
According to Belardi, the oncologist told him: "If you want a chance against this disease, you need to be at City of Hope with Dr. Forman."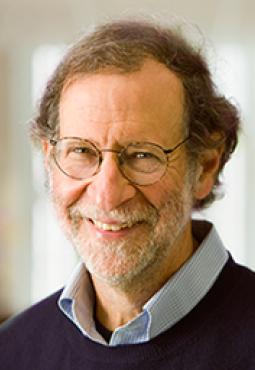 Forman, an international expert in leukemia and a pioneer in the development of bone marrow transplantation for the treatment of cancer, met with the Belardi family in 2007 and proposed a therapy being refined at City of Hope that, at the time, was still experimental.
"The chances for somebody his age with that type of leukemia to be cured were low with standard therapy," said Forman. "His best option was to first get rid of every last leukemia cell in the body using a very intensive regimen of radiation and chemotherapy, followed by a bone marrow transplant."
After the grueling treatment to get his leukemia into remission, Forman explained to Belardi that the next step would involve finding a matched donor to replace his diseased marrow with a healthy one.
Belardi's best chance was a donation by one of his two younger siblings.
New Life, New Blood
Belardi's hopes for a match were at first dashed when his younger brother was deemed an incompatible donor. 
"For a patient like me, the wait can be frustrating and unbelievably heartbreaking," said Belardi. "You wait and you wait to hear back about a donor and you're never sure what the outcome will be."
All that was left was the possibility that his sister Christa — who, like Belardi, was an accomplished athlete and a championship swimmer — was a match.
When the Belardi family later found out that Christa was a perfect match for Jim, their hope for a future together was restored. 
"It was like receiving new life and new blood for Jim," said Leslie Belardi. "When we initially got the complicated diagnosis, we knew that it was cancer times 10. But knowing Christa was a match gave us back our faith that Jim could survive this."
Finding out his sister Christa was a match was like "new life and new blood" for Jim Belardi
But there was still the huge hurdle of getting through the transplant.
For several weeks after Christa's bone marrow was infused into him, Belardi fought to withstand the side effects and complications of the high-dose radiation and chemotherapy, while waiting for his sister's stem cells to engraft and begin to make new blood.  
The treatment depleted him in a way that was especially difficult for a person who'd enjoyed, up to the point he was diagnosed, exceptional health.
"It was difficult because no one told me I would survive," said Belardi. "I never heard anyone say, 'Jim, you are going to survive this' because the cancer was so difficult to cure." 
Belardi said that swimming, and a background in business (he has been immensely successful and an innovator in the insurance industry) gave him a steeliness, a drive and a "force of will focus" to live that is a common trope in cancer survivor stories. 
"A person's competitive drive should not be underestimated, and I treated fighting this disease like other things in my life and was determined to beat it," said Belardi. "I never thought I was going to die."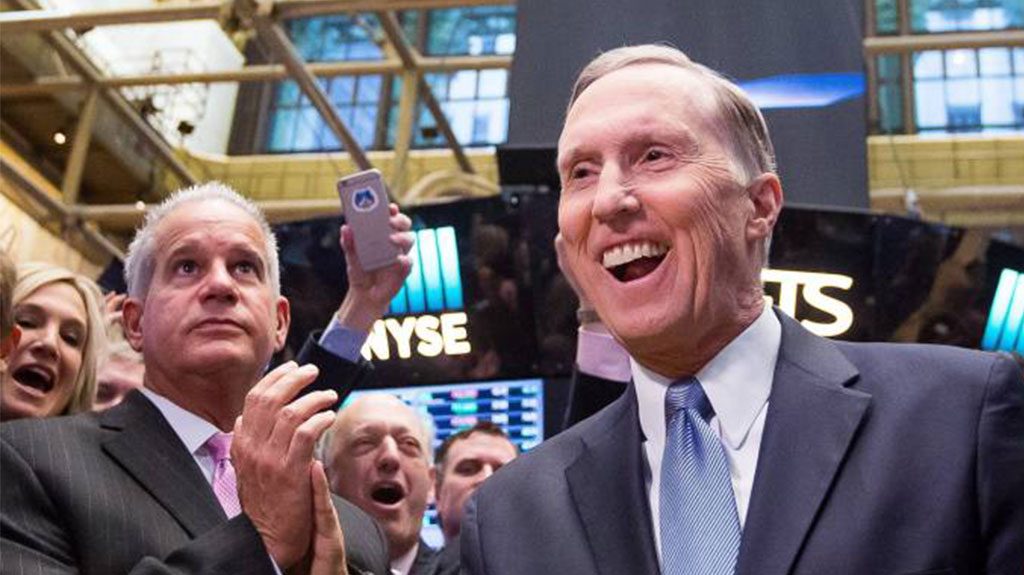 To be sure, it was Belardi's ability to muster strength during the most difficult parts of his treatment, the luck of a perfect match, and the creativity and innovation behind a scientific approach that was then investigational — but today is a standard treatment for blood cancers that is used all over the world — that saved his life.
"The transplant regimen we used for Jim was the result of a research project conducted at City of Hope that led to a new transplant regimen that we've been using ever since," said Forman. That research was funded, in part, by a donor.
"And this is why we have such hopes for the Belardi gift, because it will help us to develop new therapies for people now and in the future."
Accelerating Science
The Belardi Family gift will establish the Belardi Accelerator Fund for Speed to Cure Translational Research in Blood Cancers and support the many innovative blood cancer research projects already underway in HMRI labs. 
"It will support the ideas that our scientists and investigators in the laboratory and at the bedside have, and this gift means their creativity will not be limited," said Forman. "If we think the idea is right and we want to test it, then the Belardi gift will make it possible."
The donation will also create a Cellular Immunotherapy Innovation Fund to support work at City of Hope in cancer immunotherapy, such as CAR T cell therapy; and will support efforts to recruit new faculty and clinicians to the HMRI staff, bringing more ideas, energy and expertise to its work.

How CAR T cell therapy works
In honor of their generosity, City of Hope will name its new 100,000-square-foot administrative and leadership building the Belardi Family Pavilion.
"Just as Jim's life and career have been about acceleration and innovation, City of Hope is committed to accelerating the pace of discovery and innovation by our researchers," said Robert Stone, president and CEO of City of Hope, and Helen and Morgan Chu Chief Executive Officer Distinguished Chair. "Jim and Leslie know firsthand that the one thing cancer patients don't have is time to wait, and their generosity will help us move even faster toward cures."
'Going To Save Lives'
When Belardi crossed the threshold to being cancer free for three years, Forman said, the likelihood of his cancer ever returning was slim-to-none. He is, effectively, cured of his disease.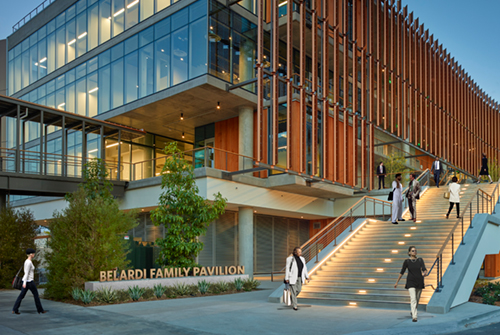 That word 'cure' is something Belardi does not take for granted. Every birthday he shares with his children, every laugh with Leslie, every walk on the beach is a blessing. 
And it is not lost on him that being back in the water is also a blessing.
As the afternoon in El Segundo stretched on, Belardi climbed onto the starting block, hunched over and jumped back into the pool. He hurtled forward, undulating under water before breaking the surface and performing his favorite stroke: the butterfly.
His hope is that the freedom and joy he feels at having a second chance - to swim, to live, to be cured of cancer - is something the Belardi Family gift can provide for other families.
"City of Hope is different," said Belardi. "It's the highest level of care, combined with the humility, respect and kindness that they extend to everybody. The great experience we ended up having, we want others to know about and benefit from it.
"This gift is going to save lives."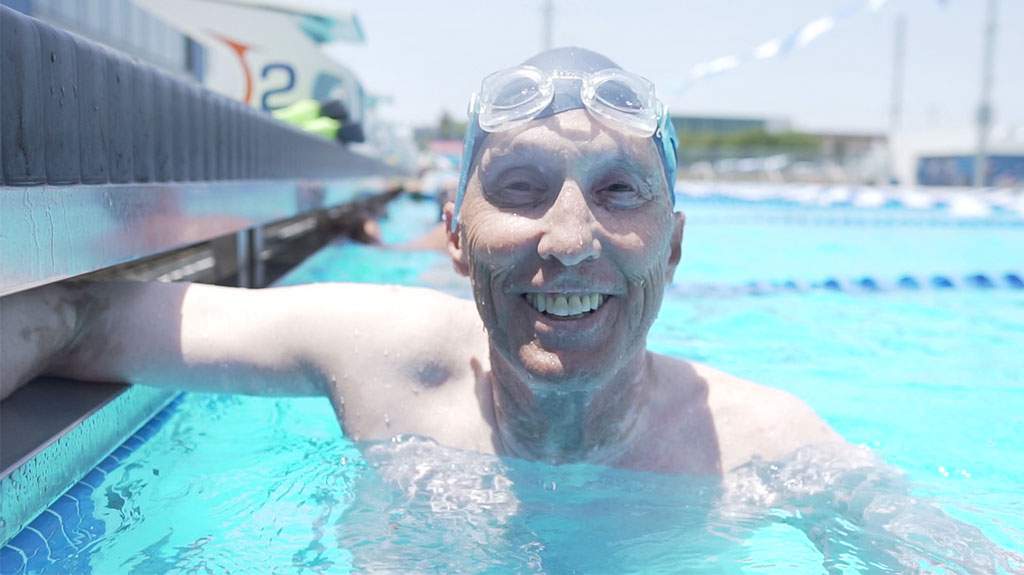 Not everyone is as lucky as Belardi to find a match in a relative. Seventy percent of patients must rely on an unrelated donor through registries like Be the Match, operated by the National Marrow Donor Program. Belardi hopes his story will draw attention to this need and encourage people to join the registry.