On a cool evening, moments before a baseball game, Chad Bible made a promise to himself that was forged after a long, difficult year fighting cancer — he was going to take it all out on a three-inch leather-bound ball.
"You might see one of the biggest swings you've ever seen tonight," he said before the game held at his college, San Diego State University. "I'm definitely swinging for the fences."
During batting practice earlier that day, Bible had hit three over that fence. But hitting a home run during his first game back was mostly wishful thinking. Just being back on the field was enough. 
Tonight would be Bible's first game since being diagnosed with Hodgkin's lymphoma — a rare blood cancer that develops in white blood cells — 15 months earlier.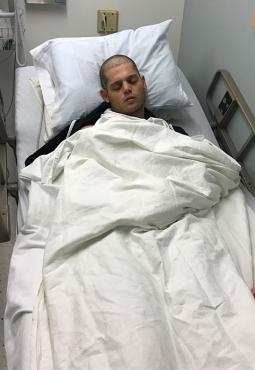 "There was definitely a point where I thought maybe baseball was over, especially when I got my diagnosis," said Bible, 22. "I broke down a couple times and I was like, 'I don't know if I can do this anymore.'
"Like, was I ever going to come back?"
His first clue something was wrong was a ping pong ball-sized growth under his chin, which appeared in fall 2016. It seemed to grow overnight. For months before discovering it, Bible had been falling into bed every day, exhausted, and waking up nights in a cold sweat. He also had an unrelenting itch and had lost a lot of weight.
The growth, and all those symptoms, confirmed a suspicion. "I knew I had cancer, but I didn't want to believe it."
Pre-Game
In the minutes leading up to the game, Bible was amped. He could not stand still. His jaw was set and his face was intent, yet he had an insatiable energy. 
"The adrenaline is going, for sure," he said before the game.
He was the designated hitter, batting sixth. A minor pulled hamstring meant he would not be playing his normal position in the outfield. But he would get to test that big swing.
There were 1,154 people attending the game. Many in the crowd, including Bible's family, understood the importance of this night.
"I could feel how happy he was from the stands," said Bible's mother, Evonne Bible. "The crowd was so loud and Chad's smile was so big. It just melted my heart."
Bible flipped his hat in the air at the end of the national anthem, jogged back to the dugout and nodded toward his family. 
Bottom Of The Second 
Bible had his first at-bat in the bottom of second inning. As he walked toward home plate, it was obvious he was anxious to hit — to get back to the game that was almost stolen by cancer.
He took a deep breath before crouching down and positioning the bat. He hit the first pitch — smacking the ball into right field and getting a single.
"It was a perfect moment," said Mike Bible, Chad's father. "Everything lined up and it brought tears to all our eyes. It's like the air got breathed back into us."
It was not a home run, still Bible was excited — and relieved. 
"Getting a hit on that first at-bat was definitely getting the monkey off my back," he said during an interview after the game. "Everything that happened to me was building up to that moment, and after that hit, I felt like I could start to leave cancer behind me and try to live a normal life."
His life had veered away from normal when a biopsy of the growth under his jaw, and blood tests, confirmed he had stage 2B Hodgkin's disease. The oncologist who first saw Bible told him he would have to forgo his junior year of school, including baseball, and begin chemotherapy immediately.
Several people, including one of his coaches, suggested Bible travel three hours north of San Diego to City of Hope for treatment. More than one person referred him to Stephen J. Forman, M.D., an international expert in leukemia, lymphoma and bone marrow transplantation.  
A friend, ex-patient and baseball fan, wrote a letter explaining Bible's situation to Forman, and soon afterward, he was enrolled as a patient.
"I believe Dr. Forman took an interest in me because I played ball," said Bible of his oncologist, who is also a huge baseball fan. "I never knew he was a world-renowned doctor until I got to know him."
Forman's formidable knowledge about lymphoma, and his passion for baseball, came into play after his first assessment of his new patient's case. He confirmed the previous oncologist's diagnosis and began to map out Bible's treatment.
In the meantime, Bible had an unorthodox request. He had had a strong pre-season, and wanted to play a few games before treatment.
"I was like, 'Hey, Dr. Forman, is there any way we can delay treatment like a month? Just let me get a couple games in,'" said Bible. "And him being a baseball guy, he didn't balk at it. He said, 'Let me get back to you,' and later that day, he said, 'Yeah, you're good to go.' 
"That was pretty cool."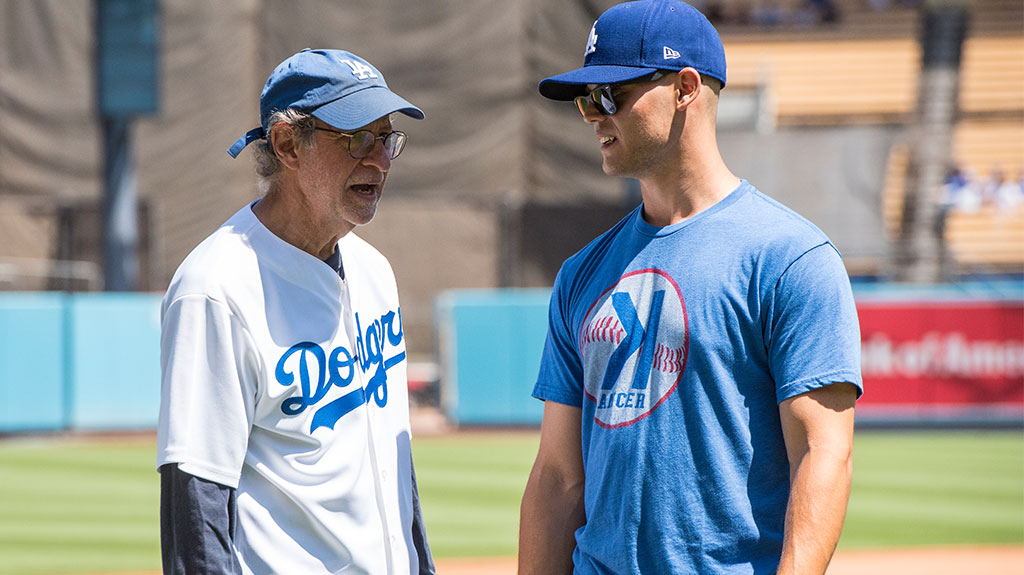 Second At-Bat
The game was tied 0-0. It was still the second inning and there were no outs.
The next time Bible went up to bat, he fouled off the first ball. After a few pitches, he hit a double, but was almost thrown out at second base. Eventually, two other teammates got on base. Bible was on third, in scoring position. 
The next player to bat for SDSU got a hit. Bible seized the opportunity and slid into home plate. He had scored the first run of the first game of the season for his team. The bullpen emptied as the team celebrated. 
It was a powerful moment for a coach and team that had, in many ways, gone through cancer with Bible.
"My teammates and my coach were there for me from day one," said Bible. "It really made me feel like I was part of the family, that I wasn't alone in it."
Later in the inning, SDSU was up 5-0 with two outs when Bible, again, went up to bat. There were runners on second and third base. The first pitch was a breaking ball and Bible swung and missed. He hit the second ball deep into right field but it was a foul. On the third pitch, again, he swung and missed. 
He struck out and the inning ended.
Bible says he takes the ups and, more often, the downs of baseball in stride.
"Baseball is a game of failure," said Bible. "If you hit three or four out of 10 at-bats, you're considered great, but that means you failed seven out of 10 times. In any other sport, that would mean you're not a good player.
"And I really took that mentality into cancer. I just took the approach of making the most of what I had. It's something I learned through baseball and I really think it worked for me."
That is not to say treatment was not grueling, or that there were no dark moments. Bible just used the thing he knows best — playing ball — as a rule book for how to stay positive.
He underwent chemotherapy for several months. He says that each infusion felt progressively worse: "The best way I can describe the feeling is like slowly dying," he recalled. After his fourth infusion, he had a scan to check his progress. The cancer was receding — he was getting better. 
A second scan after four more infusions suggested Bible was cancer-free but, he says, Forman scheduled another cycle to make sure the cancer was completely gone. During that last series of infusions, Bible lost 40 pounds and all his hair. All the bulk and brawn he had amassed as a lifelong athlete was gone. It was devastating.
What got him through that period was batting practice. 
Between chemo treatments, there was always a one or two-day window when Bible had enough energy to get in a few swings. Even on weeks he felt miserable, he would drag himself to the batting cage. 
"I don't think Chad ever made it past 23 or 24 swings," said Mike Bible. "Our big, strong invincible son was clinging to life. It helped breathe life into him when he got to hit the ball. It helped him forget what he was going through."
"Even when it got tough, I would still go and swing hard in case I hit it," said Bible. "That's my motto in life: 'Try.'"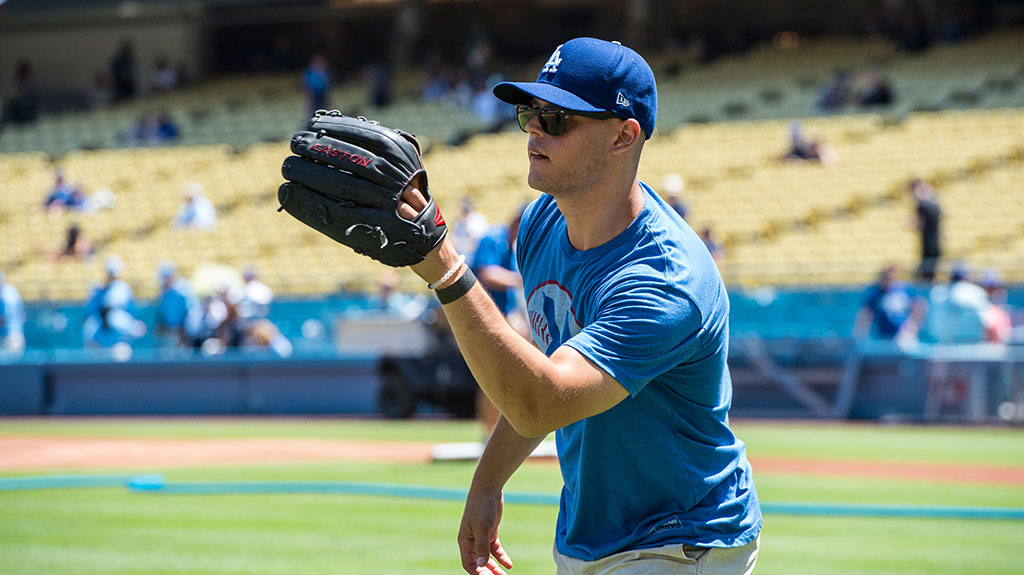 Bottom Of The Fifth
Even with his team leading by four runs at the bottom of fifth inning, Bible still tried — hard. 
He went up to bat with a runner on third base. The first pitch was outside and he let it go. Gone was the eagerness of his first at-bat. Now, it seemed, Bible had settled in and quieted his nerves.
After the second pitch, Bible hit a foul ball; the third pitch was outside. On the fourth pitch, Bible hit another solid ball up the middle of the field, driving in the runner at third base. The score was 6-1.
Later, in the inning, Bible would score his team's seventh run. After crossing home plate, he pumped both fists up toward his girlfriend and family members watching in the stands.  
"My family and my girlfriend were a huge support system for me while I had cancer," said Bible. "I wouldn't have been able to get through it without them."
Bible's first game back was a long one — a metaphor for the long year he spent fighting cancer. And like Bible's cancer story, his baseball story was triumphant. 
The final score of his first game back: 9-1. 
Post-Game
A few weeks after the game, Bible walked with his mom to a follow-up appointment with Forman. He was two days away from leaving for summer training camp. He strode through the hallways looking confident — and formidable. 
"Cancer showed me how fragile time is, it showed me what really matters in life, it just changed my perspective on everything," said Bible. "Cancer was holding me back for a while, but today, I feel good. I've never been stronger."
Although he had hoped to forget cancer after that first at-bat, he knows reminders will come in the form of follow-ups during the next few years. A more permanent reminder is on the inside of his right arm. An elaborate tattoo of a cross, draped by a purple ribbon with two important dates.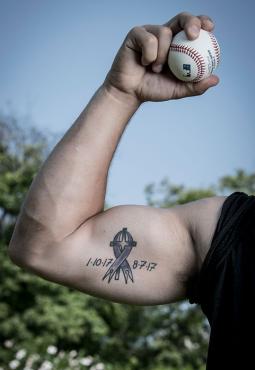 "The first date is when I was diagnosed," said Bible, pointing at the tattoo. "And that's the date Dr. Forman told me I was cancer-free. The purple ribbon represents Hodgkin's lymphoma and the cross is there because my last name is Bible."
He smiled: "Come on, my name is Bible. I have to be a Christian."
When Forman enters the exam room, the talk, of course, starts with baseball.
"How did you guys do this year?" said Forman, asking about Chad's college team.
"We made it to the regionals," said Bible.
Then the talk moved to Dodger baseball while Forman performed a physical exam; first meticulously checking the area around where Bible found the lump, then his midsection and lower body.
Forman walked to the computer to pull up Bible's labs and latest scan.
"Your lab is all perfect," said Forman. "Nothing wrong here at all."
"Sweet," said Bible.
"The exam is negative, the lab is negative," continued Forman. "You look good, you had a good season. So, it's all good."
Then Forman swung around in his chair and gave his patient a high five. For the next few months, at least, Bible could try and forget about cancer, and focus on baseball.
"When I look at all the hard times I went through, and not knowing if I would ever play the game again, I feel really blessed," he said. "Cancer showed me what death's about, it showed me how fragile time is, it showed me what really matters in life. 
"It just changed my perspective on everything."