A large study led by City of Hope's Sumanta Pal, M.D., showed that an immunotherapy drug was not effective at preventing kidney cancer recurrence. This could keep patients from getting unnecessary treatment
Usually we write about successful trials that introduce new, advanced treatments. This article, though, is about a trial that failed — but a failure that was so significant, it was published in the world's most influential medical journal, The Lancet.
"Negative studies are just as important as positive trials. They can inform us when we might be overzealous about treatment and allow us to review whether or not the benefit of a therapy is justified by the risks that it entails," said City of Hope medical oncologist Sumanta Kumar Pal, M.D., the principal investigator and corresponding author of the study.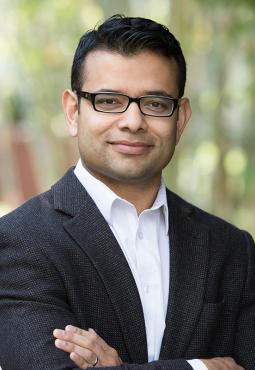 Sponsored by F. Hoffmann-La Roche and Genentech, it focused on preventing the recurrence of kidney cancer in patients whose cancer had been surgically removed. The scope was huge, comprising 778 patients at 215 medical centers in 28 countries and regions around the world over a period of five years. 
Preventing the recurrence of kidney cancer is increasingly important, because the disease has been on the rise for about 20 years. For many patients, after surgery there is little chance the cancer will return, but in aggressive, high-risk cases, the rate of recurrence within five years is 68% — and when it does recur and metastasize, it's often fatal.
Immunotherapy Showed Potential 
There was good reason to believe that immune checkpoint inhibitors, a type of immunotherapy, could be effective in preventing post-surgery recurrence. 
Immune checkpoints are cell proteins that act as brakes on the immune system. They normally play an important role in preventing autoimmune diseases, in which an overactive immune system attacks the body's own healthy cells. Checkpoint inhibitors release these brakes and allow the body to exert a more powerful immune response against cancer.
Last year, a study using the checkpoint inhibitor pembrolizumab (Keytruda®) seemed promising, and in November 2021 the drug received Food and Drug Administration approval as a post-surgery adjuvant therapy for intermediate- or high-risk kidney cancer.
"That study had shorter follow-up," Pal said. "Our study was critical because it provides the longest follow-up to date — almost four years — and our data adds a counterpoint to giving patients immune therapy for kidney cancer once it's been removed."
For his trial, Pal used a similar immunotherapy, atezolizumab (Tecentriq®), which in an earlier study he'd conducted showed encouraging results in shrinking metastasized kidney tumors — so there was good reason to believe it might also be able to prevent recurrence. 
The subjects were patients who had an increased risk of recurrence after surgery. Half were given atezolizumab, the other half a placebo.

And the results?
"They were, simply put, negative. This immune therapy did not actually improve outcomes. It didn't delay the cancer growth, it didn't improve survival," he said. "This provides a markedly distinct result from the pembrolizumab study done last year."
Why This Result Is Significant 
"Positive studies influence a change in practice. Negative studies force doctors to consider whether they really need to expose a patient to a therapy that also has substantial side effects," Pal said.
With checkpoint inhibitors, serious side effects can occur when the immune system gets too revved up and attacks such organs as your lungs, liver and colon. 
'Negative studies force doctors to consider whether they really need to expose a patient to a therapy that also has substantial side effects.'

Sumanta Pal, M.D.
While Pal's study is the first to present negative results for adjuvant immunotherapy after kidney cancer surgery, two additional studies of immunotherapy drugs, nivolumab and ipilimumab, were recently presented at a meeting in Europe. Both also had negative results.
"After one positive trial, we now have three negative ones, and you can see the landscape shifting," he said. "So it becomes less of a question of is this the right drug or the wrong drug — it becomes a question of is this the right principle or the wrong principle?"
Does this mean that immune checkpoint inhibitors should be taken off the table for adjuvant kidney cancer therapy?
"Not necessarily, but it puts a lot of caution into using them, and says maybe we need further study to better understand who needs them," he said.

The Search Continues
The next step for Pal is to find ways to predict which patients might benefit from post-surgery adjuvant therapy, and he is now working with biomarkers, molecules that can signal normal or abnormal cell function and help predict how the body will respond to a particular treatment. 
"We're going to do a deep dive of all the blood and tissue that we collected on the trial, and do an exploratory analysis of things like the expression of different genes that might potentially predict outcome," he said.
He's also working in a completely different area related to cancer and the immune system. It involves the microbiome, particularly the natural microbes found in our digestive systems. These gut bacteria, or probiotics, may stimulate a favorable immune response and potentially influence how immune therapies and other treatments work in fighting cancer. 
"We published an important paper in Nature Medicine earlier this year, which illustrated that these probiotics can modulate the gut microbiome and positively influence response."
While Pal is immersed in the rigorous science of cancer treatment, it's a labor of love that serves the human side of his job.
"What really inspired me to become an oncologist is that you get to take a patient through an important period in their life and build a strong relationship with them along the way," he said. "That's what I really appreciate about the field."