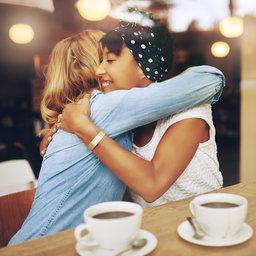 A cancer diagnosis is far-reaching, impacting the new patient, as well as friends and family. An immediate reaction for the latter is to comfort and provide help. Knowing the right things to say, or how to offer support, isn't easy. Nor is it always easy for the patient to ask for assistance and accept it. Follow a few pointers and it's possible to bridge these gaps.  
Lending an Ear
Sharing thoughts, feelings and fears with someone trusted is priceless, particularly for cancer patients. Opening up a line of communication may take time, though. The American Cancer Society (ACS) suggests the following conversation starter, "What are you feeling?" Wisdom proffered by the ACS as to what to do next: "Just listening and not talking may be more helpful than saying the wrong thing," and "listen with your ears and your heart."
 
Shoulders to Lean On
Coping with a cancer diagnosis expends a lot of mental and emotional bandwidth. Swirling in the background are myriad questions about treatment and how one's current lifestyle will change. Key for both the patient and caregivers is education, not only about what to expect in the months ahead, but available resources.
 
Available 24 hours a day, 365 days a year by phone (800.227.2345) or online chat are specialists with the National Cancer Information Center (NCIC). Like many cancer organizations, they can point you in the direction of visitation programs, local resources and online support groups. Right away, knowing that transportation, lodging, medical equipment and financial assistance are available will ease the pressure valves of stress.
 
Look, too, for articles like this one that provide great ways to pitch in for a friend battling cancer
 
Set Ground Rules
Navigating the ever-changing landscape of a cancer diagnosis can be emotionally difficult. A good rule of thumb is to set some parameters in advance. Patients should set boundaries and make friends and family aware that the statements "I need some space today," or "I don't want to talk right now" may be part of the new normal.
 
Good comebacks from loved ones? "I'm here for you" and "I've got your back."