Angel S. Gu, D.V.M., Ph.D.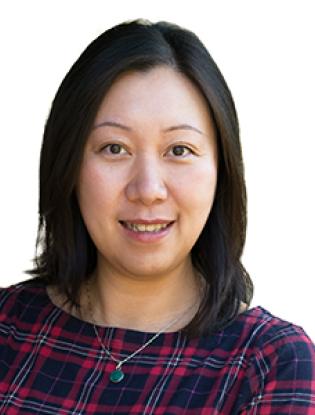 Staff Scientist, Department Of Translational Research & Cellular Therapeutics
Research Area
Antigen-specific T-regs In Type 1 Diabetes
Hematopoietic Stem Cells In HIV Treatment
Angel Gu, D.V.M., Ph.D., is a knowledgeable, self-driven and results-oriented veterinary scientist and immunologist with extensive experience in experimental design, analysis of results and interpretation of data from pre-clinical animal models of disease. She has experience in manufactory sterilization process, knowledge about the standard of AAMI guidance and Extensive experience on embryonic stem cells, human and mouse T cells and hematopoietic stem cells handling, expansion, and banking.
Dr. Gu recently developed a robust humanized mouse model for use in screening anti-viral gene therapy strategies for HIV that is the basis of the proposed experiments in the enclosed R01 application to study HIV latency.
2009 - Irell & Manella Graduate School of Biological Sciences at City of Hope, Duarte, CA, Ph.D. in Stem Cell Biology and Development

2006 - City of Hope / University of Southern California, Duarte / Los Angeles, CA, D.V.M.

2003 - California Polytechnic University, Pomona, CA, M.S. in Micriobiology / Animal Sciences

1997 - Nanjing University of Agriculture, China, B.V.M.
2009 to 2011 - Postdoctoral fellow, Department of Immunology, Beckman Research Institute at City of Hope, Duarte, CA
2015 to present - Staff scientist, Department of Translational Research & Cellular Therapeutics, Diabetes & Metabolism Research Institute at City of Hope, Duarte, CA

2011 to 2015 - Staff scientist, Laboratory for Cellular Medicine, City of Hope, Duarte, CA

2003 to 2006 - Resident, Laboratory Animal Medicine / Animal Pathology, City of Hope / University of Southern California, Duarte / Los Angeles, CA

2000 to 2003 - Research assistant, California Polytechnic University, Pomona, CA

1997 to 2000 - Quality control scientist, KABO Pharamceutical, Inc., Nanjing, China
2003 to 2004 - Sally Casanova Pre-doctoral Scholar

2003 - Gamma Sigma Delta, the Honor Society of Agriculture

2002 to 2003 - Paula Sandaval Graduate Scholarship

2002 to 2003 - Graduate Presidential Scholarship, California Polytechnic University, Pomona

2001 to 2002 - Mary McNellis Fonda Scholarship, California Polytechnic University, Pomona

1997 - Highest honors graduate, Nanjing University of Agriculture, China

1994 to 1997 - IAMS Scholarship, Nanjing University of Agriculture, China
Gu, Angel, Monica Torres-Coronado, Chy-Anh Tran, Hieu Vu, Elizabeth W. Epps, Janet Chung, Nancy Gonzalez, Suzette Blanchard, and David L. DiGiusto. (2014) Engraftment and lineage potential of Adult Hematipoietic Stem and Porgentior cells is compromised following short-term culture in presence of an Aryl Hydrocarbon Receptor Antagonist. Human Dene Therapy Methods Aug. 2014

Janet Chung1, Lisa Scherer, Angel Gu, Agnes Gardner, Monica Torres-Coronado, Elizabeth Epps, David L. DiGiusto, John J. Rossi1,4 (2014) Optimized Lentiviral Vectors for HIV Gene Therapy: Multiplexed Expression of Small RNAs and Inclusion of MGMTP140K Drug Resistance Gene. Mol Ther. 2014 Feb 28.

Li, Lijing, Mónica Torres-Coronado, Angel Gu, Anitha Rao, Agnes M. Gardner, Elizabeth W. Epps, Nancy Gonzalez, Chy-Anh Tran, David L. DiGiusto, 3Enhanced genetic modification of adult growth factor mobilized peripheral blood hematopoietic stem and progenitor cells with rapamycin. (2014 under revision, Stem Cells)

Tran, CA., Torres-Coronado, M., Gardner, A., Gu, A. Vu, H., Rao, A., Cao, L-F., Ahmed, A. and DiGiusto, D. (2012). Optimized Processing of Growth Factor Mobilized Peripheral Blood CD34+ Products by Counterflow Centrifugal Elutriation. Stem Cells Trans. Med. 2012 1:422-429.

Gu, Angel and Shively, JE.: Angiopoietins-1 and -2 play opposing roles in endothelial sprouting of embryoid bodies in 3D culture and their receptor Tie-2 associates with the cell-cell adhesion molecule PECAM1. Exp Cell Res 2011 Sep 10;317(15):2171-82

Gu, Angel, Zhang Z, Zhang N, Tsark W, Shively JE.: Generation of human CEACAM1 transgenic mice and binding of Neisseria Opa protein to their neutrophils. PLoS One. 2010 Apr 9;5(4):e10067.

Gu, Angel, Tsark,Walter, Holmes, KV, Shively JE.: Role of Ceacam1 in VEGF induced vasculogenesis of murine embryonic stem cell-derived embryoid bodies in 3D culture. Exp Cell Res. 2009 Jun 10; 315(10):1668-82.

Gu, Angel Sheng-rui and Hou, Jia-Fa. "How the foot and mouth disease infects goats?" Journal of Animal Disease, 1997.Vol. 10, September