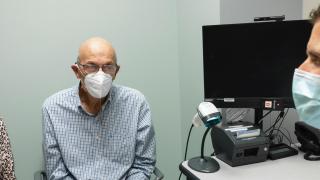 If you haven't been to City of Hope before, you probably have a few questions. This page has helpful information: like what to bring, what it will cost, and what to ask your doctor. We want your visit to go as smoothly as possible.
Requesting an Appointment
City of Hope has made the first step to navigating treatment stress-free. Appointments can be requested either via phone or online, whichever is more convenient. Once an appointment has been scheduled, we'll follow up with a list of things to bring and how you can prepare for it.
DUARTE MAIN CAMPUS
Monday through Friday, 7 a.m to 5 p.m.
CLINICAL NETWORK LOCATIONS
Schedule an appointment near you.
REQUEST AN APPOINTMENT ONLINE
We'll call you within one business day to schedule.
Cards
Referrals
Our referral options take the complication out of getting connected. We accept self-referrals by patients and authorized loved ones or referrals directly from your physician either online or over the phone.
Outside of the United States
The Importance of Getting a Second Opinion
In our 100+ years of experience treating life-threatening illnesses, we've discovered that with almost any illness, there are options. Options like different methods of diagnosis, or alternative treatments that might be available for the same diagnosis. Being newly diagnosed is a critical stage in any disease. Make sure you gather all the professional advice available.