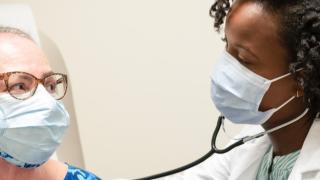 The Critical Importance of a Second Opinion
Being diagnosed with a serious illness is life-changing. Your next steps are crucial in achieving the best possible outcome. You need to make sure the diagnosis was correct. And even for common diagnoses, there can be different treatment approaches to decide on. At City of Hope, we believe you need to clearly understand your options in order to join your care team in making the right decisions.
City of Hope's team of multidisciplinary experts includes surgeons, radiation and medical oncologists, pathologists, radiologists and seasoned health professionals. They're prepared to help you understand the latest advancements in cancer treatment.
Section Header Title Text
Have Confidence in Our Expertise
Section Subheader
Globally recognized and highly awarded in researching, treating and preventing life-threatening diseases, City of Hope comprises over 5,000 people in more than 35 locations throughout Southern California.
Cards
A Record of Innovation
Since 1913, City of Hope has been leading the world in the treatment of life-threatening diseases. See a timeline of our achievements and accomplishments.
Meet Our Experts
Hear from some of the team members working on our award-winning research and treatment programs.
Treatment Outcome Reports
We've published reports on our breast, prostate, lung and colon cancer programs. Read about the positive impact our treatment is having.
City of Hope, in a Patient's Words
Our patient stories are inspiring and provide a candid point-of-view on our care.
City of Hope Network Locations
What's it like to visit one of our locations?
Be Prepared for Your First Visit
Being well informed will ensure that you have the knowledge and skills needed to join your care team in making well-informed decisions.
DUARTE CAMPUS VIDEO
A welcome and orientation video to guide you through all the important patient and family resources at City of Hope's main campus in Duarte, California
INSURANCE AND FINANCIAL RESOURCES
We recognize that each patient's medical situation and insurance plan are different. Although there is no guarantee of coverage, you should ask your health insurance company to review your request with City of Hope.
QUESTIONS TO ASK YOUR CARE TEAM
Good communication improves the quality of care that you receive. Read our list of questions patients frequently ask their care team.
FREQUENTLY ASKED QUESTIONS
A general FAQ about all things City of Hope and the services we provide. Read this to get a better understanding of how our services work and the quality care you can expect from us.
If you have questions, we're here to provide answers.