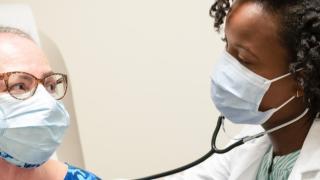 The Critical Importance of a Second Opinion
Being diagnosed with a serious illness is life-changing. Your next steps are crucial in achieving the best possible outcome. You need to make sure the diagnosis was correct. And even for common diagnoses, there can be different treatment approaches to decide on. At City of Hope, we believe you need to clearly understand your options in order to join your care team in making the right decisions.
Finding the Right Doctor
City of Hope's team of multidisciplinary experts includes surgeons, radiation and medical oncologists, pathologists, radiologists and seasoned health professionals. They're prepared to help you understand the latest advancements in cancer treatment.
Section Header Title Text
Have Confidence in Our Expertise
Section Subheader
Globally recognized and highly awarded in researching, treating and preventing life-threatening diseases, City of Hope offers patients and families across the United States access to the best in compassionate, comprehensive care.
Cards
A Record of Innovation
Since 1913, City of Hope has been leading the world in the treatment of life-threatening diseases. See a timeline of our achievements and accomplishments.
Meet Our Experts
Hear from some of the team members working on our award-winning research and treatment programs.
Treatment Outcome Reports
We've published reports on our breast, prostate, lung and colon cancer programs. Read about the positive impact our treatment is having.
City of Hope, in a Patient's Words
Our patient stories are inspiring and provide a candid point-of-view on our care.
City of Hope Network Locations
What's it like to visit one of our locations?
Need Help?
If you have questions, we're here to provide answers.